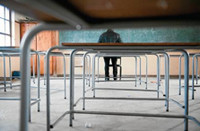 Eastern Cape teachers may finally be paid and posts filled now that the government is being sued.
A class action lawsuit due to be heard in court next week seeks to solve a double-sided problem that has afflicted Eastern Cape schools for years — unpaid teachers and vacant teaching posts.
The Mail & Guardian has previously reported on the plight of teachers who have to borrow money from their friends, family and the bank to buy food. They miss rent and car payments, and some can't even pay their children's school fees.
After more than a decade in which the Eastern Cape education department has been unable to resolve these problems, the Legal Resources Centre has made a bold move to address them. In November, it launched a class action suit in an attempt to force the government to pay more than R25-million to 32 schools.
These are schools the centre says that, despairing of a departmental solution, were forced to fill their vacant teacher posts themselves and pay these teachers salaries for which the department is responsible.
The case is set down for hearing in the Grahamstown high court on January 23. But reaching an out-of-court settlement is possible before then, according to the centre's regional director, Sarah Sephton.
She said the government had approached the centre about a settlement, in terms of which it would reimburse all 32 schools for the salaries they had paid their teachers and appoint their temporary teachers as permanent employees. It would also extend similar relief to any other school in the province. But the centre would ask the court to certify such a settlement, Sephton said.
During four days before schools closed in December, the M&G visited several rural schools in the former Transkei and spoke to both temporary and permanent teachers.
All are employed by the department but had not been paid a salary for up to seven months. Their schools are so poor that they have not been able to raise money from poverty-stricken parents to pay them even a small salary, as some slightly wealthier schools among the 32 involved in the court action have done.
"We mark tests. We do the exams. We show love for the school. We are here. But we haven't received a cent," one teacher at a school in the Mqanduli district near Mthatha said.
This week the M&G established that some of these teachers have now been paid — but others have not. The Mqanduli teacher is one of the unlucky ones.
December rain poured from a broken gutter next to the administration block where the M&G spoke to him. He said he was appointed as a temporary teacher in June last year but has not been paid since then.
He and other teachers like him have gone to the department's office in Mthatha to complain, to no avail.
He struggles to sleep at night, thinking about the friends he has borrowed money from "who are pulling me, saying: 'Give us our money.'
"This is about human beings … they must treat us like human beings," he said.
It was still pouring with rain when we arrived at the Bijolo Junior Secondary School, about an hour from Mthatha. A teacher there had not been paid since July last year.
Sitting in a classroom used as the staffroom, she shook her handbag to show us that she carries "pills for the stress".
She was more than R20 000 in debt, she said. "I was made permanent in July [but when] I go to the office, they say they are waiting for authorisation. It's the same thing every time."
She had borrowed money "from everywhere". "We aren't getting paid but we make sure the pupils have everything they need."
Through the windows we watched the mist closing in.
This thing is bad, the teacher said, and it is deep.
But she is now one of the lucky ones: she received a salary in December.
Both problems — unpaid teachers and vacant posts — arise from annual changes in school demographics, especially pupil numbers.
As these change, so do a school's needs, such as teachers for particular subjects. Some teachers become redundant at certain schools when pupil numbers drop, for example, and become known as "excess" teachers. But some of them refuse to move to schools where teachers are in short supply.
The upshot is that the department continues to pay the surplus teachers and leaves posts unfilled at other schools because it claims it does not have enough money.
This means some of the temporary teachers that they do manage to appoint to vacant posts go unpaid. Wealthier schools end up having to raise money to pay teachers they have taken the initiative to appoint themselves.
The Legal Resources Centre said in its founding affidavit that "the department had anticipated there [would] be 10 094 potential educators in excess and around 5 342 vacancies" this year.
Another teacher in the Mqanduli district said that in November about 60 unpaid teachers visited the department's offices in Bhisho to hand over a memorandum demanding that their salaries be paid.
When officials allegedly told them they would have to wait, the teachers decided to sleep there, he said. "We kept on being told 'we're waiting for authorisation', but by whom? We told them we are not happy with your response so we are going to sleep here."
They slept there for two nights until they were escorted off the property by security guards.
One teacher at a school outside Mthatha said he received his letter of temporary appointment from the department in July last year but has not been paid anything since then. He and his family have to rent a small room in someone's backyard in Mthatha.
To save money on fuel, he also rents a tiny room near his school where he stays during the week. It has no electricity or running water.
As with all the teachers the M&G spoke to, he asked that his name not be published: it would be "professional suicide" if it was, he said. "Your file would disappear … just like that."
He couldn't meet his car repayments "and now the bank wants it". He said he gives extra lessons to his pupils at night but lately has become demotivated as he sinks deeper into debt.
By this week he had still not been paid.
Although the Legal Resources Centre has won several court orders forcing the department to fill vacant teacher posts and pay unpaid teachers, these orders "mean almost nothing to the department", Sephton said.
This is why the centre decided its next move would have to be a big one — and it then filed the class action lawsuit.
The education department had not responded to the M&G's questions regarding the court action at the time of going to press, but the fact that it is talking about a settlement is "a positive sign", Sephton said.
Even so, the department still has to address the problem in a more a holistic way, she said. "We want excess teachers to be moved and we want temporary teachers who are where they are to be appointed permanently."
Way out: The Eastern Cape education department may be willing to enter into a settlement over the problems of unpaid teachers and vacant posts.
Photo by: Madelene Cronjé
By: Victoria John
Victoria John graduated from Rhodes University
Article Source: Mail & Guardian