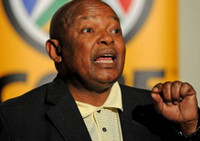 "ANC Set To Win, But Cope Could Be Opposition", ran a local headline less than two weeks before the 2009 elections.
It's almost unthinkable now, but back in those heady days, Cope was tipped to win as much as 20% of the national vote. In the end, they managed just over 7%. Almost five years later – years characterised by chaotic leadership battles and a gradual leaking of credibility – leader Mosiuoa Lekota says that with the aid of a coalition of small opposition parties, he's aiming for 51% of the vote. That was the bullish message coming out of Cope's first national congress in Johannesburg last weekend.
"It is common cause that at a stage the congress, in the early hours of 16 December, descended into disarray, with chairs being hurled across the plenary venue, delegates being injured and having to leave the hall." That's Judge Craig Watt-Pringle, delivering his verdict in October last year as to who the rightful leader of Cope was, reminding the party of the events that transpired on Cope's second attempt to hold an elective congress in 2010.
If a conference which ended in violent brawling is your previous benchmark, it's understandable why Cope's leadership seemed pleased as punch this weekend with the way things panned out at their first national congress in Johannesburg, over Friday, Saturday and Sunday.
For a start, there were no reports of fisticuffs. This being Cope, though, that didn't mean that events were entirely devoid of drama. It came down to the wire as to whether the congress would be able to go ahead, due to alegal attempt to halt proceedings by a faction associated with the party's co-founder Mbhazima Shilowa, now exiled from Cope since Judge Watt-Pringle's 2013 ruling affirming Mosiuoa Lekota as the party's legitimate leader.
The legal bid didn't succeed, and the congress was able to proceed as planned. "Anarchists tried one last time this morning to derail our movement," Cope's Twitter account, which boasts a grand total of 46 followers, dramatically announced. Party spokesperson Johann Abrie accused Shilowa of being "like a dog barking at the moon".
But it was all rather confusing, given that Shilowa was reported as denying any involvement in the legal bid. Abrie also accused the ANC of involvement, suggesting that they were attempting to sabotage COPE. The ANC laughed off the claim. On a weekend when the EFF's Julius Malema was winning hearts and minds in Nkandla, the ruling party certainly had bigger fish to fry than Cope.
It's been a long road to this first elective congress for Cope. The party's initial attempt to hold a national congress was in Gauteng in May 2010. In December of that year, the infamous national congress was attempted, which was the site of the brawling, and the fateful occasion on which Shilowa may or may not (not, according to the court) have been elected to replace Lekota.
Since then, it's no particular exaggeration to say it's been all downhill for the party. Accusations of factionalism dog all political parties, but the wrestling between Shilowa and Lekota for control of Cope has been plainly disastrous, and in the case of both men it suggested a willingness to put their egos before the party's best interests.
At points their wrangling seemed simply farcical. Judge Watt-Pringle's judgment in the Cope leadership battle reveals the kind of intractable battle the two men were fighting. "Mr Shilowa disputes that he was expelled as a member of Cope and as president of Cope and claims that he has been Cope's leader in Parliament since 17 December 2010," it read. "Conversely Mr Shilowa contends that with effect from 17 December 2010, Mr Lekota was relieved of all his powers and duties as an office bearer or representative of Cope."
At this weekend's conference, Cope was taking no chances with future legal challenges, calling in the Electoral Institution for Sustainable Democracy in Africa to referee proceedings. The 600 to 700 members who attended the congress appear to have been on their best behaviour. With Shilowa gone and his supporters sidelined, Lekota was elected unopposed as president. Former ANC spokesperson Smuts Ngonyana took on ex-Cosatu boss Willie Madisha for the deputy president spot: a reminder that Copedoes still have a few big names beyond Lekota. It was Madisha who emerged victorious.
Lekota must be hoping that his decisive victory at the congress will serve to silence his detractors within the party. Judge Watt-Pringle again: "It was a major theme of the defendants' case that Mr Lekota feared elections because he realised that he would lack majority support for the leadership of the party," the court judgment read. "I think we have a sense of achievement, finally, that we have had our congress," Lekota said on Sunday – and it only took almost six years.
In a statement issued by Cope on Sunday, spokesperson Johann Abrie said that the congress had gone off without a hitch. "What is noteworthy is the maturity demonstrated by our party delegates and the willingness to constructively reach consensus," Abrie said, describing the party as a "mature organisation that is vibrant and ready to campaign for a better future for all South Africans".
But it is, to say the least, not all smooth sailing for Cope from here out. For one thing, they're in financial trouble. One cause is the estimated R4 million the party has already spent on legal fees: an unsurprising total, given that the legal battle between Shilowa and Lekota ended up in court 14 times. "We have no money. We are in dire straits," Lekota was reported by City Press as saying, blaming a reluctance among funders to be seen to support the opposition.
Spokesperson Abrie then scrambled to put a jollier spin on this: "We are spending a fortune on our election campaign at the moment," he told EWN. "Obviously we don't have as much money as we would like to have but we are not broke; that's not true."
Cope is by no means on its own when it comes to financial precariousness: it was reported last week that Mamphela Ramphele's Agang is also facing severe cash woes. The EFF has spoken of similar problems in the past, with national spokesperson Mbuyiseni Ndlozi telling eNCA last September: "Even myself I have put in my own airtime – that's how a revolution survives".
Money shortages haven't been Cope's only problem. In his book Misadventures of a Cope Volunteer: My Crash Course in Politics (2010), Michiel le Roux documented some of the other issues with which the party was beset. Aside from the internecine power struggles, Le Roux testified that very poor communication and administration were also the order of the day within the party structures. At certain points, he wrote, "it felt as if anyone would get away with anything".
Perhaps things have changed, although the party's significance and credibility has certainly dwindled in the intervening four years. Lekotareportedly claimed at the conference that Cope defectors have come flocking back to the party ever since the court ruling in October confirming him as the party's legitimate leader. Nonetheless, it's telling that Cope appears to have been scrambling for allies.
In December the party announced a merger with a religious conservative group of 1,800 members, the National Republican Party (NRP), which we suggested was a pretty bizarre move. (The Mail & Guardian reported that the party's union with the NRP received little mention at the weekend's congress.)
In December Lekota announced a coalition of small opposition parties called the Collective for Democracy, consisting of Cope, the African Christian Democratic Party (ACDP), the Freedom Front Plus and the United Christian Democratic Party. Initially Lekota said the IFP was also involved, but the IFP subsequently distanced itself from the coalition. The coalition was premised on 20 shared points of agreement between the parties to do with issues like education and opposition to the Protection of State Information Bill.
"Each party will retain its own identity, while contesting the elections from the joint areas of priority," Cope said at the time. Cope received almost ten times the number of votes in the 2009 elections as the ACDP or the Freedom Front Plus, and almost 20 times the number of votes won by Lucas Mangope's United Christian Democratic Party. This pre-election hustling for allies suggests an awareness that that's unlikely to happen again this time.
But if Lekota is sweating, he's certainly not showing many signs of it. "We want 51% of the vote," Lekota said this weekend. "I cannot aim for anything less. This party was not meant to be an opposition party, it was formed to take government." Many will be querying, politely, what exactly he's smoking.
Photo Caption: Congress of the People leader Mosiuoa Lekota holds a news conference in Johannesburg on Wednesday, 24 October 2012 where he spoke about impeachment proceedings against President Jacob Zuma for refusing to obey a Supreme Court of Appeal order to hand over the spy tapes that formed the basis for charges against him to be dropped. Picture by: Werner Beukes/SAPAa
By: REBECCA DAVIS
Rebecca Davis studied at Rhodes University and Oxford before working in lexicography at the Oxford English Dictionary. After deciding she'd rather make up words than define them, she returned to South Africa in 2011 to write for the Daily Maverick, which has been a magnificilious decision.
Article Source: The Daily Maverick