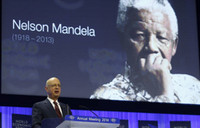 Being a South African abroad is a complicated thing. You don't necessarily have the confidence of an upper-class Brit, or the sheer swank that comes from being American.
Nor do you have the manners (and the camera) of the Japanese, or the spring in your step that comes from taking over the world that the Chinese sometimes exhibit. Rather, we are a mix of different types of people, from different landscapes within our own country.
That means that when it comes to selling our country, we have both the disadvantages of having a complicated story to sell, and the advantages of being a nation of many people. But for those South Africans in Davos, being there together can in itself be a strange nation-building experience.
Writer's note: I am well aware of part of the controversy around a piece I wrote published on Monday, and Stuart Wilson's response. My twitter timeline literally exploded. Thankfully, I was at 30,000 feet at the time. As I am now in Davos, and am seeing things happening here, I thought I should write about these events, while covered in snow.
Once I get back home, I fully intend to respond, in full. So please, don't think that the fact I have not responded yet, is in any way an admission of defeat. In the meantime, if you haven't read Wilson's column, please do. And feel free to read mine as well. It's a debate for the whole family.
It's six-thirty am. It's dark. Not like morning is breaking dark. Pitch black dark. The sun won't really be up for another three hours. I'm standing at a bus stop. Having just realised the traffic doesn't drive on the left in this country. Which means I have gone the wrong way. And am now completely on the wrong side of town.
Pravin Gordhan is on the other side. Ho hum. It's the kind of mistake that would literally kill your day in Cape Town or Joburg. Not so in Davos. Just twenty minutes later, I'm fresh in the nice warm foyer of a smart hotel, watching Gordhan taking off his cap, and getting ready to take the stage.
Boy, was I glad to see him. (And not just because I was finally where I was supposed to be.) But because he was a representative of South Africa, someone I understand in this foreign land. A man who makes the same jokes I do [You wish – Ed], someone who understands the same language as I do, and someone who drives (or is driven) on the left. As the room filled up, I was more than usually pleased to see some of the other people arriving.
Yunus Carrim, the Communications Minister, Happy Ntshingila from Brand SA, Bronwyn Nielson from CNBC Africa. Bear in mind, I hadn't necessarily met all of these people before. And while I was there to report, it was also a joint effort of selling our country.
It reminded me, a bit, of the 2010 Football World Cup. It was one of the first times you could be on a train, and know someone was South African, no matter how they spoke, or what they wore. We had a confidence about us then, in our own country, certainly not something we often have. There were foreigners among us, and we were determined to put on a good show.
We do that from time to time. And for a moment, it makes us forget our differences. It makes us all push at the same wheel, it makes us, well, more South African.
Trade and Industry Minister Rob Davies has an interesting take on this. He pointed out on the Midday Report [You know, Stephen, you really are shameless; we know what you do, really. Now stop it! – Ed] that the foreign investors he's been speaking to are more confident about South Africa than most South Africans. He particularly mentioned our media, and our commentariat. As a fully-paid up member of the South African Communist Party, I can't help but think that "commentariat" is a word Davies must quite like.
And I have to say, I do think he's right. From the outside South Africa does look better than it does from the inside. But that is the same for almost all countries. If you had to ask most people where in the world they would have liked to have been born, the US would have been among the top three. And yet if you ask the average American how their country is doing at the moment, you'll receive a litany of complaints. So while Davies maybe right, it's not quite that simple.
Davies is busy here at Davos. He's got a lot of selling to do. So does Gordhan. And he knows exactly how to do it. He talks up the National Development Plan. He tells people it's something "we're very proud of".
My first, cynical thought was that I've never come across a nation that is proud of A Plan. But considering the opposition to it from Cosatu (well, bits of it) and the SACP (no wait, that's wrong, they can't oppose anything that comes from President Jacob Zuma's ANC), Gordhan may have a right to feel some pride.
He's also happy to punt what is now called the Employment Tax Incentive Bill, and used to be called the Youth Wage subsidy. So would I. It's a way of telling investors that if they come to our shores, we'll help them employ young people, and thus carry part of their costs.
Gordhan also talks up "professionalising" the civil service. It's funny, somehow I don't think the ANC use the same term. But Gordhan knows he doesn't need to worry too much about people striking over what's said at this enclave of capitalism. There are not many workers here. Apart from the ones in the kitchen, and carrying food on silver trays.
Gordhan wouldn't be Gordhan if he didn't also fly the flag for the developing world, when he warns that claims emerging markets are "dangerous" is part of a "dangerous narrative" that is actually just wrong. "The world won't suddenly disconnect from itself in a year or two," he says. In other words, if emerging markets were the darlings of investors a few short years ago, there's no reason for that situation to have changed just suddenly. He also has a warning about the dangers of just measuring economic success using Gross Domestic Product.
He suggests that a better way would be to look at how inclusive an economy is. Well, sure. But it's hard to find a way to measure a National Happiness Index. It would be a bit like monitoring Fikile Mbalula's blood pressure as Bafana Bafana take to the field. Fun in its own way, but not particularly accurate.
So then, how is Team SA doing at selling itself here? There's some tough competition. Azerbaijan has bought the buses, India a prime spot on the main street, Audi a projection on one of the main hotels. So there's plenty of advertising clutter around. But we do stand out.
Our flag is one of the reasons. It adorns one of the big museums here, and is simply unmissable. Two doors down is a photographic tribute to Nelson Mandela (and just to Madiba's left is a much younger Jacob Zuma, complete with beard).
The fact is, among most other nations, we're pretty interesting, actually. And still a million times more fun than the Swiss.
By Stephen Grootes
Grootes is the senior political reporter for Eyewitness News, and the host of the Midday Report on Talk Radio 702 and 567 Cape Talk. He's also the author of SA Politics Unspun.
Article Source: The Daily Maverick