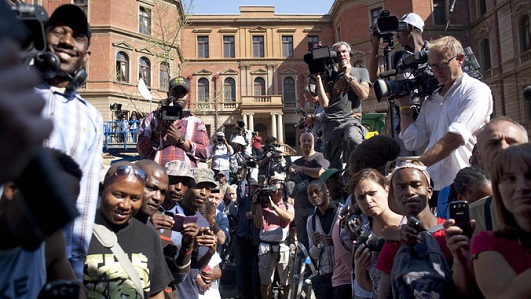 One just can't get away from a certain kind of sensational news story in this country.
It's a global phenomenon of course, with both media outlets and their audiences to blame. Put up a blow-by-blow account of the Farlam inquiry into the Marikana massacre and our stats show us that you, dear reader, are largely disinterested.
Anything related to celebrity-athlete turned celebrity-trialist Oscar Pistorius, however, and the clicks go through the roof. No wonder most media outlets, in an age of dwindling revenues, go after the stories most likely to bring in the audiences.
It's all a bit depressing but nothing new. A few years ago the country was enraptured by the details of the trial into musician Taliep Petersen's death, with his wife Najwa Petersen in a starring role as chief villain.
Then there was the case of "baby-killer" Dina Rodrigues, with the public captivated by the story of a nice middle-class girl from Cape Town's southern suburbs arranging a bevy of hit men to murder her boyfriend's baby from another woman.
The difference was that these cases were largely relayed in newspaper articles, some web reports and broadcast bulletins. They were confined to a space where one could choose to engage with the details.
Now with 24-hour streams such as dedicated news channels and Twitter, the details of these stories have permeated our national conversation and mood while tapping into and collating our collective response in a far more pervasive manner.
The Dewani trial, the shock shooting of Senzo Meyiwa and of course the Pistorius matter, all tragic and troubling incidents in their own rights, have ceased to be news events. The dizzying quantity of intimate details laid forth has led to a sense of personal ownership of these stories, so that it is effectively our daughter, our boyfriend who has died, and not some distant victim.
Generally we've come to associate a certain set of news values with these stories, so much so that it has become something of a formula.
1) A beautiful martyr
Think Anni Dewani and Reeva Steenkamp. They are generally gorgeous individuals, without flaw as far as the media is concerned and of course, dead. The focus is kept on their looks, with surprisingly little being reported on Steenkamp's achievements as a law graduate, in favour of a repeated telling of her modelling career and childhood, family and community stories.
Anni Dewani, a part-time model and engineering graduate, faced a similar treatment. We heard excessive anecdotes from their roles as daughters, friends and romantic partners, but barely anything about their substantial academic or career achievements.
The focus on beauty and deification of these individuals, particularly in the case of Steenkamp, lends itself to quasi-religious overtones. They are made to fit a saintly, virginal archetype, with sexual details emerging from the cases bent to perfect the image. Hence the bizarre headline flurry that "Oscar and Reeva did not have sex" and the portrayal of Shrien Dewani as sexually deviant, far removed from the beautiful Anni whose favoured image in news outlets is in the untouched innocence of her bridal regalia.
2) A villain
In the case of Senzo Meyiwa's murder, the soccer star is defined as the beautiful martyr and his girlfriend Kelly Khumalo is cast in the role of Jezebel. Headlines in newspapers like the Daily Sun and the Citizen spoke about Khumalo being cursed, and in need of cleansing. The Sunday Times inexplicably captioned a photograph of Khumalo in a revealing outfit with the word "wrecker".
Much has been made of her link to convicted hip-hop star Molemo "Jub Jub" Maarohanye, as if his crime in mowing down schoolchildren while high on drugs was somehow her fault, or indeed the apparently random killing of Meyiwa. Reports have dwelt on Khumalo's battle with drug addiction and her love life, while barely acknowledging her formidable talent as a musician and performer.
3) A violent murder
The deaths of our tragic hero and heroines were all defined by the kind of gobsmacking violence that makes the best of us turn our heads when passing an accident scene. Our fascination with gruesome violence is being readily met in the detailed tweets and descriptions of each murder from the court room or from witnesses at the scene of the crime.
The story of Senzo Meyiwa's murder was not complete until we heard how he was shot in the back, collapsing practically on top of Khumalo with a blood stain spreading across his white shirt. The moratorium on journalists showing the scenes of Steenkamp and Anni Dewani's murder did not stop us from describing the footage shown in court in as graphic detail as possible.
4) A spectacular fall from grace
In both the Petersen and Rodrigues trial, the fascination lay chiefly in the fact that a lucky individual who has practically everything, like Najwa and Dina, could turn out to be such base monsters. Oscar Pistorius's fall from grace on so public a stage helped us assuage our own self-doubt and private humiliations.
If one so bright, beautiful and blessed could fall so hard, perhaps I'm not doing so badly, read the narrative of news as personal catharsis.
5) A long court case
News is driven by events. This is why it's hard to report on systemic problems like poverty and unemployment. There is no big moment to drive the headline or sound byte: It's just always there. Court cases have assumed such a central role in our reporting because they lend themselves so neatly to the media cycle with its requirements for new "updates" daily or hourly. The process-driven progression of a trial provides journalists and news outlets with a successive update that can, at the end, neatly be compiled into a lucrative book.
It's difficult to judge the media or audiences, being a part of our collective folly and foibles myself. But by understanding what drives our fascination with these sort of stories, perhaps we can begin to direct some of that attention to more weighty issues affecting our lives, governments and the very world we live in.
Article by : Verashni Pillay.