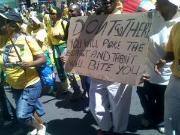 Nomalanga Mkhize remembers the days when the ANC used to take marches and election campaigns into no-go areas.
Someone once said to me that with the end of the anti-apartheid struggle we ought to stop viewing South African politics as a lofty moral endeavour but accept that it had normalised into the sort of circus-ring mentality we see in other places.
In other words, one must accept foolishness, back-stabbing, doublespeak, lying and insults in the political arena.
In the absence of a grand unifying struggle, I have reluctantly come to accept that, indeed, we are now just living normal politics where pretty much anything goes.
I must say, there is something of a difference between the kind of farcical politicking exemplified by the now ill-fated "DAgang" non-merger and the kind of confrontationalism that the ANC has responded with towards the DA's march to the governing party's head office, Luthuli House.
One cannot help but remember the days when the ANC used to take marches and election campaigns into no-go areas, in spite of threats made, because the liberation movement understood that the principle of associating and gathering freely for a political cause had to trump divisiveness and intolerance.
From the late 1980s and well into the 1990s, KwaZulu-Natal was the province most notorious for aggressive political territorialism, where it was near suicidal to enter into certain areas if you were considered of a rival movement.
It was so bad that you did not have to even declare political affinity – so long as you were perceived to come from the community of the enemy, you became a potential target of violence.
This kind of politics tore apart families as the province descended into a bloody civil war.
I remember around 1993/94 a taxi load of my relatives went into an Inkatha Freedom Party stronghold to attend an engagement celebration.
My cousin had fallen for one of the women in the IFP area.
A few kilometres from her home, we stopped at a local shop for some purchases.
I stepped out of the taxi to stretch my legs and was approached by a male stranger. He quietly called me aside and asked me, "So, where are you all coming from?"
I intuitively knew that to tell him the name of our home village would be dangerous, thus I gave a vague answer, "We are from here, around Pietermaritzburg."
He pressed for detail, but I played the ignorant child and eventually he left me alone.
I was probably about 11 or 12 years old and although I had spent part of my childhood in exile, I picked up very fast that, in KwaZulu-Natal, one had to tread carefully.
But the no-go areas became a thing of the past, largely due to the courageous efforts of ANC rank and file who went into these areas to exercise not just their right to associate freely, but also to help to bring about a culture of political openness and tolerance.
They counteracted violence and intimidation not by staying away from no-go areas, but by going in.
One would have expected that an ANC that had gone through this kind of fire would not be baited by the DA's public relations march to the governing party's headquarters at Luthuli House.
Annoying as it may be that one party felt it necessary to confront another at its offices (if it were the ANC doing it to the DA, would it be considered intimidation?), the ANC had within its capacity the ability to just tell its supporters to greet them with smiles.
Better yet, for no one to meet the DA at all – that could have rendered the whole exercise a damp squib and would have made the DA look a little silly.
By choosing to take a more confrontational posture, the ANC practically handed the DA the PR it was looking for.
Instead of requesting members to stay away, the ANC leadership simply went with the language of provocation and defence. Is this still the same ANC that was able to avert a civil war breaking out when SACP leader Chris Hani was assassinated?
One thinks of tragedies such as the Bhisho Massacre of 1992 where people lost their lives to not only protest their right to assemble, but also to defy Bantustan stooges who had defended the greatest no-go area of them all – "white South Africa".
The principle lesson from the ANC was that politics is as much about ideology as it is about physical space – without freedom of space, then there could be no free politics.
Sometimes I really miss that kind ANC thinking, but I guess I must settle for normal politics as parties engage in dangerous brinkmanship on the streets in the lead-up to the elections.
By Nomalanga Mkhize
Source: Sunday Independent
Protesters wearing ANC T-shirts in central Joburg on Wednesday. By choosing to take a more confrontational posture, the ANC practically handed the DA the PR it was looking for, says the writer. Picture: Barry McCallum
* Nomalanga Mkhize is a lecturer in the history department at Rhodes University.
** The views expressed here are not necessarily those of Independent Newspapers.