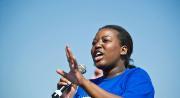 Why is it okay to call a black DA member a 'house negro'? How is it any different to the racism you're supposedly decrying, asks Verashni Pillay.
On a Saturday evening, the Mail & Guardian reported that a second high-profile black leader of the Democratic Alliance (DA) was taking a step back from her powerful position in the party.
Mbali Ntuli, the independent-mind, spirited and accomplished youth leader of the country's official opposition resigned from the post to focus on her other roles in the party, ran the official line.
The DA's increasingly authoritarian leader Helen Zille's rather public criticisms and handling of the young leader didn't get a mention, but it's no secret a similar situation was responsible for the shocking resignation of the party's parliamentary leader Lindiwe Mazibuko in May.
In the fallout that followed the announcement, people began airing their opinions on the matter on social media. It didn't take long for one particular stock standard response to appear.
Misunderstanding the situation and believing that Ntuli had resigned entirely from the party, columnist Pinky Khoabane noted in a tweet (which she later deleted) that she was glad the DA's "house negroes" were finally leaving the party.
She didn't delete the tweet because of the incredible slur it contained, but rather because she had misunderstood Ntuli's resignation. The disgusting epithet of "house negro" she was happy to retain, flinging it the DA's Mabine Seabe's way shortly afterwards.
"I don't expect you to say any better. You belong to same group," she said dismissively when Seabe called her out on the slur.
Betrayal of one's blackness?
Seabe, who works with the party's new parliamentary leader Mmusi Maimane, should surely get an award for the number of times the label has been tossed his way.
A likeable commentator and budding activist in the past with a variety of views, Seabe announced his decision to join the DA in September 2013.
He might as well have filmed himself torturing a small kitten and aired it on YouTube, given the backlash that followed.
"As you gets older, you realise that outsourcing your opinion about important matters is lazy and shows a high level of intellectual paralysis," Seabe memorably wrote about his decision. No matter.
"@Davy_SA: It is because of house Negro's like you why I'll never vote DA, you're trying too much to be white @Mabine_Seabe," reads one example of a slew of tweets and comments intimating that Seabe must be a victim of some sort of false consciousness given his political choice.
The problems with this way of thinking are obvious. It assumes an essentialist notion of race that is itself racist: saying that black people can only do or be one thing, and to do otherwise is a betrayal of one's blackness.
Rather be patronised by white liberal any day
Restricting what a person can be to the colour of their skin is the real betrayal. It allows white people to continue being the normative race, capable and able to be and do whatever they choose. The rest of us? Oh, I make a great curry and my friend Sipho is an excellent dancer – but don't ask either of us to swim!
Please.
Most importantly, it completely undermines the agency and intelligence of the person in question. It is far more racist than the crime it supposedly tackles.
I'd rather be patronised by a well-meaning white liberal any day, inviting me in to take my place in their white organisation, than be told by someone who has never bothered to have a conversation with me that I am somehow deluding myself and that I'm a self-hating person of colour for not unthinkingly following the choices of the rest of my so-called race.
If you don't agree with the DA and its policies, fine. I personally cannot stand the party's internal culture and its attitude and tone towards voters. But don't dare label those who disagree with you as Uncle Toms or house negroes just because you can't fathom what it means to think independently and make your own decisions.
Article by: Verashni Pillay
Article source: Mail and Guardian