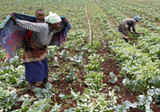 Is there any political issue thornier in South Africa than "the Land Question"?
On Wednesday the Department of Rural Development and Land Reform tabled its budget in Parliament, and in the subsequent debate predictably fiery scenes ensued. But they didn't die down in the afternoon, when it was the Presidency's turn in the hotseat – though Israel/Palestine hogged some of the spotlight, and the EFF took most of the rest.
Minister of Rural Development and Land Reform Gugile Nkwinti's budget vote speech was titled "A Radical Departure from Colonial and Apartheid Socio-Economic Legacies". Whether its contents are indeed "a radical departure" depends on who you speak to: the Freedom Front Plus might well agree, while the EFF will likely laugh uproariously in your face. And in seeming contradiction to radicalism, Nkwinti went on to tell journalists that it would be fair to say that the major concern underlying the ANC's proposals was "stability".
"Expropriation without compensation", that phrase so beloved of the EFF, does feature as ANC policy now. But, and it's a substantial but, it applies only to "land acquired through unlawful means or used for illegal purposes".
Nkwinti also wants to see "no ownership of land by foreign nationals as a principle", but at a press conference held after his speech, he conceded that the government might experience difficulties enforcing the law retrospectively. The ultimate aim is not to deny foreigners the right to land altogether, but to restrict them to a long lease of minimum 30 years. (The CEO of Pam Golding estate agents, Andrew Golding, later told Reuters"there is a misconception that foreigners are pouring into South Africa and pushing prices up".)
The bill regulating foreign land ownership, to be brought before Parliament this year, will be the Regulation of Land Holdings Bill 2014. It will also require South African landowners to disclose their race and gender.
Nkwinti wants to see the acceleration of land claims settlements, particularly those claims which were lodged during the initial window period of 1994 to 1998. Due to the number of people who missed this opportunity, claiming to have been unaware of it, the land claims window was re-opened on July 1st of this year. Nkwinti says government has already seen more than 3,000 claims come in. "Willing buyer/ willing seller" is going out of the window, owing to difficulties with price negotiations, and being replaced with the Constitutional principle that "just and equitable" compensation must be paid to landowners.
In total the department will be putting five land-related bills before Parliament this year, and one that they seem to be placing a great deal of stock on is the Communal Property Associations Amendment Bill, which provides for the registration of title deeds on communal land in the names of individual households. Nwkinti said they believed this was especially important because it would allow the relevant individuals to use their land rights as collateral with banks.
Nkwinti also wants to militate against farm evictions through the Extension of Security of Tenure Amendment Bill for farm dwellers, tenants and workers. He envisages that this bill "will help bring about a stable, cohesive and conducive atmosphere in the farming communities". Civil society groups have long held farm evictions as a major concern, with the Women on Farms group reporting that a million farm workers were evicted between 1994 and 2004 from farms "on which they had often worked and lived for generations".
The EFF's Andile Mngxitama was utterly scornful of these proposals, saying that a "land reform programme" in this country essentially does not exist. "You take taxpayers' money and make us buy back stolen property," Mnxitama accused the government. "Why must we buy back stolen property?"
He reiterated the EFF's offer to the ANC to vote with the party to amend the Constitution so that the expropriation of land without compensation could take place. But it was Nkwinti's turn to scoff when this idea was put to him by journalists.
"EFF stands for 'Everything For Free'," Nkwinti said, suggesting that what the party wanted was "complete anarchy", whereas "stability is a priority in the ANC".
"It's not our intention to go and change the Constitution," he said. "We don't want to blow the country up 100 years down the line."
The EFF didn't only target the ANC during the budget vote debate. Mngxitama also interrupted the Freedom Front Plus's Pieter Groenewald to accuse him of being a "thief" [of land]. Asked to withdraw the comment – and it's not the first time Mngxitama has made it – he refused and was thrown out of the National Assembly, with Groenewald shouting at his back that it was EFF leader Malema who was a "thief" [of tax].
Groenewald was in his own hot water, however, after saying that if white people could be said to have "stolen" land from South African blacks, then South African blacks had also "stolen" land from the Khoisan people. Nelson Mandela's grandson Mandla, an ANC MP who was unusually vocal in the chamber on Wednesday, demanded that he withdraw the comment. Reluctantly, Groenewald conceded that black people didn't steal any land. "But white people didn't steal any land either!" he yelled. It was the whole thorny land debate in microcosm.
This fractious spirit in the House endured for the afternoon session, where the Presidency's plans for their money were thoroughly overshadowed by factional fighting and the spectre of international unrest. ANC Ministers were leaving no doubt as to where their sympathies lay in the Israel/Palestine conflict, delivering their addresses wearing Palestinian scarves.
President Zuma's comments on the matter were actually quite muted – Zuma called on the Israeli government to "stop its ground and air offensive", but also urged "an end to the firing of rockets on Israeli citizens by Hamas". He added that now is not "the time to apportion blame but to focus on the needy and dying".
But it soon became clear that other ANC figures would use the conflict as a stick with which to beat the DA for its relative silence on the matter. (Earlier this month the DA's Shadow Minister of International Relations, Stevens Mokgalapa, put out a short statement on the matter which confined itself to condemning the killing of "innocent civilians".)
ANC Chief Whip Stone Sizani accused the DA of "feel[ing] nothing" for the plight of Palestinian people because they were "given money by the builder of the wall that divided Palestine". Sizani was referring here to Nathan Kirsh, the biggest shareholder in Israel's Magal Security Systems, whoadmitted to Business Day in March that he does provide some funding to the DA, but called it a "marginal amount".
DA Parliamentary leader Mmusi Maimane had apparently not expected to tackle the Israel-Palestine question, since no mention of it appeared in his written speech circulated by the DA. But he was left with little option. "I want to join all the honourable members in wishing for an immediate end to the violence in Gaza," Maimane said. "We are concerned that what is happening in Gaza today cannot be considered by any reasonable person to be a commensurate response and we hope that the parties to the conflict will heed the unanimous international call for humanitarian cease-fire".
The EFF predictably staked out a more radical position than the ANC on the matter, with leader Julius Malema calling for the immediate expulsion of the Israeli ambassador.
Other political parties, however, were happy to take up the opposite corner. FF Plus Leader Pieter Mulder put out a statement criticising "the South African government and President Zuma's imbalanced and biased views in favour of the Palestinians and against Israel".
The ACDP's Kenneth Meshoe, meanwhile, used his time in the National Assembly to draw an analogy between the ANC's defence of Shell House in 1994, and Israel's defence against Hamas. "If the ANC believes they have the right to defend Shell House, now called Luthuli House, then Israel should also have the right to defend herself against rockets fired at them by Hamas," Meshoe said.
Beyond Israel/Palestine, the major Parliamentary conflict of the day was between the EFF and the ANC. EFF leader Julius Malema responded to President Zuma's speech by scorning the idea that the party had a "good story to tell", saying that if anything the ANC had a "good drama to tell".
ANC hitman Buti Manamela came back with a lengthy comparison between Malema and Hitler, announcing: "Adolf Hitler has come back from the dead!", which caused predictable outrage from EFF MPs, including a threat of violence to Manamela. Home Affairs Minister Malusi Gigaba took off where Manamela left off, calling it "laughable" that the ANC should be "lectured about their commitment to the poor by those who recently traded in their Gucci watches for overalls". At a certain point the National Assembly degenerated into shouts and insults, as seems to be the order of the day rather more frequently since the EFF took their seats.
Amidst all this hoo-hah, little attention appeared to be paid to President Zuma's plans for the budget for the Presidency. In fairness, there was little dramatic within them. Zuma announced the establishment of Presidential Working Groups on business; small business; labour; youth, women and religious affairs; disability; the media; and higher education.
A concern about investment was evident within both Zuma and Deputy President Cyril Ramaphosa's speeches. The President said he would be convening an International Economic Advisory Panel, to "comprise owners and leaders of major corporations in the world to share their ideas on promoting investments and economic growth". Ramaphosa, meanwhile, called on the private sector to "end the so-called investment strike" and get stuck in.
Let's just make sure to keep all these prospective investors well away from Parliament's increasingly chaotic National Assembly, or they may decide to keep their wallets firmly clamped closed. But we're still streets ahead of the Ukraine, where a violent brawl broke out in Parliament this week – for the second time this year.
By: REBECCA DAVIS
Photo Caption: A farm worker (L) carries her child on her back at a farm in Eikenhof outside Johannesburg in this Reuters file photo. Rural Development and Land Affairs Minister Gugile Nkwinti said his department was working on a policy framework that would set out how the government should go about reversing inequalities in land ownership between blacks and whites.
REUTERS/Siphiwe Sibeko
Article Source: The Daily Maverick