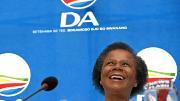 Agang SA leader Mamphela Ramphele may have landed a top spot in the Democratic Alliance (DA) as its presidential candidate, but it is essentially meaningless. Members of the party's so-called black caucus told the Mail & Guardianshe will have to fight for real power in the party – which won't come her way easily.
After the flash of the cameras and the glamour of the election campaign has faded, she is likely to be faced with a humble course for several years: as an ordinary MP, serving alongside the tranche of twentysomethings the DA is sending to Parliament after the 2014 national elections.
Despite being parachuted into the presidential position by the party's federal executive, Ramphele will receive no similar help in landing other positions in the party.
"If she has to stand for any other position, she will have to compete as usual," said Khume Ramulifho, chairperson of the party's powerful Gauteng South region, a sentiment echoed by other party leaders, including national spokesperson Mmusi Maimane.
They say that Ramphele's new title as DA presidential candidate is hollow as the party will not win this year's election. Real power for someone of her calibre would be the position of parliamentary leader or party leader – or, better yet, a high-profile position in local government such as mayor or premier.
Internal campaigns
But in the DA's system, those positions require fighting rigorous internal campaigns. And young leaders of colour in the party who have been pushing for transformation say that it is unlikely that Ramphele will topple the party's leader in Parliament, Lindiwe Mazibuko.
"We know that she will not win the elections," said an insider who is expected to become an MP for the party after the elections. "Does that mean she will then contest to become Parliament leader? If I were faced with the choice today, my choice would be Mazibuko."
Ramulifho said that Mazibuko is number one on KwaZulu-Natal's list for the National Assembly. "She is more experienced than Ramphele because she has served five years in Parliament. Ramphele has never served there."
Many of Mazibuko's detractors in the DA's parliamentary caucus will be gone after the elections, replaced by younger members of the DA who have worked their way up the ranks and are likely to be more strongly aligned to the young leader.
But Ramphele could battle for the position of party leader in 2015, which she might have a better shot at as she will have had a year to establish her credibility. Current leader Helen Zille has already hinted she may retire then. But it will still be a tough competition and one, say some, Ramphele is unlikely to win.
Provincial support
"To win DA leader[ship], she will have to have enough support in all the provinces: KZN, Limpopo, Mpumalanga and so on," an insider said. "I don't think internally she will get the widespread support she thinks she will."
Some young leaders are unsettled by the way Ramphele was made the party's presidential candidate, saying it was risky after the lengthy negotiations that preceded it and that saw her constantly vacillating.
"What I don't like is this desperation on both sides. We want to know: Why now?" asked one DA MP. "Is she for real? Or is she going to dump us before the elections and then we are left in a desperate position where we are presidentless before the election."
Ramphele has an enviable CV. A founder of the Black Cons­ciousness Movement alongside her life partner and struggle icon Steve Biko, she has impressive struggle credentials and a history of activism. Add former University of Cape Town vice-chancellor, World Bank managing director and many degrees, including being a medical doctor, and you get an ideal candidate – in theory, at least.
But Ramphele's once impeccable reputation has taken a knock since she started her short-lived party just under a year ago. Agang SA was dogged by rumours of financial ruin, badly managed dismissals of members and a leader – Ramphele – who was seen to be out of touch with its members.
Further blow
Her credibility took a further knock when she disclosed her massive financial assets, a figure that was 10 times less than one listed in a 2011 Forbes article that said she was one of Africa's nine richest women, which she never disputed.
Now her move to the DA without consulting her party has been perceived to be a cynical one by members of both parties.
Another DA insider said that, although the decision was good for the party in terms of race perceptions, the timing was bad.
"It would have been much stronger for her if this move had happened a few months ago. Tactically she was in a weakened position to negotiate … She's thinking the future doesn't look that great and the possibility of failure was too high for her to ignore."
The young leaders who are increasingly entering the upper ranks of the party are impatient for change. "Being young, we must give perspective on the direction we want things to take," Ramulifho said.
"We don't have enough time to say: 'You can't do things': When you want to lead transformation, you must do it now."
Transformation
But many don't see Ramphele's escalation in the party as being core to transformation in the DA.
"Sometimes when people talk about transformation they only look at one face who is leading at national level," Ramulifho said. "The type of transformation we are talking about starts at the grassroots level. That's where we empower people and get ready and prepare for a fundamental realignment of our politics."
The "fundamental realignment of our politics" is something the younger leaders talk about often, and Ramphele is part of that.
"My presidential ambitions are tied into Dr Ramphele's entry into the DA," Mazibuko said after the announcement. Other rising stars in the party said that, although the DA should create space for leaders of high calibre, they wouldn't let Ramphele's ascension thwart their own ambitions.
Given her fickle commitment to Agang SA in the face of failure, some DA insiders have questioned whether Ramphele will remain as an ordinary MP or resign if her ambitions are thwarted.
But DA deputy federal chairperson Makashule Gana pooh-poohed the notion, in effect issuing a warning: "We don't expect any member of that caucus after losing to leave their position as a parliamentarian. It would mean you were not in it for the voters – you were in it for yourself."
By Verashni Pillay
Source: Mail and Guardian