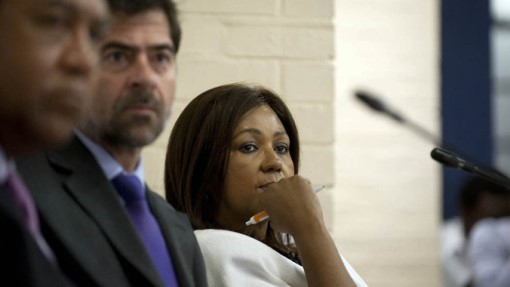 Ellen Tshabalala's lawyers have launched a bid to stop an inquiry that had resolved to have her suspended for lying about her qualifications.]
SABC chairperson Ellen Tshabalala won't be producing her qualifications just yet. Instead, she's headed to the courts to stop a parliamentary process intent on suspending her, after months of evasions and requests for postponements.
Tshabalala's lawyers have lodged an interdict to stop a parliamentary inquiry that had resolved to recommend she be suspended for lying about her qualifications.
The Mail & Guardian understands from sources close to the process that Tshabalala's lawyers lodged the interdict with the high court in the Western Cape late on Tuesday night and early on Wednesday, just ahead of the inquiry resuming on Thursday. The court is yet to make a decision on whether to grant the interdict by Thursday, with Tshabalala's legal team hoping for a decision in their favour ahead of the inquiry's scheduled meeting for 2pm.
The inquiry was set up by Parliament's oversight committee on communication after City Press revealed in July that Tshabalala does not hold either the BCom or postgraduate degree from the University of South Africa (Unisa) she has claimed on her CV, the university confirmed.
Parliament asked her to produce the degree certificates but she missed the first deadline on August 12 and a second one on August 31. She claimed that the certificates were in a bag that was stolen in a house burglary. It would take her a week or slightly more to obtain new certificates from Unisa, or just four hours to confirm her degree with the National Qualifications Register, according to one report.
Instead the matter has dragged on for three months with no sight of the qualifications. With court action now involved, it could take much longer.
The inquiry was meant to start in September but Tshabalala requested a postponement to October 14 to give her an opportunity to prepare for the meeting. At that meeting, however, she walked in with top advocate Norman Arendse and, over the course of four acrimonious hours, negotiated another postponement. The unhappy committee, comprising members of the ruling ANC and opposition parties, agreed to meet again on October 23.
The M&G understands that a Unisa official who was set to testify at the inquiry had to fly down from Pretoria on October 14 and again for Thursday's hearing, which may now be interdicted.
Tshabalala's legal team's argument for an interdict seems to centre on the fact that the inquiry is being held under Section 15 of the Broadcasting Act, which deals with the removal from office of board members. Her legal team has apparently argued that the situation constitutes a disciplinary hearing and thus requires certain procedures to be followed and guarantees of fairness to be met.
Tshabalala's legal team are understood to believe that the committee will not provide her with a fair and objective hearing given their statements made in public. A second argument seems to centre on the separation of powers between the legislature and the executive.
Zuma is thought to be protecting Tshabalala
President Jacob Zuma is thought to be protecting Tshabalala, along with SABC's chief executive Hlaudi Motsoeneng – a close ally, who has also run into problems regarding claims of false qualifications.
Senior ANC leaders were shocked when new Communications Minister Faith Muthambi appointed Motsoeneng permanently to the position, despite a report by the public protector recommending against it. Muthambi has little clout within the ANC but is understood to be deeply loyal to Zuma.
The communication portfolio committee initially recommended in September that Zuma suspend Tshabalala, but no action was taken and the presidency denied receiving the request. The inquiry was convened soon after.
The same qualification is noted on the Transnet website – where she is also on the board of directors – and likely to be removed, according to Public Enterprises Minister Lynne Brown, if she does not have the qualifications.
Tshabalala has a reputation for convening more board meetings than is usual, earning herself a hefty fee for each meeting. She earned almost R1-million in the past financial year for attending board meetings, according to a City Press report.
Tshabalala was appointed chairperson of the SABC board in September 2013, having acted in the position for six months before the full time appointment.
The secretary of the committee was not available for comment. Motsoeneng said he could not comment on the matter.
Article by: Verashni Pillay.
Article Source: Mail and Guardian.