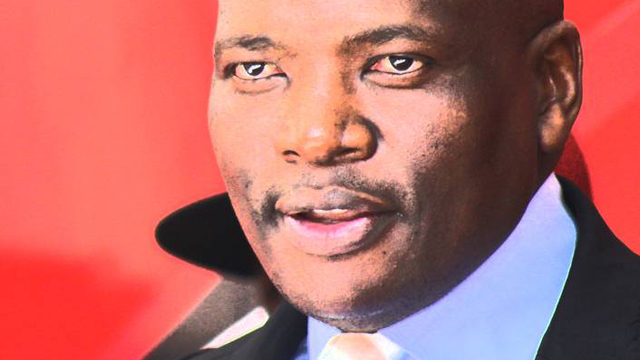 After a week in which it seemed the chaos at the SABC had reached its climax, Sunday brought news that matters were even worse than they first seemed. Not only is the COO someone who doesn't have a matric, and lied about it. Now, according to the City Press, the chair also lied about her qualifications. Liars, it seems, stick together at the corporation. The Sunday Times also added fuel to the Mail & Guardian's reports that Communications Minister Faith Muthambi was the driving force behind the COO appointment. The SACP is furious, the ANC is officially bemused, and Number One adds, in the immortal words of Shaggy, "It wasn't me". Is this really how we are governed?
Let's start with the facts. As we understand them, at any rate. Having claimed that an "independent reputable law firm" had somehow cleared Hlaudi Motsoeneng of the claims against him, and thus somehow overriding the Public Protector's findings, SABC Chair Zandile Ellen Tshabalala pushed through Motsoeneng's appointment. Then it was confirmed by Minister Muthambi, who made the actual announcement. Cue the usual outrage from those critical of the ANC, but at a higher pitch than usual. Quite rightly, considering it was the perfect example of how someone with political backing could gain high office despite almost all of their previous history showing that they are simply the wrong person for their job. Again, it was proof that politics trumps legality: if you have backing, you get the job, even if that appointment is illegal, which it clearly was in this case.
It's interesting at this point that Gwede Mantashe, whom you could call Number Two if you wanted to, is very annoyed at this. When pushed for a comment he has suggested to various organisations that he's wanted someone with the best qualifications to get the job. As Motsoeneng has virtually none, that's a proper Mantashian signal that he is not impressed.
Then we have the SACP. They are furious, threatening at one point "national protest" action. The reasons for their anger are definitely political, but with a personal twist. The SACP has always seen the SABC as part of the commanding heights of the fight for public opinion. When SABC board positions were parceled out through Parliament, the SACP usually won a couple of seats. Past SABC boards have usually had representatives of the Alliance, and even opposition parties. This board is different, in that that didn't happen this time. So the party feels it has a right to be annoyed, both from an ideological point of view, and from a simple politics of power vantage point.
Then there's the personal. Part of the original complaint laid against Motsoeneng with the Public Protector came from Phumelele Ntombela-Nzimande. Yes. She is married, yes, to Him. So the party has, shall we say, inside knowledge of what Motsoeneng is really like.
Considering that the SACP, and Blade Nzimande himself, have come closest within the Alliance to suggesting there should be more regulations around journalists and the media in general, and thus do have something in common with Motsoeneng, they must be really, really pissed off.
Normally you would think that with the SACP's view, and then the view of Number Two, that would be enough. When Mantashe is annoyed at something, that thing tends to change. He has been seen to demonstrate real political power in the past. However, the last time he condemned someone that was clearly wrong, and clearly the product of people within the Alliance, was the Waterkloof scandal, the Gupta family using the air force base as their personal welcome mat. Mantashe was furious, promised furious action, threatened furiously, etc. In the end, just one official was suspended temporarily.
The other bizarre aspect to this story is the statement from Number One's Number One Spinner, Mac Maharaj, that President Jacob Zuma had nothing to do with the appointment. It's odd, because why would he feel the need to issue the statement in the first place? While the sub-text to much of the reportage and commentary [including yours – Ed] has been that Zuma is indeed responsible, it's been more whispered than shouted. The statement may well be the result of pressure within the ANC and the Alliance. And possibly proof that this time Number Two is really annoyed.
However, that statement also seems to contradict another claim by the City Press, that Muthambi did brief Zuma before confirming the appointment. While it could be claimed, plausibly, that the position of Chief Operating Officer of the SABC falls somewhat below Zuma's radar, those with long memories will know that the then SABC Chair Dr Ben Ngubane confirmed he'd made sure Zuma signed off on the appointment of Phil Molefe as head of SABC News and Current Affairs.
In the end, it is possible that this Motsoeneng issue is going to lead to the resignations of several board members. Or even all of them. It may also lead to Tshabalala losing her position on the Transnet board. Parastatals of that size tend to want the qualifications people claim to have to actually exist. And it may lead to a very public rebuke for Muthambi in some way.
However, the blame does not end there.
If you had to use a word to describe the SABC at the moment, you would be hard-pressed to avoid "circus", "fiasco", "joke", "disaster". What we really need is "humiliating".
This is humiliating for all of us, not so much because this is what has happened at the SABC. It's because what's happening there is so similar to what happens in other institutions that matter. What is happening at the SABC is just another form of the political warfare that is playing out at the National Prosecuting Authority, where people appear to use the Hawks to raid each other in a contest for power.
It is no different from what happened at Transnet when Siyabonga Gama was found guilty of signing a contract way above his pay grade with former Communications Minister General (retd.) Siphiwe Nyanda at a time when the ANC's deployment committee had decided he should be the new CEO. A disciplinary hearing recommended he be fired. Then the board of Transnet changed, he appealed, and the new board changed his sacking to a final written warning
It is no different from what happens when political appointees rule the roost in local governments across the country, that leads to children dying from drinking contaminated water.
It is no different to what happens when a local mayor decides to use her husband's firm to build toilets, and then doesn't enclose them. (And that was discovered the week of a Local Government Election.)
It is no different to a country in which the president time and time again claims that he wants to fight corruption, to strengthen the institutions that fight corruption, and then leaves the Special Investigating Unit without a head for over eighteen months.
It is no different when that same president leaves the National Prosecuting Authority without a head for ten months, despite claiming in Parliament that he will "fill all vacant posts at the upper echelons of the criminal justice system". If Tshabalala lied to Parliament about her qualifications, how is what Zuma said different?
It may sound relatively minor under the circumstances, but this is a government that can't even appoint a spokesperson on a permanent basis. Jimmy Manyi left that position in August 2012. Not 2013, 2012! Which means Phumla Williams has been in an acting position for just six weeks short of two years.
Taking all these things together, you have to wonder: if we could call the SABC a "circus", a "fiasco", a "joke", or even "humiliating", what does it say about our nation?
By Stephen Grootes
Photo by Steven Lang