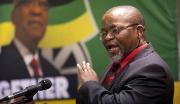 For many political parties around the world, drawing up candidate lists for Parliament is a tricky business. There are dozens of contradictory constituencies to manage, egos to massage, and debts to be paid. In South Africa it's even more difficult, particularly for bigger parties. While they have more spaces to fill, they also have more political equations to balance. Geographical representation needs to work, as does racial balance and language balance. And that's before one deals with issues like political power, the strength of support of relative constituencies, and competence. The ANC's National Assembly list is the product of just such a process.
For those of us who are amateur philosophers, there is a nice existential question that this list answers. Number One is indeed Number One. There is no longer any doubt. And Number Two is also, it seems, Number Two. Cyril Ramaphosa seems more certain than ever to be Deputy President after the elections. In fact, if he isn't, it would come as something of a surprise.
Going through the list from top to bottom, the first shock is the number three position. It's Malusi Gigaba, whose meteoric rise impressed many.[Daily Maverick's Ranjeni Munusamy has already reported that Mr Gigaba will be in number three spot. – Ed] Hot on his heels is Naledi Pandor. She once seemed quite close to Thabo Mbeki, but the Zuma/Mantashe axis that runs Luthuli House at the moment clearly wants her on board. Considering she is Home Affairs Minister at the moment, someone might want to put some money on her keeping that post.
Indestructible Mr Radebe is number five, before the next surprise. Sit down for this. Fikile Mbalula is number six. (Really.) [Daily Maverick's Ranjeni Munusamy has already reported Mr Mbalula's rise. – Ed] Not many people would have put money on that happening, considering how bad things have been for him since his candidate lost at Mangaung. Clearly he and Zuma have shaken hands. Mbalula would have been one of the people you could bet your house on losing his Cabinet post... but no longer.
As always in South Africa, once you head past the top ten in this list, you ask the really important question: Who is going to be finance minister? Pravin Gordhan has given some vague smoke signals that are currently being interpreted as a desire not to return to the Treasury. Perhaps he will in the end, but at the moment it doesn't seem so. He's number thirteen on the list. And you have to go all the way to number 41 before you find the name you were looking for: Tito Mboweni. It appears he could become one of the very few people in the world (if not the first) to be addressed as Governor Emeritus Tito Mboweni MP.
If there's one thing we've learnt from Zuma's first term in office, it's that he appears to take the security cluster rather seriously. That's where his closest allies have been posted. Nathi Mthethwa's done well, at number twelve, but Siyabonga Cwele is all the way down at number 31. He's certainly done well enough to keep his job at State Security, but it doesn't appear that he's a big favourite of the branches.
Going further down the list, most of Cabinet is well-represented: people like Ebrahim Patel, Ben Martins, Susan Shabangu and Gugile Nkwinti are all there. So is one Marthinus Christoffel Johannes van Schalkwyk. (Tony Leon must be wondering how on earth that happened.) Then there are the deputy ministers: people like Ayanda Dlodlo and Hlengiwe Mkhize. As usual, the ANC has done very well on gender, and aimed for a 50-50 mix. It appears to have succeeded in that once again.
And then we have the people who are going to be controversial. There are several.
Dina Pule is at number 70 – a person who had to apologise to Parliament; who was found by the Public Protector to have behaved improperly, lied, and misused government funds, before being removed as Communications Minister. (If you think it's a kick in the teeth for Thuli Madonsela, think how Ben Turok must feel right now. He chaired that Parliamentary process and even had his life endangered.)
The same questions are likely to be asked about Humphrey Mmemezi. He was one of the few Gauteng MECs ever to be sacked, after buying a painting at a McDonald's on government money. He also appeared partial to the liberal use of a government credit card while abroad. And don't f0rget, it was his blue light convoy that almost killed the Krugersdorp student, Thomas Ferreira. Mmemezi's conduct was so bad that it prompted Alex Eliseev to ask: Have you any shame, Sir? in his Daily Maverick column.
The ANC is likely to face a major problem here. The commentariat and the middle-class Twitterati are, in all likelihood, going to go berserk, especially since the party has emphasised that its top 200 are people who do not have criminal convictions and that it has followed a democratic process that leaders have come to respect (the same argument that was used when Zuma became leader of the ANC in 2007. He may have certain legal issues, but we have to respect the democracy of it).
On one level, the ANC has a point, and is not much different from other parties in other places. Tony Blair had to fire one of his ministers, Peter Mandelson, twice. And what would happen to party leaders if they didn't respect the wishes of their members? But on another level, the party should have a mechanism for dealing with persons who clearly violate their own internal rules.
It has in fact created one, with its Integrity Commission, that is supposed to deal with claims made against members. However, that Commission doesn't appear to have made much impact.
The real test, nonetheless, is not going to come with Pule or Mmemezi, but with John Block, the leader of the Northern Cape ANC. The provincial lists, at the time of publishing, have not been made public yet. Block faces serious criminal charges relating to alleged corruption involving government tenders. And yet it seems very likely that he will be on that list. The reason for that is that he simply controls the levers of power in the province, and no one has been able to stop him; the provinces sometimes have just too much power within the ANC.
Should Block be on that list, surely it would send a signal that the ANC was not intent on fighting corruption. In that case, the public would probably hear the same old chorus about "innocent until proven guilty"; still, the party would give up any claim to have a moral authority to lead the country by allowing Block to stay on.
This list only has two hundred names. It's what's called the "national to national" list. There are still "provincial to provincial" lists to look at, which could see people from those lists ending up in the National Assembly. It's a fairly complicated process, and there is still plenty that can change between now and any Cabinet announcement.
Trying to predict what that Cabinet will look like is a fun exercise, but essentially pointless. There are simply too many variables to manage, and only Zuma and Mantashe probably have a good idea of what it could look like. As an early punt, you could put a small amount of money on the security cluster looking similar to the way it looks now, with Mthethwa at police, Cwele at State Security and Radebe at justice. The real fun, of course, lies in speculating who will be finance minister.
It can be very tempting to use the order of this list to predict who will hold high office. It's best not to, however. Winnie Madikizela-Mandela, for example, was number five in 2009, had been elected to the first spot on the ANC's National Executive Committee at Polokwane, and didn't get anything.
(Number 200 on the list, by the way, is Annelize van Wyk, already an MP.)
It really is up to one person. He's on the list, position Number One.
By Stephen Grootes
Source: Daily Maverick
Photo: ANC Secretary General, Gwede Mantashe. (Greg Nicolson/Daily Maverick)
Grootes is the host of the Midday Report on Talk Radio 702 and 567 Cape Talk, and the Senior Political Correspondent for Eyewitness News. He's been part of the political hack pack since before the Polokwane Tsunami, and covers politics in a slightly obsessive manner. Those who love him have recommended help for his politics addiction. He quotes Amy Winehouse.
Stephen Grootes studied at Rhodes University