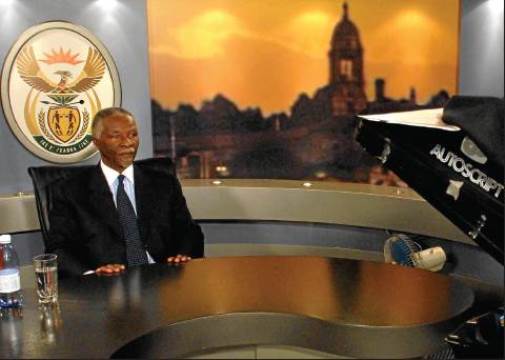 The sudden dwindling of Thabo Mbeki

Six years ago SA's president was ousted by his enemies in the ANC. An
ex-editor looks back

Between December 2007 and May 2009, South Africa would have two
presidents beholden to a party leader outside government. The first, Thabo
Mbeki, was no longer president of the ANC but still held office as president
of the country. The second, Kgalema Motlanthe, would take over from Mbeki in
September 2008 following a series of dramatic events that amounted to a
bloodless palace coup.

When Mbeki returned to the Union Buildings in January 2008, the shift in
the balance of power was palpable. National police commissioner Jackie
Selebi, who had stood loyally at his side at the ANC elective conference in
Polokwane, where Mbeki lost the ANC leadership to Jacob Zuma, was finally
charged for taking money from gangster Glenn Agliotti.

Mbeki, who had avoided contact with Tony Leon when the latter was leader
of the opposition Democratic Alliance, now met with Leon's successor, Helen
Zille, on several occasions.

Zille recalls these meetings: "I was amazed how he levelled with me." At
one meeting, Mbeki told her: "They've got to get rid of my allies one by one
and that's why they are prepared to do a pact with the devil to nail Jackie
Selebi."

Zille left the meeting with the realisation that the battle for power
between Mbeki and Zuma was dangerous for the country.

"It showed me then what the war between him and his opponents was like
and that it was a war over controlling the institutions of state. It was a
war over controlling the police. It was a war over controlling the
prosecuting authority. Because all of these institutions of state were seen
as proxies in the political war."

By September 2008, it was clear that Zuma's tolerance of Mbeki's
presidency was wearing thin. Judge Chris Nicholson had found that Mbeki and
his justice ministers had manipulated the prosecution of Zuma.

With this judgment fresh in the public memory, Zuma decided to strike
while the iron was hot. The ANC's national executive committee met at
Esselen Park, Johannesburg, to decide on a course of action.

A week of tense drama and negotiation followed, during which Mbeki was
forced to relinquish the presidency just seven months before his term was
due to expire. It had become, observed Frank Chikane, then director general
in the presidency, "a bitter fight to the end".

Chikane's book, Eight Days in September, describes how he heard of the
NEC's decision: "It was after midnight of Friday September 19 2008 - to be
precise, just before 1am on Saturday - when the first text messages began to
come through: 'The NEC has decided to recall Mbeki as president of the
country.'"

What followed was a furious night of text messaging as the ANC's leaders
passed around the information. "If you had monitored cyberspace during these
early hours of that fateful day you could have written a prizewinning
drama."

The prizewinning drama needed a victim, and it was a role Mbeki would
play with sombre dignity. Chikane recalls the president's reaction when
informed of the news early in the morning.

"He looked like a soldier who was ready to die, if he had to, for the
sake of the country."

Mbeki had the option of ignoring the recall and insisting that proper
procedure be followed: a parliamentary impeachment. This would have provided
a platform for a public airing of the Zuma camp's reasons for wanting him
out of office. That might have led to serious division in the party, which
could not necessarily count on all its MPs to vote with it.

Instead, Mbeki chose to go along with the decision, sparing the country a
constitutional crisis. A delegation from the national executive committee,
consisting of the party's deputy president, Kgalema Motlanthe, and secretary
general Gwede Mantashe, met with Mbeki. He posed two questions: how he could
leave office without leaving a vacuum and how his immediate responsibilities
would be taken care of. Motlanthe and Mantashe promised to return with an
answer later that day.

Chikane said that the message came back "to say that the president could
not continue with any of his responsibilities, particularly the
international commitments".

This was a body blow to Mbeki, who relished his role on the international
stage. He was due to be the keynote speaker at a United Nations summit on
Africa. "This act," Chikane noted ominously, "brought us closer to the
definition of a coup d'état."

On Saturday September 20, the national executive committee issued a
statement attempting to reassure the nation, in which it said: "Our most
important task as a revolutionary movement is the stability of our country."

Sounding as it did like a communiqué issued after a military coup, these
words were less than reassuring.

As if to drive its point home, the NEC then demanded that Mbeki draft his
letter of resignation earlier than had been previously agreed. He was to
deliver it by Sunday evening. The letter was delivered by courier to meet
the party's new deadline, and then Mbeki addressed the nation in a live
televised broadcast, saying: "I have been a loyal member of the African
National Congress for 52 years. I remain a member of the ANC and therefore
respect its decisions. It is for this reason that I've taken the decision to
resign as president of the republic."

Zille described the NEC's move as "revenge, pure and simple".

The ANC's internal political battles were not serving the country's
interests.

On the Monday, Mbeki continued with his plan to minimise the disruption
resulting from his unseating. He met with the heads of the defence force and
police, and the media were present to record the event.

It was clear that the Zuma camp wanted Mbeki out as quickly as possible.
The speaker of Parliament replied to Mbeki's letter of resignation, saying
that Mbeki would be out of office effective from Thursday September 25 and a
new president would be elected at 11am the same day.

Mbeki, by now a study in self-deprecation, chose to comply with the tight
deadline.

If Mbeki departed the stage with a determination not to cause a
disruption, his successor, Kgalema Motlanthe, who was chosen by the ANC's
executive to fill the presidential vacuum on the Thursday, took office with
a determination not to ripple the waters. He had a reputation as a deep
thinker who avoided factional politics.

It remained for Mbeki to bid his advisers and staff a tearful farewell at
the Bryntirion presidential estate in Pretoria.

For Chikane, Mbeki had "carried the flag of success and was tripped just
before he crossed the winning line because of internal party dynamics and
not governance or policy issues".

But Chikane's is a rosy view. The truth is that Mbeki handled power
badly. He made enemies at every turn and allowed his off-the-wall
contrarianism to rule his better judgment.

Mbeki's years of Aids denial-ism cost the country dearly. In a
devastating piece of research by the Harvard School of Public Health, Mbeki
was blamed for causing the preventable deaths of those with Aids by refusing
to authorise treatment: "More than 330000 people died prematurely from HIV
and Aids between 2000 and 2005 [because of] the Mbeki government's
obstruction of life-saving treatment, and at least 35000 babies were born
with HIV infections that could have been prevented."

On Mbeki's watch, the largest post-apartheid scandal, over the 1999 arms
deal, festered unattended. He consistently denied that the rot reached the
top, but then gave the lie to this by firing his deputy, Zuma, after he had
been linked to providing political cover for Schabir Shaik.

Mbeki had presided over an unprecedented period of consistent economic
growth, albeit at a rate below that required to deal with growing
joblessness.

He had courageously championed fiscal discipline and had ensured that
macroeconomic policy created the conditions for sustained growth. But the
manner in which he did this gave a good cause a bad name and emboldened his
left-wing critics.

In the end, Zuma, who assembled Mbeki's enemies into an unlikely
coalition of the wounded, outplayed him. Now Zuma was the man in charge, and
South Africa was about to become his personal empire.
Article by: Ray Hartley
Article Source: Mail and Guardian