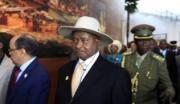 Bowing to popular pressure, Uganda's president has said he will sign into law a bill that specifies harsh new punishments for the "abnormality" of homosexuality and those who "promote" it. It's a huge step backwards for gay rights in Africa. But for President Museveni, that's not really the issue. He's just trying to keep himself in power.
After two months of prevaricating, Ugandan President Yoweri Museveni confirmed on Friday that he would sign into law the controversial anti-gay bill passed by his parliament in December.
Already, being gay in Uganda is dangerous. The new law just makes things worse, extending the reach and scope of penalties for homosexual relationships and the promotion of homosexuality. Even holding hands in public will be punishable with prison time; so too will be failing to report gay people to the authorities. It is a dramatic, high-profile setback for gay rights in Africa, and has been roundly condemned by the international community.
"The Anti-Homosexuality Bill in Uganda, once law, will be more than an affront and a danger to the gay community in Uganda," said Barack Obama, Uganda's highest-profile critic. "It will be a step backward for all Ugandans and reflect poorly on Uganda's commitment to protecting the human rights of its people."
Museveni's decision to sign the bill into law comes as a surprise. He's already used his considerable influence to tone down a previous version of the bill, which made homosexuality punishable by death, and had said he would veto this one. Don't mistake this for any kind of commitment to gay rights, however: Museveni merely thought there might be "better ways of rescuing homosexual people from their 'abnormality'", and was undoubtedly concerned about the impact of anti-gay legislation on the $400 million in aid money upon which his government relies.
But Museveni changed his mind. According to Ugandan media reports, the president was persuaded by a delegation of Ugandan scientists, who - contrary to international scientific opinion - presented him with 'conclusive findings' that homosexuality is an acquired behaviour, not genetic, and that it is therefore 'unnatural'.
For Museveni, this settled the debate. "In my role as a strategist and a responsible leader for our country, there is no debate regarding the promotion of homosexuality," he told a meeting of his National Resistance Movement. "Anybody who is promoting homosexuality we must stop him…this must be stopped by law and harshly. Secondly I do not accept those who become homosexuals for mercenary reasons. Thirdly, I cannot accept exhibitionalism [sic] of homosexual behaviour, that must be stopped and stopped harshly."
Museveni was also influenced by the popularity in his country of the anti-gay bill – especially within his own party. So far, 2014 has been a tricky year for Uganda's long-time leader, who has been President since 1986. Such longevity inevitably breeds resentment, and opposition, and there have been a few signs that some of his top lieutenants are starting to demand more power for themselves. With presidential elections coming up 2016, Museveni is under pressure in some quarters to either step down or reaffirm his commitment to the top job.
The main challenge comes from his Prime Minister, Amama Mbabazi, who has been quietly mustering NRM support for a bid to unseat Museveni as the party's presidential candidate in 2016. Mbabazi is also NRM secretary-general, and is very influential within the party.
In this context, adopting populist measures such as the anti-gay bill is a good way for Museveni to shore up his own authority. Richard Kavuma, editor of Uganda's Independent newspaper, argues that this is the prime factor behind Museveni's change of heart on the bill. Kavuma also suspects, however, that it is unlikely to stand up to legal appeals – and that Museveni is well aware of this fact.
"It is also true that some of the president's people may challenge the legislation in court and given Uganda's largely progressive Constitution, they may get the bill declared unconstitutional," Kavuma said. The constitutional clause in question is Article 21, which states that "all persons are equal before and under the law in all spheres of political, economic, social and cultural life and in every other respect and shall enjoy equal protection of the law." Opponents of the anti-gay bill will argue that this clause is broad enough to include protection for people on the basis of sexual orientation, and they're probably right.
"That way the president comes out looking good to his anti-gay electorate, while the judges will take the flak from Uganda's generally Christian conservative population," concluded Kavuma. In addition, such a ruling would likely appease donors, allowing the flow of aid money to resume, and let Museveni play the role of benevolent democrat, gracefully accepting a defeat in court.
It's not easy to keep hold of power for nearly 30 years. Along the way, Museveni has made enemies and sacrificed innocents in his bid to stay in State House. Uganda's gay population is just the latest victim of his lust for power.
By Simon Allison
Source: Daily Maverick
Ugandan president condemned after passing anti-gay law on the Guardian
Photo: Uganda's President Yoweri Museveni (REUTERS/Tiksa Negeri)
Simon Allison studied at Rhodes University