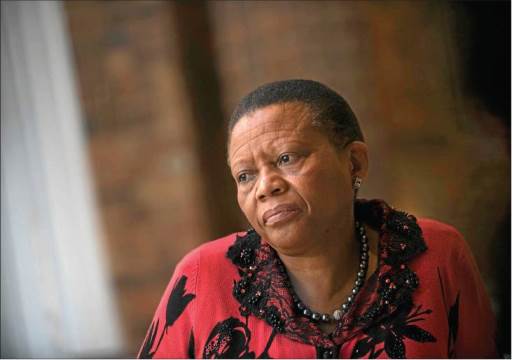 Having exhausted every legal avenue to clear her name, the IEC chair resigned before the axe fell.
Former Independent Electoral Commission chair Pansy Tlakula is a precise
woman. "Oh, I thought you said we were meeting in the restaurant area," she
says as we start our interview at the Park Hyatt in Rosebank. "This is the
dining area."

I hadn't even noticed the difference.

For the first time in nearly a year, Tlakula (57) has decided to speak
frankly about the debacle over her role in procuring the R320-million IEC
head office in Centurion, which led to her resignation this week after
several years of trying to clear her name and an increasingly negative
public backlash.

Her resignation did not come as a surprise. She had exhausted every legal
route, and her dismissal had become inevitable.

"I have done everything that I needed to do to clear my name legally and
I haven't succeeded," she says. "I'm left with lots of questions and I've
decided that I should just close this chapter and move on for the sake of
the institution, and also because thereis an electioncoming in 2016."

Resigning earlier would have sent out a stronger signal, her critics say.

Tlakula's reasoning was entirely different and, in something that emerges
as a common theme, was informed more by legal processes and less by an
emotional reaction.

"I could not go to court and challenge my removal from office when I was
no longer in office," she points out. "The court would not have heard the
matter."

An advocate who received her LLB at Harvard University in 1989, Tlakula
is thoroughly a creature of the law. She is soft-spoken but deliberate: each
word carefully weighed and uttered with legal precision.

When I speak to her about the outrage, aboutthe publicbaying forher to
have stepped down earlier, her first instinct is to point to the law and its
requirements. When others talk in broad strokes of what went wrong with the
deal, she refers in detail to sections and Acts and differing
interpretations she would like to see clarified.

She maintains stepping down earlier was not required by the law, and says
it would not have set a good precedent.

"They had the right to say what they said - those seven parties," she
says of the small group of opposition parties who took her to the electoral
court. "I hold no bad feelings against any of them.

"But I thought it was important for me not to heed their demands to
resign at that time. It would be bad if you were a member of the commission
and thereis political pressure that you must resign and you succumb to
that."

So why step down now? "Because I've wanted to exhaust the legal process,
which I have done."

Tlakula may not be easily dictated to by any person or emotional
outbursts, but where the law is concerned she is a willing servant, even
when it has disappointed her.

The electoral court judgment was a triumph for the smaller opposition
parties. The ANC and the DA supported Tlakula and did not push for her
resignation.

Tlakula maintains the judgment had errors, such as stating that the
business she had with businessperson Thaba Mufamadi of Lehotsa Holdings had
won a stake in the deal.

In fact, it was another business owned by Mufamadi - Manaka Property
Investments - that had a stake.

Tlakula says it may also have set some dangerous precedents about
"whether conduct which occurred before one became a member of the commission
could be interpreted as conduct of a commissioner", as had happened in her
case.

"If that matter is not clarified, you know . governments come and go. You
might have a government one day that might want to interfere with the
independence of a constitutional body like the electoral commission, by
using something that happened many years before a person became a member of
the commission to institute removal proceedings."

She took it to the Constitutional Court, but her application to appeal
was dismissed.

Tlakula's profound faith in the legal system was dealt a blow. Given her
position at the IEC, she had been obliged to work through the Electoral
Court, which has the same status as a high court. Yet there was no appeal
process defined there, as there are for other high courts if a person does
not agree with their judgments.

"This raises yet another important constitutional issue, namely the
constitutionality of the Electoral Commission Act, to the extent that it
provides for a removal process that deprives an aggrieved party of a remedy,
in the event they do not agree withthe recommendation of the Electoral
Court," says Tlakula.

But she has accepted it.

Now she must deal with a public backlash so intense that perhaps fact and
fiction have become confused. Although the disappointment over a failing in
a key institution such as the IEC is understandable, the distortion of facts
came as a shock to Tlakula. "I am not sure why," she muses. "I guess the
issue of corruption in our society lies at heart of the reaction."

Examples include the persistent idea that Tlakula had somehow stolen
money. Instead, public protector Thuli Madonsela found that Tlakula

- as then chief executive - together with her executive committee, had
violated certain procurement procedures in obtaining the building. It
included points such as not advertising the tender for long enough, failing
to flesh out the needs analysis in sufficient detail, leading to increased
costs, and not obtaining official permission from the commission at the time
to re-advertise the bid.

Stealing money, however, in any form, was never an allegation. Tlakula's
team had realised, the irregularity by 2011, disclosed it in their financial
statement and reported it to treasury, she says.

Then there was the persistent rumour about a so-called romantic
relationship with Mufamadi.

Madonsela noted in her executive summary that she had excluded the
allegation from her report. She said an anonymous letter, which claimed that
a certain employee could verify the affair, proved to be false when the
person was interviewed.

But hints of the allegation proliferated through all reporting, with the
repeated reference to a "possible romantic relationship". The public soon
took it as fact that Mufamadi was her boyfriend.

"Some newspapers reported the matter inaccurately at best and recklessly
at worst," Tlakula says. "One of the newspapers had a poster: 'Tlakula
hauled to court for an affair.' What do I do with all this?"

She decided against suing for defamation or even correcting the
newspapers through the press ombudsman. "I said: 'Look, I'm the special
rapporteur on freedom of expression and access to information in Africa, and
a strong advocate for press freedom. I've got to walk the talk.' It was a
big test of my values and mandate. I decided to let it go and I will let it
go."

There is still a sense of surprise that her less than 4% share in Lehotsa
Holdings plus a few procedural irregularities could have led to all this.
She is still deciding whether to take the public protector's report to
judicial review. But mostly she is moving on after 13 years at the IEC.

"I'm looking forward to spending time with my grandson!" she exclaims,
the careful lawyer replaced by a doting grandmother who flips through photos
on her phone of a three-year-old in Spiderman poses.

Plus there is her work on the continent to keep her busy. She is
passionate about her work for the African Union concerning whistle-blowers
and journalists.

"That's what I'm known for there: freedom of expression."
Story by: Verashni Pillay.
Story Source: Mail and Guardian.