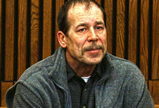 As murder-accused athlete Oscar Pistorius prepares to learn his fate from Judge Thokozile Masipa on Thursday, sentencing was announced last week in the case of a US man who shot dead a 19-year-old woman on his porch last November.
Like Pistorius, Theodore Wafer claimed he believed his safety in his home was under threat from a break-in when he killed an unarmed woman. That hasn't kept him from a 17-year jail term.
Nobody could ever dispute that it was Oscar Pistorius who killed Reeva Steenkamp. He admitted the fact, and there were no other suspects. The similarly unambiguous element of the case against Theodore Wafer, 55, was that he shot dead Renisha McBride, 19, on the night of 2 November, 2013.
McBride had ended up on Wafer's front porch in the Detroit suburbs after crashing her car a few hundred metres away. Autopsy results found that she was extremely drunk, with the owner of the car she hit telling police that McBride was in a "confused state of not knowing where she was".
It was just after 4.30am when McBride arrived at Wafer's door. Over three hours had elapsed between the crash and her arrival – a timespan that the police investigation and court case could not fully account for. It was a rainy morning, and McBride allegedly knocked loudly on Wafer's windows and door.
Wafer, who lived alone, testified that he had fallen asleep early in front of the TV and then woken to the sounds of repeated banging. He could not find his cellphone to call 911 – though he later retrieved it in the pocket of his pants in the bathroom. Wafer said that he turned off all lights to try to conceal his presence in the house, and looking through the peephole of his front door he saw a "shadowy figure" going around his house.
The loudness of the banging led Wafer to believe that multiple people were trying to break into his home, he claimed. He grabbed his 12 gauge shotgun, opened his door, saw someone on the other side and shot through his locked screen door. Wafer shot McBride in the face, killing her instantly. He claimed he acted so quickly that he did not see whether McBride was a man or a woman before he shot.
It was initially unclear whether Wafer would be charged at all. A BBC report on the shooting a week after McBride's death notes that "Prosecutors say they are reviewing whether to charge [an] unidentified 54-year old". Wafer's original story to police was that he had discharged his gun accidentally.
Interviewed by police a few hours after the shooting, Wafer claimed that he had forgotten the gun was even loaded. Under cross-examination during the trial, Wafer's version changed. This time round he said that his finger hit the trigger as a "total reflex reaction" when a figure appeared outside his house. He admitted that he had fired deliberately, but "in fear", thinking a break-in to his home was taking place.
"It was them or me," he said.
Renisha McBride was black and Theodore Wafer white. Civil rights activists said that the shooting was comparable to those of other young black individuals – such as Trayvon Martin – killed in recent years allegedly because they were believed to pose a threat to a white stranger. As was the case with Martin, questions were asked about McBride's marijuana and alcohol use, and her actions during the evening, as if to shift the burden of blame for her death from Wafer to McBride herself.
At a demonstration following the shooting, writer Dream Hampton said: "The only victim in this case was Renisha McBride. She needed help, she was a human bring in stress and her face was blown off on this man's porch".
The potential racial element to the killing was reportedly not dwelled upon by either side during Wafer's trial. McBride's father Walter told journalists after the verdict that he did not believe that race was a factor in the shooting. "I think [Wafer] was mad and was ready for whoever came to his door," he said.
But Wafer's claim that he felt under threat from McBride was questioned heavily. Lawyer for the McBride family, Gerald Thurswell, told the Huffington Post last year: "She was 5-foot-4 inches tall, 19 years of age, had no weapon, had nothing in the whole world that could cause him to reasonably believe that he was in fear of grave bodily harm or death and no evidence of breaking or entering".
Prosecutors asked – much like in the Pistorius case – why Wafer had moved towards the sounds and in particular opened the door if he had been so afraid for his life. They also asked why Wafer had called police only after he had shot McBride, and sought to cast doubt on his account that he could not initially find his cellphone. They said Wafer always had other options beyond shooting through the screen door.
Ordering Wafer to stand trial last December, Michigan District Court Judge David Turfe said: "This court recognises we can't automatically penalise one for making a bad decision when pressed to react quickly. But at the same time, we can't allow one to use the bad decision as a shield to criminal prosecution. The defendant came to the door with a shotgun. His first thought was to bring the gun, not call for help or not answer the door."
The defence for Wafer argued that he had legitimately acted in self-defence. Two weeks earlier, vandals had paint-balled his vehicle, at which stage he loaded the shotgun which he kept in a closet. They asked jurors to put themselves in the shoes of a man woken in the middle of the night by what he thought was someone breaking into his home to harm him.
When Wafer testified, he said: "I was upset. I had a lot of emotions. I was scared. I had fear. I was panicking."
Michigan law as of 2006 specifies that an individual may use lethal force to defend themselves if they "honestly and reasonably" believe that the person they are defending themselves against "is in the process of breaking and entering a dwelling or business premises or committing home invasion".
Jurors didn't buy it. They took just over eight hours at the beginning of August over two days to reach their decision. Wafer was found guilty on three counts: second-degree murder; involuntary manslaughter; and a felony firearms charge. Pending sentencing, a judge ordered Wafer to be remanded in jail, even though the defence had requested house arrest.
On Wednesday last week, Judge Dana Hathaway sentenced Wafer to a minimum of 17 years in jail without the chance of parole, though he is eligible to appeal.
"An unjustified fear is never an excuse for taking someone's life," Judge Dana Hathaway told Wafer.
Pistorius' case has, of course, significant differences. Wafer had no personal relationship with McBride, and she was not within the interior of his home at the time of the shooting. The prosecutors in the Wafer case never sought to make the case that Wafer deliberately killed McBride, as prosecutors have in the Pistorius case; Wafer's prosecutors simply argued that he acted unlawfully and unreasonably in shooting as he did.
If Judge Masipa rejects the charge of premeditated murder, or murder, however, she must consider the same question as the jury in the Wafer case: whether Pistorius acted negligently and recklessly when he discharged his firearm.
One bleak factor, too, remains consistent between both cases.
"So what do we have?" Judge Dana Hathaway asked Wafer while delivering her sentence. "One life gone and one life ruined." DM
Photo caption: Theodore Wafer sits in the back of the court room before his arraignment in Detroit, Michigan January 15, 2014, for the November 2, 2013 shooting death of Renisha McBride in Dearborn Heights. REUTERS/Rebecca Cook
By: Rebecca Davis
Article Source: The Daily Maverick