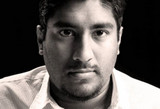 South African tech entrepreneur Vinny Lingham continues to be a man to watch.
Two years ago, with two successful tech start-ups already under his belt, Lingham founded a digital gift card company called Gyft. It has just been sold to the USA's largest credit card processing company for over $50 million.
When we profiled South African entrepreneur Vinny Lingham in the Daily Maverick two years ago, he had recently stepped down from his role as the CEO of website-hosting company Yola to focus on Gyft.
Lingham told us at the time that he believed mobile payments were the next big thing, which is why he was launching a mobile platform for gift cards. Though they aren't very popular in South Africa, gift cards are huge in the US: it's a market worth about $100 billion annually. But the main disadvantage of gift cards is that people receive them as presents and forget about them. Lingham said he hoped Gyft would change that.
Customers manage their digital gift cards through a Gyft app for smartphones or an online account. Gyft allows customers to buy, send and redeem gift cards from your smartphone to merchants which accept them. The benefit of having your gift cards lodged on your smartphone, as opposed to inside your bedside drawer, is that Gyft sends you reminders of cards' expiry dates as you're out and about. In June this year, Gyft added an option to allow customers to pay for their purchases in online currency Bitcoin.
Today, Gyft is over two years old and Lingham is 35. The company he founded is based in San Francisco, employs 18 people and has managed to raise $7,5 million in funding from investors including Google Ventures. Last year Gyft was featured on the hugely influential Ellen de Generes show.
But it hasn't all been plain sailing. "There were certainly many challenges," Lingham admitted to the Daily Maverick on Tuesday. Among them, he lists: user adoption; merchant adoption; funding; growth; and product market fit – what he calls "typical start-up challenges for a young company".
Despite the potential of the US gift card market, getting consumers used to viewing gift cards as a digital product clearly doesn't happen overnight. In September 2012 Facebook launched a Gifts service after buying gifting app Karma, which allowed you both to buy physical presents and to send digital gift cards to friends. After just over a year, Facebook ditched the physical gift element; and last week the social media giant announced it would be shutting down the digital gift card service in August.
Perhaps Facebook was the problem more than digital gift cards per se: asone headline put it, "Facebook Is Going To Stop Bothering You To Send Gift Cards To Your Friends On Their Birthday".
Lingham is still convinced that the digital gift card market has endless potential for growth. "In less than two years we sold tens of millions of dollars in digital gift cards – which was a huge success for an 18-person start-up company," he says. "People are switching to gift cards as alternative methods of payment for many reasons, including budgeting and privacy. It's a big trend that is continuing today."
At the end of July it was announced that Gyft would be acquired by payment processing giant First Data, a company which manages transactions for financial institutions and retailers. It's an interesting move. Despite First Data's dominance in its sector – one website calls it the "800lb gorilla of the credit card processing industry" – the company has suffered big losses over the last few years. At the end of July this year, First Data reported a second-quarter loss of $35 million.
There were reportedly other offers for Gyft. Why First Data?
"First Data is the leading payments player globally," Lingham says. "After many meetings with the team, we were so impressed with the depth and breadth of their experience in the gift card space, that it just felt like a perfect fit."
The benefit for First Data is that the acquisition of Gyft allows the company to move into digital gift cards without having to develop its own technology.
First Data's Mark Putnam told tech website Pando: "We could have built [a digital gift card app] internally, but we think that as fast we we're moving in digital there's value in the speed of acquiring an existing technology and consumer audience". Putnam also praised Gyft's "really simple and intuitive user interface" and the development of a brand that "people remember and relate to".
From Gyft's perspective, the relationship with First Data will allow the start-up to expand its partnership with retailers. Gyft has 200 retailers signed up, and First Data's clients number more than 300. Acquisition by First Data should therefore help Gyft with access to further customers and merchants.
Lingham is at pains to stress that the acquisition does not mean that Gyft will simply be swallowed by First Data. "We didn't really see the sale as the end of the road for us, we saw it as the opportunity to accelerate our growth within the leading payments company in the world," he says, calling the sale "a great opportunity for us to build the company faster". Both he and his team will be staying on "for many years" to continue to build the company, Lingham says.
He won't be drawn on exactly how much First Data is paying. It wasreported, however, that the amount paid for Gyft was more than $54 million but less than $100 million.
Lingham keeps a few toes in the South African water. Five years ago he co-founded the Silicon Cape Initiative with local entrepreneur Justin Stanford: an attempt to develop the Western Cape's potential as a tech hub. "We did not expect it to grow to the level it has, and I'm thrilled that the community has taken it to the level it is at right now," Lingham says, though he concedes that his involvement at the moment is "limited".
He thinks that South Africa might be a promising market for digital gift cards, and anticipates Gyft entering "in the not too distant future". For now, though, Silicon Valley is still very much home.
"I'm very settled in the States with my family and we really enjoy living in the heart of technology," Lingham says. "I obviously still love and miss South Africa, and still come back often, but my career ambitions have rooted me here."
Photo: Vinny Lingham.
By: REBECCA DAVIS
Article Source: The Daily Maverick