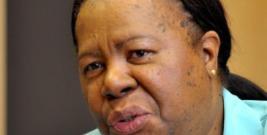 Johannesburg - Parents who could afford to pay university fees should do so to avoid a total shutdown and dysfunctioning of the country's institutions of higher learning, the African National Congress (ANC) said on Monday.
"Those who are able and have financial means must pay. We know who we are…we don't have to be told or go through a means test to determine whether we can pay," Naledi Pandor, chairwoman of the ANC's subcommittee on education told reporters in Johannesburg.
The doors of higher learning would close if those who could afford to fund their children's higher education stopped paying, she said.
She added that parents who could afford to pay were those who were employed, earned a salary and were able to pay fees previously.
Several universities, mostly in Gauteng, have resumed protests demanding free education, bringing registrations to a standstill.
Pandor said the National Student Financial Aid Scheme (NFSAS) would soon attend to students regarded as the "missing middle".
These were students who were above the NFSAS threshold but could not afford higher education costs.
She said the NFSAS would begin to test its funding model for these category of students next year.
"The funding model for these students is to be tested by NFSAS in 2017 and implemented in 2018. The funding could be in the form of loans, but we will await NFSAS's decision on that issue."
Pandor urged parents to support the institutions.
"Please parents, communities, support the universities to get learning underway as soon as possible. There is a constitutional right to protest, however, it need not be violent with burning of university property.
"There should be no physical threat to those who want to register…there has to be due regards for the rights of others."
To help poor students, government has provided R1.9 billion of the R2.3b shortfall created by the decision to have no fee increases for 2016.
"In addition, this government has prioritised R4.5b of state funding in the 2016/2017 financial year to be allocated to NFSAS. This funding is on top of the R10b that NFSAS will administer in the 2016 academic year," Pandor said.
By Getrude Makhafola
Image Credit: Thobile Mathonsi
Source: http://www.iol.co.za/news/politics/please-pay-university-fees-says-anc-1972554