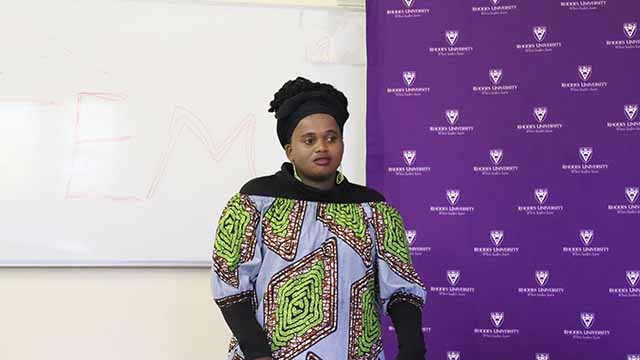 By Sphumelele Ndlovu, Postgraduate Diploma in Journalism and Media Studies student
A well-attended roundtable discussion, comprised of women in science, took place at Rhodes University, where women from different disciplines addressed the science position in the developing world, and how best to prepare for the future.
The room represented the diversity of the women in Science, Technology, Engineering and Mathematics (STEM), with attendees including postgraduate students in the areas of pharmacy, chemistry, human kinetics and ergonomics, and statistics, among others.
Speaker and organiser Dr Nosiphiwe Ngqwala, a senior pharmacy lecturer, dissected the science degree. She noted how many people found themselves pursuing science degrees only to end up employed. "This happens because many of us don't understand what science degrees are about before we pursue them. As often happens in black communities, young people are pressured into registering for a degree in science because that is what you are expected to do when you have good marks," she said.
Statistics PhD candidate and lecturer, Thina Maqubela, reiterated this sentiment. "I applied for a BSc in biotechnology at the University of Cape Town, even though I did not know what biotechnology was," she said. "It was only in my third year, when I bumped into statistics, that I started enjoying my studies."
While at the University of Cape Town, Maqubela realised that she wanted to teach, but found the idea of standing in front of a class too daunting. "I had never seen someone who looks like me - in other words, someone who was black and female - in academia. When Rhodes University approached me to teach a statistics class, however, I decided to give it a try. But it wasn't always easy."
Dr Ngqwala concurred. She recounted her own experiences as a black female lecturer, where students often undermined her. "When I looked around at senior staff in the various science departments, I noticed very few of us were black women."
Maqubela further expressed her anxieties related to being a minority in her field. "One of the problems with black women being so underrepresented in STEM is that I often find myself keeping quiet about my challenges in fear of being labelled an 'angry black woman' since there is usually no one who can relate to my specific issues," she said.
Aviwe Matiwane, a palaeontologist working at the Albany Museum, suggested a possible reason for the large number of unemployed black scientists.
"Researchers from different departments generally don't want to work cooperatively, and this stifles students who settle on a research topic that spans more than a single department," she explained. "This causes frustration for students who sometimes have to reach out to other universities.
To unemployed graduates, Andiswa Finca from the Agricultural Research Council recommended jobs in science communications as an alternative career path for those with science degrees. "Science communication involves explaining science-related information to someone who is not an expert in the field. This role is vital to science because it helps the community better understand how science fits into their lives and how it can improve them. Often, researchers don't have the time to do this."
Dr Nokubonga Mgqatsa, a zoology lecturer at Rhodes University, stressed the importance of positioning oneself with regards to funding. The other women joined the discussion and expressed their views about the challenges and solutions to funding and positioning themselves.
Overall, the panel agreed that their work in the STEM disciplines should be regarded with pride since they are the primary drivers of the economy. "However, we must remember that our degrees are not superior to others. We will serve the economy even better if we work closely with all the other disciplines. Together, we can make the world a better, safer, and more inclusive place," Dr Ngqwala concluded.
This event, which made the women in STEM feel heard and affirmed, will hopefully create a spark to ignite the fire of a new era for sisters in science.