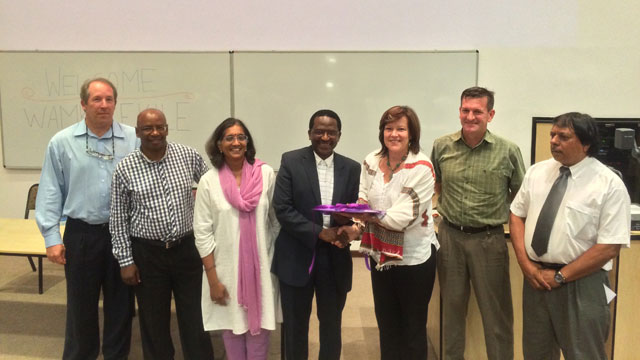 On Monday, 30 January 2017, community engaged research in higher education met health in a collaborative project that is run under the stewardship of Mr Thandi Mzizi, the Institutional Wellness Specialist in Human Resources and Professor Sunitha Srinivas of the Faculty of Pharmacy.
Rhodes University Vice-Chancellor Dr Sizwe Mabizela inaugurated the programme attended by close to 200 support staff. The programme is a contextual response for the epidemic increase in non-communicable diseases in South Africa. The programme targets 40 peer educators to undergo training that will assist them in promoting health and wellness among support staff at the university.
The trainees who are part of support staff, are already part of the long-running HIV/AIDS prevention programme at the university, and as such, they bring a wealth of experience to this new initiative on holistic well-being. These programmes have been on-going as a part of six dimensions of wellness, advocated by HR under the leadership of Mr Schalk Van der Merwe, Organisational Development Specialist.
Under the supervision of Professor Srinivas, four Masters students have been working on community engaged, peer educator-centred health promotion programmes.
"We need to have a better system of disease prevention and health promotion," said Professor Srinivas, drawing attention to growing epidemic of non-communicable diseases in South Africa.
The peer educators are working as volunteers targeting four modifiable and preventable risk factors, which are Heart Health, Dietary salt intake, tobacco and alcohol abuse, all of which are healthcare challenges.
These projects have culminated in the creation of user-friendly, culturally-sensitive health information leaflets and manuals developed with the inputs of the peer educators. These will be distributed to peer educators and will also be available in isiXhosa and Afrikaans.
The 2nd-year Masters Pharmacy Practice students, Theodore Duxbury and Praise Marara, were present at the inauguration on Monday. Their focus is on producing material related to tobacco and alcohol respectively.
"Not everyone has access to the internet or other resources, so these manuals will be useful as soon as they are finalised by June based on feedback from peer educators and other healthcare professionals. People aren't aware of the dangers of alcohol and tobacco, and they don't see the economic and social effects of their decisions," said Duxbury and Marara.
As explained at the inauguration by Prof Noel Pearse of the Rhodes Business School, who is a collaborator on these projects, the health promotion programme is in line with United Nations' resolutions on the prevention of non-communicable diseases as part of global sustainable development goals.
Marara's research gathers evidence of the high rates of staff absenteeism, disciplinary issues and accidents that occur due to alcohol-related problems, as well as the negative impact that these and other preventable health issues have on productivity levels.
"Employee wellness makes sense whether you are approaching it from a socialist or economic view," said Professor Srinivas. "The whole project revolves around empowerment and transformation, and that falls completely in line with Dr Mabizela's vision."
"It's not just another academic exercise; it's about adding value to our support staff's holistic wellness," she said.
The project was born out Professor Srinivas's research as a member of the University Oxford's Fellowship in 2014. She was the first faculty member to secure Fellowship under the Association of Commonwealth Universities Titular Fellowship. This Fellowship supported a research opportunity from July to August 2014 at the British Heart Foundation Centre on Population Approaches for NCD Prevention.
Professor Srinivas is happy with the project, although "it changed shape over the years in response to the needs and limitations of the South African context, but has come to bear fruit," she said.
She made a special mention and word of thanks to the Vice-Chancellor, Mr Mzizi, Human Resources, Professor Santy Daya, Mrs Jay Pillay, Mrs Di Hornby, colleagues from Residential Operations, Departments of Psychology, Business School, Human Kinetics, Health Care Centre and the Health Suite. All these departments are important partners in the programme.
"I think we're in a beautiful space where higher education and health promotion come together in synergy," said Professor Srinivas.
Over 34 peer educators attended the four-days training programme where thought-provoking presentations were made ahead of the beginning of the new academic year.
Caption: Stakeholders of Staff Wellness supported by Dr Sizwe Mabizela, the Vice Chancellor of Rhodes University at the Inauguration.