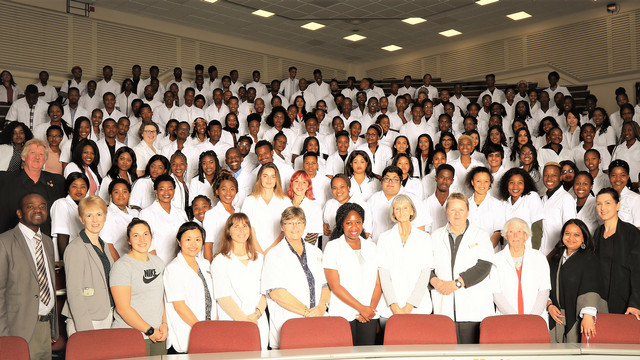 By Liivha Rasimphi, BCom student
The Rhodes University Faculty of Pharmacy recently held its third annual White Coat Ceremony at Eden Grove Red to inaugurate first-year students into the pharmacy profession.
Natalie Paterson, First-year Class Coordinator and organiser of the ceremony, believes that this annual event motivates students by providing a sense of belonging and a context for their studies.
The Head and Dean of Pharmacy, Professor Sandile Khamanga, extended his appreciation to the attendees, including Rhodes University Vice-Chancellor, Dr Sizwe Mabizela and Deputy Dean of the Law Faculty, Professor Lawrence Juma. Local pharmacists also attended and assisted in the cloaking of students.
The Dean explained the purpose of the ceremony as an induction into the pharmacy profession. "During your four-year undergraduate journey, you need to acquire patience and persistence. These will lead you to progress," he said.
Professor Rod Walker, former Head and Dean of Pharmacy, further elaborated that the White Coat Ceremony was a symbolic inauguration of acceptance by the pharmacy profession.
"Coats were initially worn by scientists in laboratories in the late 1800s, when they were beige in colour. Medical doctors wore black during the 19th century, to show respect for the dead. However, ultimately the colour white became favourable in a clinical environment, since stains are clearly visible and this can help prevent the spread of contamination," he explained.
Denoting several connotations, the white coat symbolises pureness, hope, professionalism and hygiene.
Prof Walker took the students through the "Pharmacy Students Pledge" as the first step towards the journey of professionalism and a rite of passage to welcome the students to the profession of pharmacy. During this process, the students agreed to adhere to the essential principles and ethical behavior required by students of the profession.
After taking the Pledge, registered pharmacists from the Faculty and community "coated" each student by placing the white coats over their shoulders.
By being inducted into the profession of pharmacy, the students pledge a promise to diligently pursue pharmacy education and training, prioritising the needs of their patients above their own, and to respect and value the healthcare profession by being tolerant, compassionate, and honest. They also pledge to respect, support and encourage classmates to adhere to disciplinary codes, behave honourably within their pharmacy careers, and strive to be worthy of the privilege of being a pharmacist.