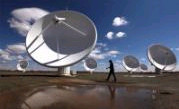 THE world's leading radio astronomers – and the next generation of young up-and-coming scientists – have gathered in Port Alfred to brainstorm ways to improve the design of vital telescopes that will be used in the Square Kilometre Array.
The prestigious 10-day series of workshops comes hot on the heels of the appointment of world renowned radio interferometrist Professor Oleg Smirnov as the first SKA chair in Radio Astronomy Techniques and Technologies (Ratt) at Rhodes University. Smirnov's arrival in Grahamstown has been described as a major coup by world experts.
Speaking at the workshop opening at the Halyards Hotel yesterday, Rhodes's deputy vice-chancellor of research Dr Peter Clayton predicted "the small rural university" would make further significant contributions in the field of radio astronomy thanks to the appointment of Smirnov, who was "one of the leaders in his field in the world".
Clayton said over the years a small group of experts at the university had consistently produced top graduates highly regarded the world over. Although small, the university has positioned itself as a leading establishment for postgraduate studies on the continent, with almost onethird of all students at this level.
According to Smirnov, the theme of the prestigious third-generation calibration (3GC3) radio astronomy workshop is "The Elephants In The Room", which refers to "possible fundamental or practical limits on the scientific performance of upcoming telescopes".
"Yes, there are a lot of things we still need to figure out before we can come up with an optimal design, and one of the aims of the workshop is to make some progress there."
The workshop has attracted 50 leading researchers from the UK, Netherlands, Germany, United States and Australia to network with PhD students and young researchers from South Africa and the rest of the continent.
Smirnov said by establishing a centre for Ratt, based around the SKA research chair, Rhodes University had placed itself in a position to become the leading South African research centre in this field, so hosting the 3GC3 workshop was a natural extension of this initiative.
"For the SKA itself to be feasible, we still need to make many algorithmic breakthroughs; the purpose of such workshops is to exchange experiences and work towards breakthroughs," he said.
Smirnov said the highly specialised conference was absolutely vital to the development of the new Ratt centre. Although it was still "early days" a site decision had been made and the hard work was now about to begin.
"In the meantime, in South Africa the MeerKAT project is rolling along, and the first antennae will be on the ground soon."
Story by: David Macgregor
Source: Daily Dispatch
Source:
Please help us to raise funds so that we can give all our students a chance to access online teaching and learning. Covid-19 has disrupted our students' education. Don't let the digital divide put their future at risk. Visit www.ru.ac.za/rucoronavirusgateway to donate