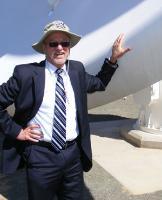 Cape Town - The first scientific paper based on observations from the Karoo Array Telescope (KAT-7) has been accepted for publication in a scientific journal.

The KAT-7 radio telescope forms the early build of the MeerKAT instrument which will consist of 64 linked radio telescopes. It is expected that these will be absorbed into Phase One of the Square Kilometre Array when the project gets underway in 2016.

"This is a significant milestone for South Africa's SKA project, proving that our engineers are able to deliver a cutting-edge scientific instrument, and that our scientists are able to use it for frontier science," said Minister of Science and Technology Derek Hanekom.

"It bodes well for the delivery of our 64-dish MeerKAT telescope, currently under construction in the Karoo, and for our ability to play a key role in building and commissioning thousands of SKA antennas over the next ten years," he added.

The paper will be published in the Monthly Notices of the Royal Astronomy Society journal and will be freely available online.

Flares

It describes a neutron star system known as Circinus X-1 as it fires energetic matter from its core in compact jets that flare brightly. The details of the flares are visible only in radio waves.

The system flared twice at near record levels during an observation period with KAT-7 and the instrument was the first to detect such multiple flares.

"One way of explaining what is happening is that the compact neutron star gobbles up part of its companion star and then fires much of this matter back out again," said Dr Richard Armstrong, an SKA Fellow at the University of Cape Town and lead author of the paper.

"The dramatic radio flares happen when the matter Circinus X-1 has violently ejected slows down as it smashes into the surrounding gas," he explained.

Though KAT-7 was intended to be an engineering test bed for the MeerKAT, the instrument is sensitive enough to be used for astronomy.

In 2012, the seven dish array was able to detect radio emission from a nearby galaxy called NGC 3109 which is about 4.3 million light years away from Earth, in the constellation Hydra.

The KAT-7 which is built outside Carnarvon in the Northern Cape province has provided engineers with a good idea of what technical challenges lay ahead in the building of the MeerKAT.

Results

"We are actively engaged in pushing technological limits and on KAT 7 we did that more than maybe we would do on MeerKAT. On MeerKAT you've got to go with essentially mature technologies in terms of computing and storage, for example," MeerKAT project manager Willem Esterhuyse told News24 recently.

The results have not only boosted engineers' confidence in the KAT-7 instrument, but also demonstrated the ability of local experts to compete at the global level.

"These exciting results achieved by KAT-7 have given us confidence that we know how to build a cutting-edge radio telescope in Africa to answer some of the fundamental questions in radio astronomy", said Dr Bernie Fanaroff, director of SKA South Africa.

"KAT-7 was really intended as an engineering test bed to refine the design and systems for the MeerKAT telescope that we are working on now, but we are absolutely delighted that it has turned out to be a top quality science instrument, capable of producing significant science," said Professor Justin Jonas of Rhodes University, who is also the associate director for science and engineering at the SKA South Africa Project Office.

The MeerKAT is scheduled for completion in 2016 and the SKA for 2024.
Written by: Duncan Alfreds
Picture credit: www.news24.com
Please help us to raise funds so that we can give all our students a chance to access online teaching and learning. Covid-19 has disrupted our students' education. Don't let the digital divide put their future at risk. Visit www.ru.ac.za/rucoronavirusgateway to donate