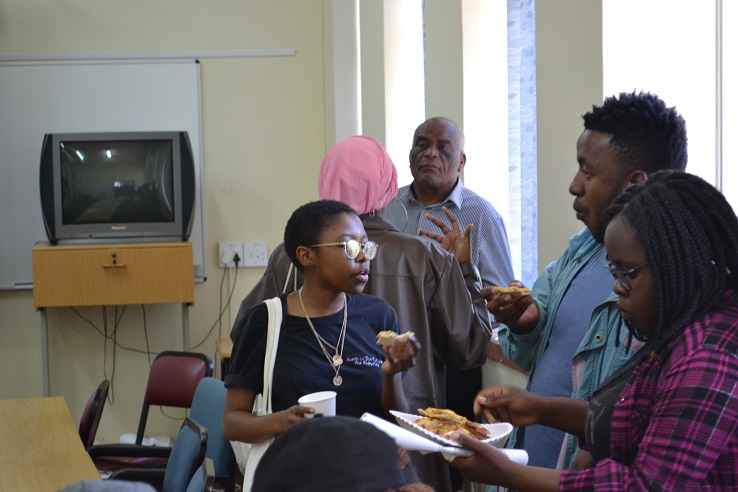 By Lwando Ntenda
In a world where 'nothing is for mahala (free)', Rhodes University's Sol Plaatje Institute (SPI) for Media Leadership held its annual pizza lunch on Wednesday, 21 August 2019.
The invite to attend was extended to all those who are interested in studying media management and would have a degree by next year or already have an undergraduate degree in any discipline from a recognised university.
The event commenced a few moments after 1pm, with students trickling in slowly as they struggled to find the venue behind the Great Hall. A welcome and a short introductory story about Cable News Network (CNN) was shared by SPI Director Francis Mdlongwa, followed by questions to assess where the prospective students are in terms of listening and analysing.
Mdlongwa's presentation was followed by those of some of the 'stars of the 2019 PDMM Class', as he put it, who gave their testimonies of their experience of doing the course. The first to go up was Alex Mathambo (Malawi), class representative for 2019. He spoke about his fear of the course and how intimidating it was seeing he had no media management background because he was a former accounting student.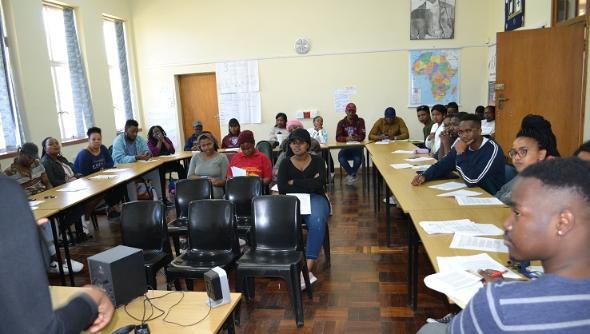 Mathambo went on to explain how he was on the brink of giving up but was encouraged by Mdlongwa to give it a chance. After doing so, he has since managed to receive distinctions for all assessments of the modules that he has done to date.
Nomfundiso Dyongman (South Africa) then took to the floor. Her main take-away and advice to those planning to join PDMM was that they should be prepared to 'EAT'. Her explanation of what it means to eat in a media management perspective is that one should be (E)mpowered, (A)wakened, and be able to use the course as a (T)ool to face many of life's challenges and be able to navigate the competitive and fluid political, economic and technological global environment.
Kgomotso Molefe (Botswana) and Mihle Bango (South Africa) expanded on these points by emphasising the practical skills that the course equips one with. They did not forget to mention how students gain confidence by the teaching style of most of the modules that require students to read assigned academic papers, prepare a power-point presentation and present it to peers, who then critically assess both the presentation and the paper.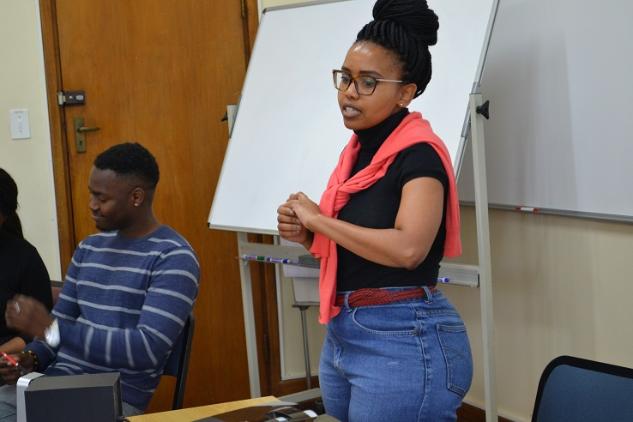 At the end of the speeches, while some enjoyed the pizza, some engaged with the current PDMM students to ask about the finer details and the day-to-day running of the course. These diverse young 'stars of 2019', alongside Mdlongwa, portrayed in their short speeches the mission of the SPI which is to "make a significant contribution to the sustainability of media in Africa by promoting effective and innovative management and leadership practices".
ENDS
Source: SPI
Please help us to raise funds so that we can give all our students a chance to access online teaching and learning. Covid-19 has disrupted our students' education. Don't let the digital divide put their future at risk. Visit www.ru.ac.za/rucoronavirusgateway to donate