Musa Mhlongo - Communication Manager
South African National Aids Council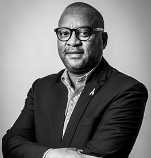 "It was an amazing experience to have been part of such a reputable institution like Rhodes University, which is something I would cherish for a very long time. On behalf of the entire team, we would like to extend our gratitude for the opportunity to have gone through such an intense and invaluable training.
Talking about low hanging fruit, a week after the course I was able to secure the interview of our CEO with one of the fast growing TV channels Newzroom Afrika, which took place on Friday the 26th July. I already have my agenda setting for the entire year and am sharing it with EXCO soon.
We would also like to thank our Tutors that were very knowledgeable and experts in their respective fields, Mr Themba Sepotokele and astute Communication Strategist who is able to compress an in depth content into a comprehensive short course and still make it impactful. Mr Theus Louw leadership guru, who exposed us to all forms of leadership styles and the importance of transformational leadership in the world of communication. I would recommend this course to all communicators I encounter, whether they are from the government or private sector, I believe it would be of great value to everyone in the field of communication. I would hope that the course continues to make an impact to the upcoming communicators and to even to the experienced communicators across all sectors public or private."
Last Modified: Sat, 08 Feb 2020 11:05:21 SAST