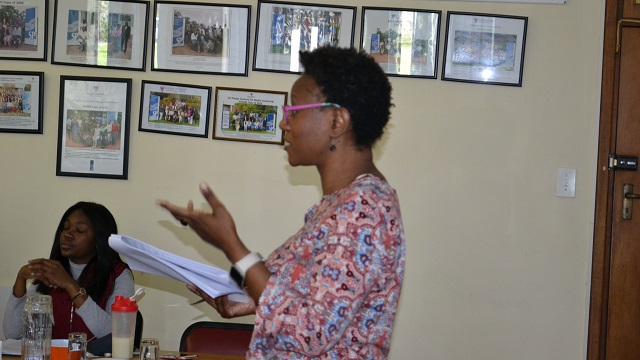 By Melesiana Phiri
The Sol Plaatje Institute (SPI) for Media Leadership has just completed a three-day gender empowerment and transformation workshop aimed at promoting gender equality and equity at workplaces by training the 2017 class of the Postgraduate Diploma in Media Management (PGDip in Media Management).
The workshop was facilitated by a gender expert Mercy Mupavayenda and sought to promote and impart practical policy steps which commercial, community and public media need to take to bring about gender transformation at their workplaces.
"The workshop was designed to impart to future media leaders and prospective owners of media organizations the necessary knowledge, skills and sensitivity around gender and the need for mainstreaming of gender in journalism reporting and media management", Mupavayenda said.
Participants were made to understand that the media in Southern Africa continued to mirror global trends of gender inequality. The media also perpetuated patterns which tended to show women not in the diverse roles which they play in society but in supporting or relational roles, where they are featured mostly as victims of violence and as sources of entertainment.
"Portrayal of women in the media is still stereotypical and problematic," Mupavayenda said. "We see some examples of this in the sexist and misogynistic ways the media covered Hillary Clinton in the 2016 US presidential elections, and the way the media is covering Dr Nkosazana Dlamini-Zuma in the lead-up to the next elections in South Africa."
However, the recently released Gender Barometer study shows progressive shifts in some sections of the media, with an increase from 27% to 34% of women in media management in Southern Africa.
"This aspect is a key indicator of progress in gender mainstreaming at decision-making level. However, I must add that there are huge disparities between countries such that countries like South Africa and Lesotho represent the highest number of women in decision-making positions at 50% and 53% respectively, while countries like the Democratic Republic of Congo are the lowest on this score at 17%," Mupavayenda said.
She noted that further examination reveals that in countries like South Africa the seeming success is not proportional as the figures demonstrate that black women who constitute the larger part of the population are negligibly represented in the 50%.
"Overall, although change is happening it is happening at a very slow pace" she explained.
Mupavayenda hoped the students of the PGDip in Media Management at the SPI would continue with efforts to give priority to gender balance in both media content and organizational structures.
"So, after the workshop it is my hope that the students start a lifelong journey of learning equality values and unlearning inappropriate cultural and business values which are based on excluding and oppressing women in the workplace," she said.
Veronica Mukhuna, a student from Malawi, said the workshop enlightened her to fight for policy changes to protect women at media institutional level.
"I have learnt how gender sensitivity approaches can help a journalist uncover untold stories behind a story. If a journalist plays a gender sensitivity card, there is room for creativity", she said.
Another student, Lucky Dlamini from South Africa, observed that the workshop brought out important issues of gender that are complex and interrelated with issues of race, age and class.
"I have learnt to interpret these in a more informed way that questions why something is done the way it has been done and what could have been different to ensure an equal presentation", he said.
And Onai Hara, from Zimbabwe, said the training specifically introduced students to "dominant stereotypes of women in the media who are portrayed as passive victims and the need for a gender lens in reporting".
The Open Society Initiative for Southern Africa (OSISA) has been supporting women in the media through a one-year scholarship to pursue a fulltime PGDip in Media Management at the SPI, an associate institute of Rhodes University's School of Journalism and Media Studies.
The initiative is aimed at empowering female media professionals to be successful and gender-sensitive media leaders in an industry still dominated by males.
Ends.
Source: SPI
Please help us to raise funds so that we can give all our students a chance to access online teaching and learning. Covid-19 has disrupted our students' education. Don't let the digital divide put their future at risk. Visit www.ru.ac.za/rucoronavirusgateway to donate