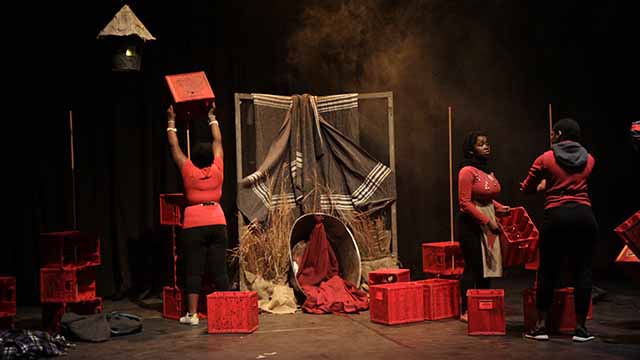 Rhodes University wins NAF Student Festival Award for Best Ensemble
Rhodes University's drama department won Best Ensemble Award at this year's Student Festival at the National Arts Festival (NAF), for its play, Seeing Red.
Gavin Krastin and the First Physical Theatre Company put on yet another illuminating performance
Known for his experimental performances that are full of beauty yet hard-hitting, Rhodes University's Gavin Krastin, in association with First Physical Theatre Company, will be premiering his latest piece, Yet to be determined, at this year's National Arts Festival between 05-07 July at the Nun's Chapel.
Award-winning student director tackles another bold play at Student Theatre Festival
Winner of the 2017 Student Theatre Award for Best Original Work, Mmatumisang Motsisi and Winner of the Best Stage Manager Award, Manoko Tlhako, will be putting on another hard-hitting and combative play at this year's National Arts Festival.
Seeing Red - Students National Art Festival Production
In a village called Boswa, a woman is stoned to death for protesting against the unfair social restrictions that are placed on menstruating woman. Her daughter embarks on a journey to seek justice for her mother's brutal murder. Her journey is a spiritual one that causes her to realise that there is power in the blood that a woman sheds every month, not shame.