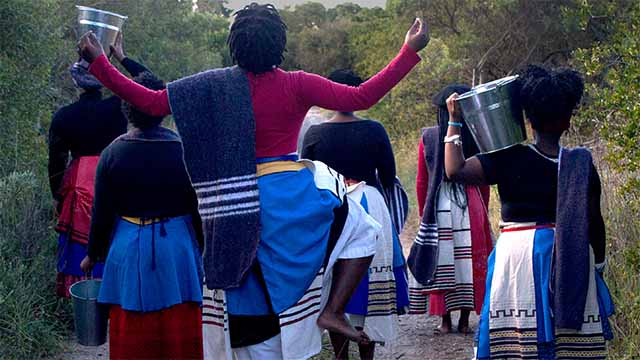 Winner of the 2017 Student Theatre Award for Best Original Work, Mmatumisang Motsisi and Winner of the Best Stage Manager Award, Manoko Tlhako, will be putting on another hard-hitting and combative play at this year's National Arts Festival.
The Student Theatre Festival is the student section of the National Arts Festival, where students from university drama departments across the country compete for prestigious awards. It is the only student theatre festival of its kind in the country, and each university showcases one play which is eligible for various award categories. Rhodes University has been a winner of at least one category since 2014.
"Our continued success at the Student Theatre Awards is proof of our long-standing history of excellence," explained Dr Heike Gehring, Head of Department at the Drama Department of Rhodes University.
Motsisi's 2017 winning entry, Cult Clit, was done in response to cases of femicide and female mutilation in South Africa, which are often silenced or simply swept under the carpet.
This year's entry, Seeing Red, continues on Motsisi's interest in the theme of sexual repression, and how it pertains to ritual and practices specifically.
In the play, a woman is stoned to death for protesting against the unfair social restrictions that are placed on menstruating women. Her daughter then embarks on a quest to seek justice for her mother, and her journey culminates in the realisation that there is power in the blood that a woman sheds every month, not shame.
"I do theatre because I truly believe art is going to change the world," said Motsisi. "I have always loved storytelling, so theatre was, I can almost say, inevitable for me."
The Rhodes University Drama Department Student Theatre Festival wins include the following:
2014 – Winner of Best Student Theatre Production for Solo
2015 – Winner of Overall Best Student Production for Void
Special Merit Certificates for design – Frankie van Straten
2016 – Winner of Best Production Award for Nyanga
Nominated for the Most Promising Playwright of the Year Award – Thembela Madliki
Winner of the Most Promising Director Award – Thembela Madliki
2017 – Winner of Best Original Work for Cult Clit
Best Stage Manager - Manoko Tlhako
Please help us to raise funds so that we can give all our students a chance to access online teaching and learning. Covid-19 has disrupted our students' education. Don't let the digital divide put their future at risk. Visit www.ru.ac.za/rucoronavirusgateway to donate