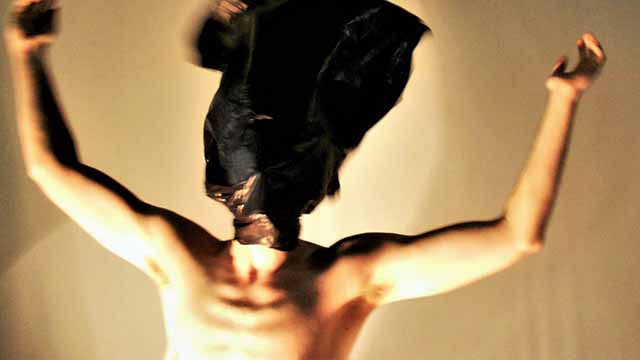 Known for his experimental performances that are full of beauty yet hard-hitting, Rhodes University's Gavin Krastin, in association with First Physical Theatre Company, will be premiering his latest piece, Yet to be determined, at this year's National Arts Festival between 05-07 July at the Nun's Chapel.
"My latest exploration is an anti-narrative live art solo that meditates on the comfort, fear and visceral realisation of one's own inevitable smallness," Krastin explained. "The performance actively engages the audience, who play a part in determining the outcome of the work. Through referenced and imagined ritual-like actions that centre on the body, my performance brings to the fore issues of independency as well as individualism within a group setting."
A multiple Standard Bank Ovation Award winning artist and National Arts Festival performance art regular, Krastin previous works include Rough Musick (2013), Omnomnom, On seeing red and other fantasies, Pig Headed (2016) and Nil (2017), many of which have toured both nationally and internationally.
Yet to be determined has been created in conjunction with Grahamstown-based performance company, First Physical Theatre. Although the company currently operates on a project-to-project basis in Grahamstown, it continues to nurture and inspire an inventive and imaginative physical performance approach while promoting a body-centric language and discourse that is provocative and curious.
Krastin's work is inspired by his immediate environment and the history embedded in the local shifting socio-political landscape. Krastin considers performance a means to occupy, unveil and challenge the body politic.
Event details:
05-07 July 2018
18:00 (30 min duration)
Nun's Chapel (St. Peter's Campus, Rhodes University, Somerset Street, Grahamstown)
Book tickets: https://www.nationalartsfestival.co.za/events/yet-to-be-determined/
For more information:
Email: gavinkrastin@gmail.com
Phone: 082 557 7997
Website: www.gavinkrastin.com
YouTube: www.youtube.com/gavinkrastin
Vimeo: www.vimeo.com/gavinkrastin
Instagram: GavinKrastin
Please help us to raise funds so that we can give all our students a chance to access online teaching and learning. Covid-19 has disrupted our students' education. Don't let the digital divide put their future at risk. Visit www.ru.ac.za/rucoronavirusgateway to donate