2018 Events Calendar
31 May 2018 - East London
28 June 2018 - East London
4 September 2018 - Johannesburg
These dates are subject to change and more information will be communicated in due course.
Purple Thursday - 31 May 2018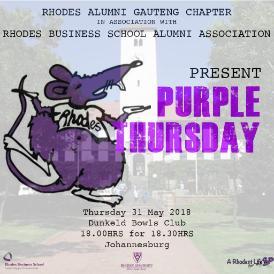 ‌
Event : Purple Thursday
Date : Thursday 31 May 2018
Time : 18.00 for 18.30HRS
Venue : Dunkeld Bowls Club
The Rhodes Alumni Gauteng Chapter in association with Rhodes Business School Alumni Association present Purple Thursday. We invite all Rhodes Alumni in the Gauteng region to join a festive reunion of Rhodents as we continue our efforts to elevate the level of networking and synergy among our alumni. Let's take time to remember the Purple Blood that binds us and build a community of Leaders that work together to create value in South Africa and the world.
This will be a cocktail style evening session where alumni will be able to meet and interact with each other in an informal setting at the Dunkeld Bowls Club in Johannesburg. If you've considered taking your studies further, be sure to look for our representatives from Rhodes Business School for information about the MBA and PDEM courses.
All past and present Rhodents are welcome. Bring a friend, tell someone.
We look forward to seeing you all there.
‌
Last Modified: Thu, 10 May 2018 14:27:51 SAST