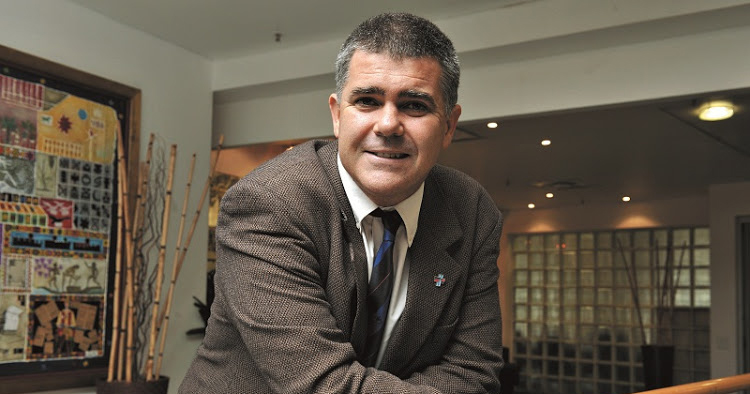 I would like to write a glowing story, but I have to tell it like it is. Even if Covid-19 had never happened, there are systemic issues that have not been resolved in ensuring that South Africa rapidly catches up to participate in Industry 4.0. This includes the manufacturing requirements for the digital revolution and fusion of technologies known as the Fourth Industrial Revolution (4IR).
A publication by the Council for Scientific and Industrial Research (CSIR) emanating from the 2018 SA-EU strategic partnership dialogue conference on disruptive technologies and public policy in the age of the 4IR, explains what Industry 4.0 is and what we need to do as a country:
The notion of the 4IR has a broader global socio-political component, while Industry 4.0 has a production focus, specifically on production automation through the use of cyber-physical systems and advanced manufacturing technologies such as autonomous and collaborative robots, simulations, systems integration, the industrial internet of things (IIOT), additive manufacturing (3D printing), and human-machine interfaces.
In South Africa, Industry 4.0 policy is spearheaded by the Department of Trade and Industry, where a dedicated 4IR directorate has been established, and policy formulation is in progress at the time of writing. Industry 4.0 policy would ideally be integrated with data policy, due to its reliance on a permanently connected network of devices and equipment. A policy framework for industry 4.0 would benefit from a sector-specific focus, since the manifestation of industry 4.0 has distinct characteristics in each sector.
It makes total sense, but our country has set up one commission after another, followed by a lack of action that is destroying our chance of making any mark in the Industry 4.0 space. The Ellies Group recently had to put their manufacturing subsidiary under liquidation because of the protracted lack of movement on the digital terrestrial television spectrum. Ellies Industries employed 148 people and manufactured and distributed hardware such as satellite dishes and terrestrial aerials. However, as a result of the spectrum delays, it was cheaper for Ellies to import than manufacture in South Africa.
In his SONA address, President Ramaphosa, promised action on the years-long digital migration project to digital terrestrial television (DTT) that would begin next month. This was cold comfort for Ellies. What comes up time and again is the continual disconnect between the grand ideas and what- and how fast and efficiently we are able to implement on the ground.
The President continually talks about how Africa must take advantage of technological advances to industrialise, and to attract investment, and how the 4IR represents the tectonic shift of our time, changing the way we live, work, do business and govern. But the private sector is not investing, they are sitting on their money as they need certain basic factors firmly in place before they commit, and consequently the Ellies example does not inspire confidence.
Neither does the fact that the state completely missed the deadline to achieve universal broadband coverage throughout the country. The National Broadband Policy for South Africa stipulates that there should be universal access to reliable, affordable and secure broadband infrastructure and services for all the people of South Africa by 2020. There is a direct correlation between a country's broadband connectivity and its ability to grow its global economic competitiveness and national economic and social well-being.
This would have made all the difference to many sectors, particularly education during the pandemic. We also missed the deadline to order vaccines in advance. We constantly miss deadlines and lag behind when any lag is fatal given the speed of 4IR and Industry 4.0 progress in many countries throughout the world. We have to face that South Africa has profound infrastructure, utilities and services issues that impede our speed of development and competitiveness. The majority of our municipalities and service delivery systems are in a mess. We cannot ignore the mammoth in the room - Eskom - it needs to be sorted out once and for all, and it is long overdue that government gives its full support to a significant number of independent renewable energy producers to come on stream.
In an article in 4IRSA.org by Amy Musgrave, titled South Africa Seeks energy Solutions Fit For the Fourth Industrial Revolution, it says: A key feature of the Fourth Industrial Revolution is the shift from fossil fuels to smarter, cleaner renewable energy. In South Africa that shift is hindered by the weaknesses of state-owned utility Eskom. It goes on to say that no change can happen in isolation of the state's power utility, which supplies more than 90% of the country's electricity. Many billions are needed to get Eskom running effectively, and that Parliament this month heard that it will need an additional R187-billion to comply with new emission-reduction.
It questions how serious we are about greening our economy and moving away from being one of the top emitters of greenhouse gasses in the world. Musgrave cites a recently released report based on a study by the non-profit Project 90 by 2030 titled Remaking Our Energy Future: Towards a Just Energy Transition (JET) in South Africa which says the use of renewable energy creates opportunities for more socially or community-owned companies.
The report explains: This can be done by supporting communities in setting up their own energy projects. South Africa needs to revise it renewable energy programme, and a shift from a centralised system to a decentralised energy system must be supported … Programmes for worker placement must be established and workers in coal and other impacted sectors should be retrained … On the environmental side the researchers say modern agriculture, mining and industrial development have degraded the quality of the country's soil, air and water resources. These areas must be restored to prevent further damage. Apply the polluter pays principle, ensuring polluters pay for restoration of degraded ecosystems… South Africans need to hold government and companies accountable.
For South Africa, it is a race against time. In the Brookings Foresight Africa 2020 report, six top priorities are explored that provide opportunities for South Africa and the continent to overcome the existing obstacles and spur inclusive 4IR and Industry 4.0 growth.
These include:
The Sustainable Development Goals (SDGs) will shape policy priorities for African governments and their partners over the next 10 years.
For Africa to accomplish the ambitious but laudable SDGs, strong institutions and good governance must be in place.
With rapid population growth and urbanisation, African leaders must leverage demographic trends for economic transformation and job creation.
Combating climate change.
Food security is particularly in the crosshairs as climate change threatens the means of production and the nutrition of the continent's people.
A regional and national agenda to harness the Fourth Industrial Revolution and its accompanying technologies as a pathway for many solutions to the challenges facing the continent. Progress toward goals such as education access, climate change mitigation, and service delivery can all be enhanced by digital tools both already available and on the horizon.
Bolstering Africa's role in the global economy. The Fourth Industrial Revolution is already ushering in a new, empowered future for Africa as it steps out on to the world stage, bolstered by the newly implemented African Continental Free Trade Agreement.
These themes are obviously valid but, again, we have need to be clear about urgently addressing them. The same urgency for action applies to the African Continental Free Trade Area agreement (AfCFTA) started on 1 January this year with the intention of eliminating import tariffs on 97% of goods traded on the continent, as well as to address non-tariff barriers. The aim is to increase the appeal of direct investment in Africa for the rest of the world and significantly increase intra-African trade - a market of over 1.3 billion people.
In a January 2021 article on issafrica.org by Teniola Tayo, titled Africa's free trade agreement: great expectations, tough questions, raises key the action required to boost international investment and intra-African trade.
Intra-Africa trade has historically been low. In 2019, only 12% of Africa's $560 billion worth of imports came from the continent … African countries must find answers to several questions including production growth, productivity growth and reduced transport costs. Conversations around implementing the free trade agreement have recognised the need for investment in transport infrastructure to facilitate trading. Although several options are being considered, high transport costs continue to pose a threat to the pricing competitiveness of intra-African exports, especially in the cross-regional context.
Tayo's hope is that: similar to China's 'century of humiliation, Africa's history of slavery, colonialism and subsequent global marginalisation will provide an impetus for change …With 54 signatories and 36 ratifications, the speed at which African leaders have moved on the AfCFTA may signal a new level of commitment to these ideals.
Collaboration is very important and here at home it was great to see that the CSIR and Siemens will be collaborating, but this is just the tip of what needs to be done. An announcement by the CSIR in techcentral.co.za on 5 Feb 2021 reads as follows:
On 3 February 2021, the two organisations signed a Memorandum of Understanding to foster technical vocational education and training (TVET) regarding critical technical and digital skills to contribute to the employability of the local workforce and enhancement of the quality of job profiles.
Through this partnership, Siemens will also be part of the South Africa Centre for the Fourth Industrial Revolution (C4IR-SA) and will assist in positioning the C4IR-SA as a thought leader in innovative digital technologies. The C4IR-SA, hosted at the CSIR, aims to mobilise public-private partnerships to co-create enabling governance frameworks to optimally harness the potential of 4IR technologies such as artificial intelligence, blockchain and big data for societal advancement.
They talk about what a boost this will be for South Africa's pursuit of being a key player in the 4IR, and that it will "empower the country's economy and citizens with digital skills", but without wanting to be a killjoy we've heard this so many times.
We need to put the measurement steps down and to hold roleplayers to account and create a context for governments and the public and private sector to work together. A basic example is that there is no point handing out tablets to learning and switching over to digital teaching if teachers are not rapidly trained in this skill set.
And so in all aspects, unless we demonstrate we are acting on the priorities and actions plans required, then the Industry 4.0 and 4IR opportunities that are ripe for harnessing now will probably pass us by. If the Ellies closure of part of its business for the reason discussed is a taste of how we are going to address Industry 4.0 then it should be a huge wake-up call for all of us. The time for talking grand ideas is over, it is now about people doing and collaborating in a meaningful, proactive and authentic way.
Source: Tribe Business Magazine, Issue 6, 2021, pg 32-37