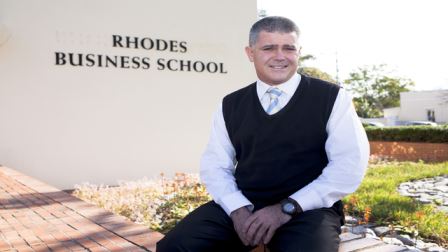 In a ground breaking move, the Rhodes University Business School this month launched a television channel, which offers lectures in Economics I, Commercial Law, Entrepreneurship and financial planning.
Funded by Nedbank, the channel, Rhodes Business School, aims to be an incubator to promote social enterprise, entrepreneurship and empower local people with business management skills. It is available via an app called Tuluntulu.
Professor Owen Skae, Director of the Rhodes Business School said the project, which currently has over 40 hours of content, speaks to the need for Rhodes University to join other higher education institutions globally who play a major role in their immediate communities through hubs of innovation across all faculties towards creating compassionate cities through compassionate institutions.
"The Vice-Chancellor often talks about the concept of 'brighten the corner where you are'; this is what we are doing. As part of the transformation agenda, universities and higher education institutions should focus on their role in advancing the social and economic growth of their cities and towns," said Skae.
Skae says that this initiative is allowing Rhodes to evolve into a "communiversity". He describes this as a newly coined global term that aims to reflect the role universities play in terms of providing academic and cultural stimulation to the communities in which they are located and become centres of creative thinking and innovation.
The Commercial Law lectures presented by Advocate Shuaib Rahim are among the first programmes available on the channel. Over the next weeks, additional content will be available in the various knowledge areas offered by Rhodes University.
Based on the success of the channel, a fully-fledged TV channel will be developed to include languages such as IsiXhosa and a full spectrum of business subjects. Skae believes that, partnerships with the government and business can lead to greater entrepreneurial and employment opportunities for the Makana community.
"It is the digital era and we need to find ways of making knowledge accessible at the lowest possible cost to as many people as possible. South Africa is at a cross roads in its social economic development, having averaged a 1% economic growth over the last quarter century. As part of the pilot programme, we wanted to focus on more specific subjects and audiences to inspire young people to start businesses, grow the economy and employ more people," enthused Skae.
The Rhodes Music Radio station (RMR) is also available on the app. As a campus based community radio station, RMR can now reach a wider audience than just Grahamstown and surrounds.
Founded in 1981, RMR is the first campus based station to be licensed to broadcast legally.
To download the tuluntulu app: For Android:
https://play.google.com/store/apps/details?id=za.co.tuluntulu&hl=en
For iTunes:
https://itunes.apple.com/za/app/tuluntulu/id874882888?mt=8
Tuluntulu is a mobile "TV" platform offering various 24/7 streaming video and radio channels. The content ranges from news, public affairs and documentaries. Users can download the app and view streamed content free on Wi-Fi. Data costs apply when connected via mobile networks.