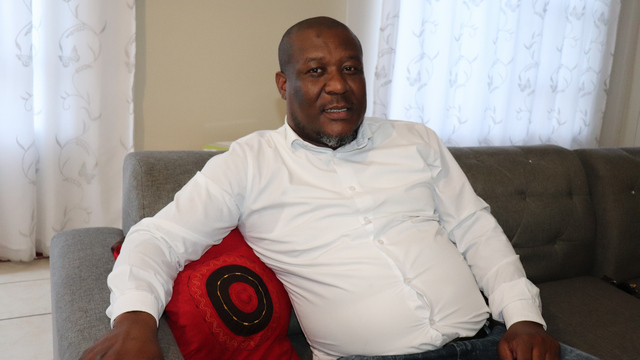 Rhodes Business School student, Ludwe Gcingca, uses old tyres to create jobs and fight against climate change. The Post Graduate Diploma in Enterprise Management student's idea came about in March this year when he took a walk by the beach and noticed that old tyres were causing a lot of damage to the environment and were not a good sight. Inspired by the lessons he received from the Business School about job creation, climate change and sustainability, the idea of using old tyres to make household items such as coffee tables, chairs and washing baskets took root.
Explaining his concept, Gcingca said: "I noticed that the old tyres are used during protests and some are dumped in the rivers and this leads to the degradation of or environment. I decided that I want people to attach value to the old tyres whenever they see them." The 39-year-old Tsomo-born businessman is working with five students from Walter Sisulu University's Fine Arts department.
Gcingca is the founder of Alex Gcingca Foundation, which is based in East London and deals with environmental issues and also helps university students with bursaries. He also works with the Motsepe Foundation for bursaries for students. He was recently recognised and awarded by the South African National Union of Students in Cape Town for his sterling work, where he won first prize in the category of: "individuals who have contributed towards assisting students with outstanding tuition fees; provided platforms of scholarship and opportunities aimed at uplifting young people, students, graduates and communities respectively".
Gcingca's dream is to have partnerships with different district municipalities around the province and to employ at least 10 youths in each district. He said his discussion with Buffalo City Metro was at an advanced stage and they were eager to assist. His only challenge currently is a space to work from which to make the products.
The Rhodes Business School student said lecturers at the Business School were very supportive of his initiative. "What I love most about Rhodes Business School is that it teaches you to respond accordingly to issues affecting the country as a whole. Although I have been in business for a while, I learnt a number of valuable lessons about running a business since enrolling at the Business School," he added.
He is also in the process of building a 42 bedroom lodge and a wedding venue at his rural location of forty, in Tsomo. He plans to create more jobs in the area by employing local people.
Gcingca holds a Degree in Social Sciences from University of Fort Hare, a qualification in Integrated Development Planning from Nelson Mandela University, and in Project Management from South Cape College. He plans to do his MBA at the Rhodes Business School next year.