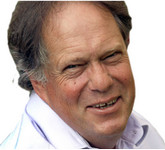 Working with the recently released 2013 SARS tax statistics is a pleasure. They give true meaning to transparency in the budgetary process.
When we write the history of South African tax, former finance minister Trevor Manuel could perhaps be described as a great batsman on an easy wicket, somewhat like Jacques Kallis but never as dull as Kepler Wessels.
With South Africa's tax engine firing on all cylinders before 2008, the going was easy. But the national budget contained no contingency for slowing economic growth. And when the crisis arrived, over-reliance on corporate tax proved to be our achilles' heel.
Before 2009, when the economy was growing at more than 4%, there was room to reduce the corporate rate from 35% to 30% in 2000 and to 28% in 2008. After the 2009 recession the weakening of the mining and manufacturing sectors left corporate collections underperforming.
The SARS statistics clearly reflect the mining sector tax disaster, with total tax collections falling from R14bn before the financial crisis to negligible proportions (net of VAT refunds) by 2010. The recovery to R8bn by 2011 was short-lived, and collections dropped shy of R4bn by 2012.
The manufacturing and retail sectors have struggled to maintain their tax contribution at about R50bn.
The financial sector has shown remarkable resilience, with total sector tax collections increasing through the financial crisis to R220bn by 2012. But the financial sector cannot take all the credit.
Pravin Gordhan, while commissioner of SARS, made it his mission to persuade this sector to discontinue its aggressive tax practices. Had he not achieved this, corporate tax collections would be a complete disaster today.
The resultant national deficit would have reduced South Africa's ratings to junk and our currency would have collapsed.
Gordhan deserves the Order of the Baobab gold class in acknowledgment of his foresight and courage in tackling the financial sector's tax practices when times were easy.
Lester is a professor at the Rhodes Business School, Grahamstown.
This article was first published in Sunday Times: Business Times
BY MATTHEW LESTER
Article Source: Business Day