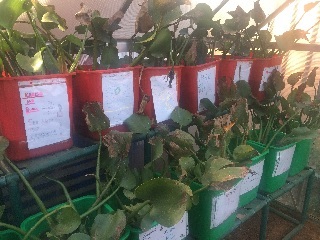 The first mass rearing school facility was established in collaboration with Wits University and the Northern Cape Department of Education, where a water hyacinth mass-rearing facility was set up at Warrenvale Hoërskool in Warrenton, Northern Cape, in 2010. The aim of this programme was to promote awareness of the threats posed by water hyacinth to water security of the country's most important river, the Vaal River. Additionally, it aimed at providing hands on experience dealing with a tight plant-insect interaction, which was ultimately incorporated into the school curriculum.
We initially hosted a workshop for Northern Cape educators and local government administrators entitled: 'Education and Awareness of Aquatic Weeds in the Northern Cape', in March 2010, to inform educators from the Northern Cape on how biological control of invasive plants can be incorporated into the school curriculum. It has since been incorporated into the National Curriculum for Life Sciences. Since it's inception, the Warrenvale students have released thousands of weevils onto water hyacinth on the Vaal River, contributing significantly to its control. WfW managers on the Vaal River have been really impressed with the results of this programme. We aim to expand this concept to more schools in the area, and also around the countryProviding practical leadership opportunities to local school children ensures community involvement in environmental stewardship. Furthermore, a mass-rearing facility can be used to teach a number of different skills to the scholars, for example, numeracy, and written and oral communication.
If your school is interested in starting their own facility, please contact Kim Weaver.
View Gallery
Last Modified: Thu, 04 Oct 2018 08:53:18 SAST