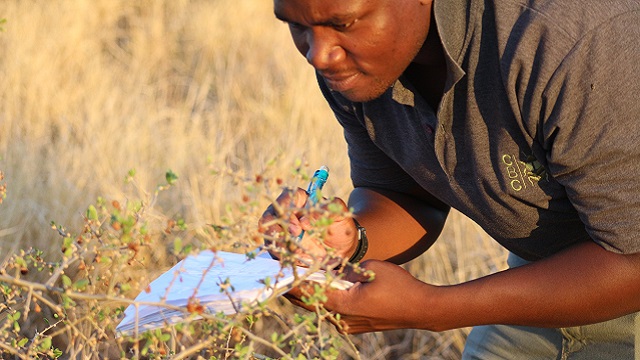 From the 26th of February till the 15th of March 2019, Evans Mauda, a CBC PhD embarked on an expedition to Australia. Evans' journey started a while back with the mighty little ladybird beetle (Cleta eckloni) - a coccinelidae phytophagous insect which is a potential biological control agent of Lycium ferocissimum Miers, also known as African boxthorn. African boxthorn is a native South African shrub occurring in the Eastern and Western Cape Provinces of the country. The shrub is invasive in Australia causing substantial damage to ecosystems and impacting native biodiversity negatively. This lead the CSIRO (Commonwealth Scientific and Industrial Research Organisation, Australia) to collaborate with the CBC at Rhodes University to start a biological control programme to help bring the shrub under control. Mechanical and chemical methods have shown to be costly and harmful to the environment.
Over the last two years Evans, under the supervision of Dr Grant Martin, has been researching the shrub and its natural enemies (candidate biological control agents). During this time Evans has found three insects that damage the shrub and reduce its prolific ability to cause destruction in the environment. Initial testing of these three insects was done at the CBC lab in South Africa. One of the three insects, Cleta eckloni, showed the best potential as a candidate biological control agent, leading the CSIRO researcher on the programme Dr Raghu Sathyamurthy to invite Evans and C. eckloni over to Australia. On the 28th February 2019, Evans and the CSIRO team successfully imported a culture of Cleta eckloni from South Africa into their quarantine facility in Brisbane. The insects were healthy and hungry for some boxthorn. The CSIRO will now undertake further host specificity testing in order to determine if Cleta eckloni is a suitable agent to control African boxthorn in Australia. Evans will assist with host specificity testing here in South Africa with some Australian plant species he has in quarantine.
Evans went on a few field trips to see African Boxthorn in its invasive state which was a great opportunity for him to see the damage it causes. Overall Evans had a very successful work trip with a fair amount of play too, it being the first time he was in Australia. He did some sightseeing and was introduced to some of Australia's well-known fauna and landmarks.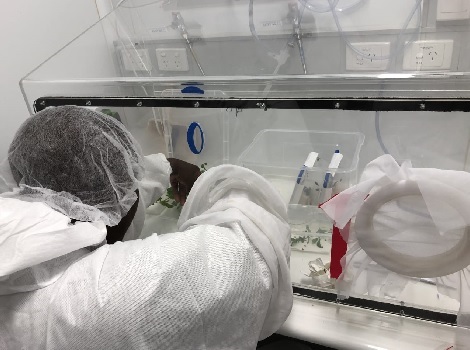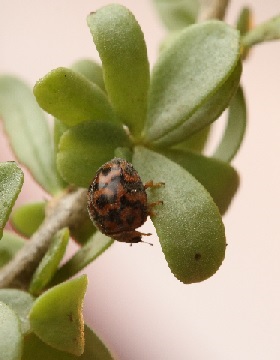 Evans unpacking Cleta eckloni (right) in CSIRO's quarantine facility, Brisbane, Australia.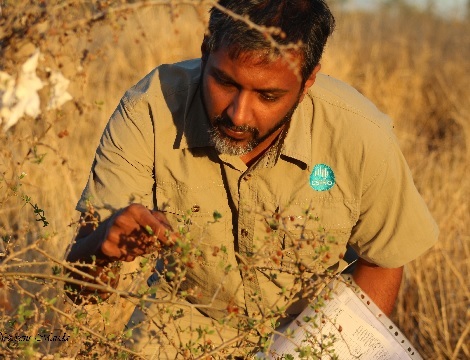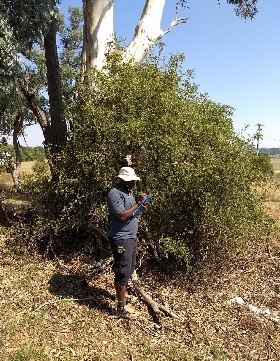 Dr Raghu Sathyamurthy (left) examining fruits of African boxthorn in one of the biggest infestations in Goolgowi, New South Wales; Evans Mauda in the field making notes in front of an African boxthorn specimen (right)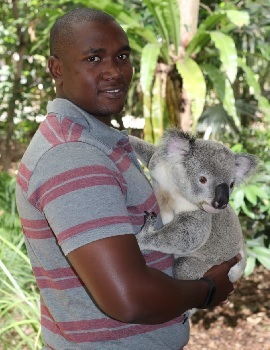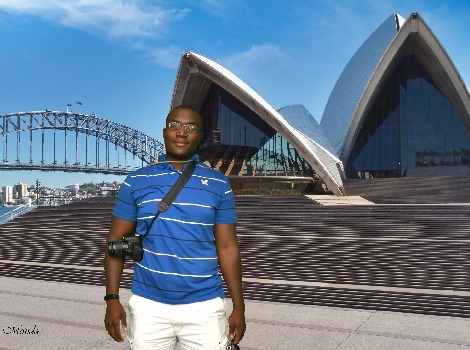 Showing the Koala some love at Lone Pine Koala Sanctuary (left) and taking in the classic view of the Opera House in Sydney next to Sydney Harbour Bridge
Source: Evans Mauda
Please help us to raise funds so that we can give all our students a chance to access online teaching and learning. Covid-19 has disrupted our students' education. Don't let the digital divide put their future at risk. Visit www.ru.ac.za/rucoronavirusgateway to donate