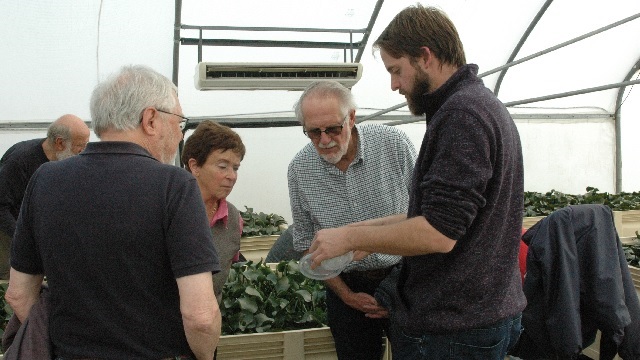 The CBC took part in the 'Trading Live for Mandela Day' – run by the Community Engagement Office at Rhodes University. Kim Weaver, Community Engagement Officer at the CBC, ensured that a number of different CBC related activities took place.
One of these activities was a tour of our Waainek Mass Rearing Facility. On Wednesday, 18 July, Dr Grant Martin (Senior Research Officer) took a group of seven people (from the University of the Third Age (U3A) and WESSA) on a tour of the facility. He explained the work that is done at this facility, and also the theoretical concept of biological control and the various aspects of research that is undertaken at the CBC.
Another CBC Trading Live activity took place on Monday, 23 July. Two technicians and a second year Entomology student hosted a presentation on bees to the St Andrew's Grade 4 learners - they enjoyed it thoroughly and got to see a bee suit as well as taste freshly harvested honey that was harvested by the student! The Entomology honours students visited Oatlands Prep and Victoria Girls High School the same week to run a lesson on Entomology and gave some insights into why people do not need to be scared of insects.
Prior to Trading Live, Dr Candice Owen, an Entomology lecturer at Rhodes University, who is associated with the CBC, was involved in another community engagement activity. She gave a presentation to the University of the Third Age (U3A) on Thursday, 12 July 2018. Her presentation focused on the research she conducted as part of PhD, which she completed in 2015, on the interaction between a maritime spider and an unusual parasitoid wasp. Approximately 30 people attended the talk, most of whom are retired academics, and showed great interest in her work. Community engagement is an integral part of the work done at the CBC, and various engagements take place throughout the year. More information is available here about the various programs.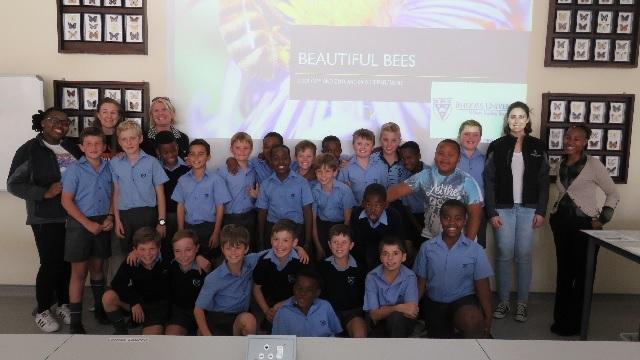 St Andrew's Prep learners after learning more about bees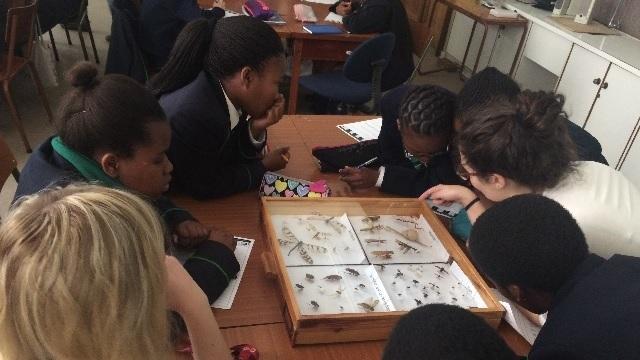 Victoria Girls High School learners getting a close up view of a variety of insects
Source: Esther Mostert
Please help us to raise funds so that we can give all our students a chance to access online teaching and learning. Covid-19 has disrupted our students' education. Don't let the digital divide put their future at risk. Visit www.ru.ac.za/rucoronavirusgateway to donate