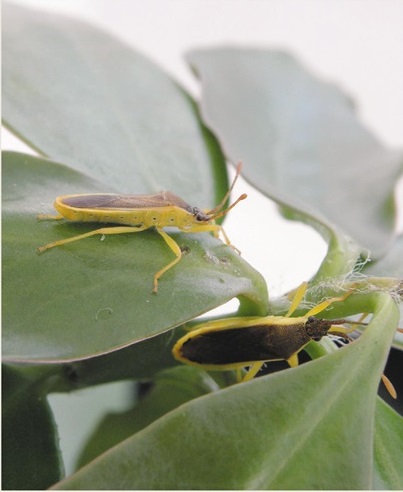 PORT ELIZABETH. - 'n Insek omtrent die grootte van 'n duimnael is op die oorlogspad.
Die klein Brasiliaan met die grote naam, Catorhintha schaffneri, gaan die lewe suig uit al wat 'n Pereskia aculeata (ook bekend as die Barbados-stekelbessie of blaarkaktus) is.
Die aankondiging deur die Rhodes-Universiteit kom ná jare se navorsing deur dr. lain Paterson van die departement dierkunde en entomologie oor die beste manier om die indringerplant uit te roei sonder om die omgewing verder te benadeel.
Die klein swart en geel goggatjie eet net pereskiablare - en as die pereskia uitgeroei is, is dit ook ikabod met die dapper insek-"soldate". "Pelotons" van 300 van die biologiese "soldate" wat in kwarantyn geteel is, gaan nou vrygelaat word van Port St. Johns tot by Kosibaai. Pereskia, wat 'n lid van die kaktusfamilie is en in 1858 as 'n botaniese rariteit die land ingebring is, groei so welig dat dit inheemse plante verdring.
Dit groei ook in moeilik bereikbare gebiede waar dit in elk geval glad nie sin sou maak om gewone plantdoders te gebruik nie. Die departement van landbou, bosbou en visserye het Paterson toestemming gegee om sy geheime wapen vry te laat nadat sy navorsing van die afgelope sewe jaar noukeurig dopgehou is. "Dit is nou duidelik dat die gogga net op Pereskia kan oorleef en dat dit sal vrek indien dit 'n ander plant moet vreet. Dit beteken dat die gogga nie inheemse plante of ander gewasse sal beskadig nie," het Paterson gese.
'n Intensiewe teelprogram is nou by die Suid-Afrikaanse Suiker-navorsingsinstituut aan die gang om die pereskia se grootste vyand gereed te kry vir die oorlog. Die Brasilaanse goggas het net oe vir die indringerplant Pereskia en gaan nou in groot getalle vrygelaat word om dit die nekslag toe te dien.
Article by : Tamlin Marais
Article source : Burger
Source: Burger
Please help us to raise funds so that we can give all our students a chance to access online teaching and learning. Covid-19 has disrupted our students' education. Don't let the digital divide put their future at risk. Visit www.ru.ac.za/rucoronavirusgateway to donate