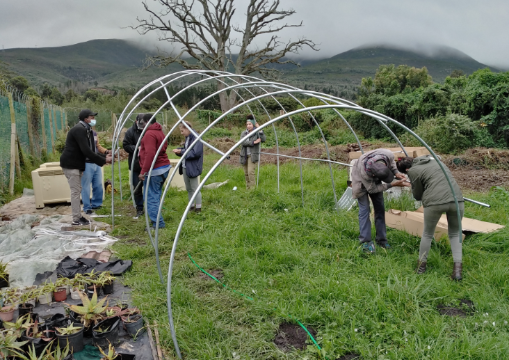 In early May 2021, the Centre for Biological Control (CBC), in conjunction with The Study House and the Garden Route Botanical Gardens, established its first satellite mass-rearing facility in George in the Western Cape. This was for the salvinia weevil, Cyrtobagous salviniae, a biological control agent for the invasive Kariba weed, Salvinia molesta.
The Garden Route Dam provides the city of George its main water supply as well as acts as the recreational centre for the local residents. In recent months the Garden Route Dam has seen a gradual increase in Salvinia molesta, known locally as Kariba weed. Kariba weed is a noxious floating aquatic fern that has invaded large swathes of Southern Africa. The weed negatively impacts both ecosystem structure and water use by covering the surface of water bodies and changing water quality. The release of the incredibly successful salvinia weevil (Cyrtobagous salvinae) has brought this weed under full biological control throughout most of South Africa. However, the weed continues to persist in cooler temperate coastal zones along the Southern and Western Cape due to the agent's sensitivity to cold temperatures.
Since the release, post-release surveys of the Kariba weed on Garden Route Dam have shown a significant uptake in the weevil population on the dam as well as increased damage by the weevils, with over 95% of all material on the dam having significant weevil feeding damage and minimal shoot development on plants. Since the initial release of the salvinia weevil in early February 2021 on the Garden Route Dam, to date, over 6000 weevils have been released on the dam and major tributaries, resulting in the significant control of the weed.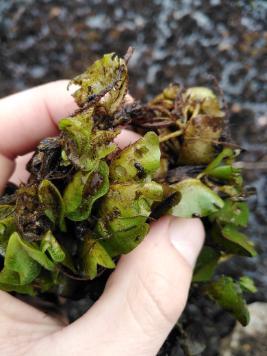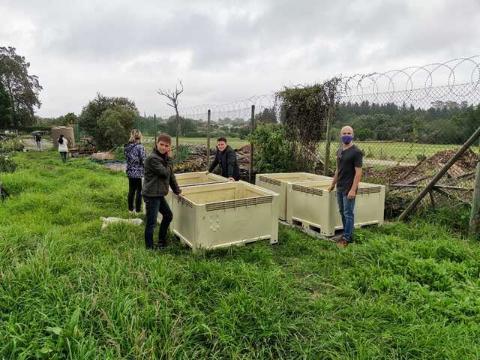 Kariba weed which is signifcanlty damage by the salvinia weevil on the Garden Route Dam (left), and tubs in which the weevil will be reared.
Due to the vigorous growth of Kariba weed and the cold sensitivity of the salvinia weevil, it is expected that a resurgence of Kariba weed will occur in the early spring months. For this reason, the satellite mass-rearing program at the Garden Route Botanical Gardens aim is two-fold, firstly it is to improve the release rate of the salvinia weevils on Garden Route Dam after the cool winter months, reducing the infamous 'lag-phase' experienced by all biological control efforts in temperate regions. The second aim is to provide a practical environmental management educational topic for scholars of The Study House, the schools' central ethos.
The success of the program will be truly measured in early October when releases of the salvinia weevil can start, but with the assistance from CBC, the Study House, Garden Route Botanical Gardens, and local participation, the control of Kariba weed on the Garden Route Dam looks to be very promising.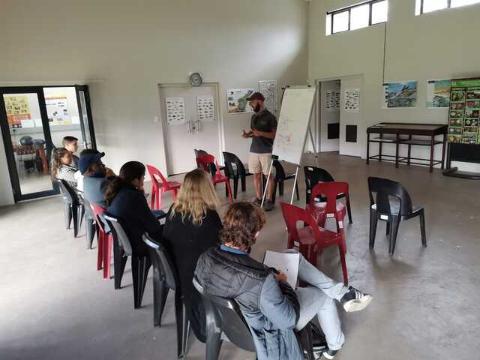 CBC's staff member Matthew Paper chatting to students about the basics of rearing the salvinia weevil
Source: CBC Staff
Please help us to raise funds so that we can give all our students a chance to access online teaching and learning. Covid-19 has disrupted our students' education. Don't let the digital divide put their future at risk. Visit www.ru.ac.za/rucoronavirusgateway to donate