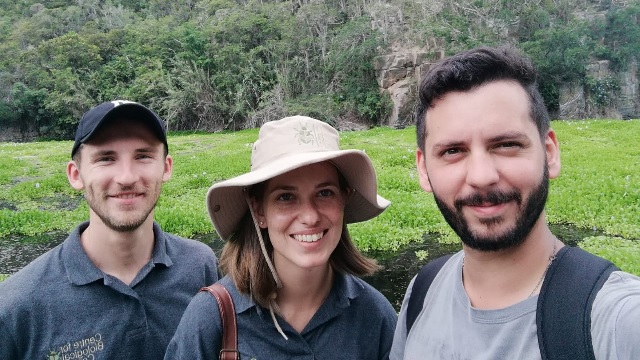 The CBC and the Foundation for the Study of Invasive Species (FuEDEI- for its Spanish acronym) have been working together for a number of years on the biological control of invasive weeds. From the 10th of February to the 27th of April 2019, the CBC hosted Tomás Righetti, a PhD student based with FuEDEI in Buenos Aires, Argentina. Tomás's PhD research is focused on the weevil Neochetina bruchi and the plant hopper Megamelus scutellaris which are both biological control agents for water hyacinth (Pontederia crassipes). Both the plant and the agents are native to South America, where he is from.
During his stay in South Africa, Tomás visited three sites invaded with water hyacinth in two provinces - Hartbeespoort Dam in the North West Province, and the Nahoon River and Kubusi River in the Eastern Cape Province. He used these sites to analyze the actual state of the invasions and compare them to the ones in Argentina. In February, he gave a talk to students and teachers at Mountain Cambridge School (photo on left) near Hartbeespoort Dam about the mass rearing project being carried out in the at an Agricultural School in San Vicente, Argentina. Tomás has been working with this school in Argentina since the inception of this mass rearing programme in January 2018.
Tomas also worked with CBC staff Matthew Paper and Esther Mostert, and Botany PhD student Sarah Raubenheimer, and undertook experiments in the open topped CO2 chamber facility (photo on right), to see how water hyacinth and the biological control agents Megamelus scutellaris and Cornops aquaticum will react to potential climate change scenarios.
Tomás first trip to South Africa was very successful and productive. He will continue working with the CBC in the optimization of biological control as a strategy in the management of water hyacinth.
Source: Tomás Righetti
Please help us to raise funds so that we can give all our students a chance to access online teaching and learning. Covid-19 has disrupted our students' education. Don't let the digital divide put their future at risk. Visit www.ru.ac.za/rucoronavirusgateway to donate