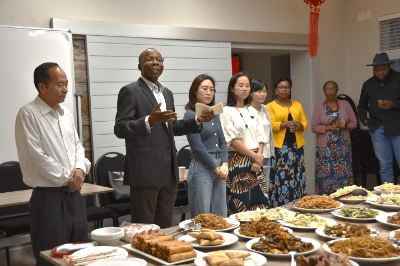 The Confucius Institute at Rhodes University (CIRU) organised a celebration for the New Year (or Chinese Spring Festival) on the evening of 24 January 2020. Among the invited guests were Professor Liu Dexue, the Chinese Director of CIRU and Head of Chinese Studies Section, Professor Patrice Mwepu, the Confucius Institute Director, Mrs Fu Shuying, the DSG Chinese teacher, Mr Zhou Xinglei, the Chinese Instructor in Port Elizabeth, Ms Zang Li, the Senior Chinese Teaching Assistant, and the Head of the School of Languages and Literatures, Dr Undine Weber.
What is so significant about the Year of the Rat? When most people think about rats, they do not want them near them! However, rats are not all that bad. According to Chinese legend, the rat is the first in the Chinese zodiac and it symbolises new beginnings, wealth and prosperity. People born in 1924, 1936, 1948, 1960,1972,1984,1996, 2008, and 2020 are born in the Year of the Rat.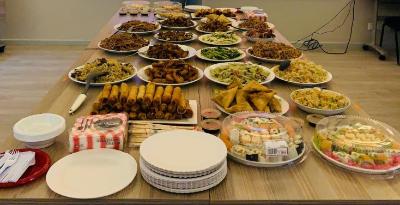 Food served for Chinese Spring Festival (Zang Li©)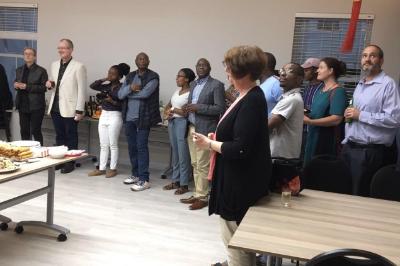 Staff Members (Zang Li©)
Prof Mwepu opened the evening with speaking about the success of 2019, especially with the new Rhodes University Model Confucius Institute Building. He also added that in the year 2020, "Let's not focus on strategies as they have already been defined, let us rather focus on the implementation of what we planned for 2020." He emphasised that because this is the year of the rat, we should be like rats and leave no stone unturned in our research, our work and in looking at new developments. He said that teamwork made it possible for the new building to become a reality as a goal like that could only come about through the spirit of teamwork.
Along with the New Year celebration, Rhodes University also welcomed Professor Liu Dexue who has joined the institution as the Chinese Director of the Confucius Institute and the Head of Chinese Studies Section. Prof Liu arrived at Rhodes University on 18 December 2019, with very good experience from Jinan University (China) where he served as the Dean of Economics for several years. Prof Liu replaced in this position Prof Zhang Jun who returned to China at the end of 2019.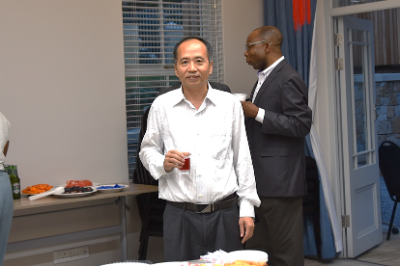 Director of CIRU & Head of Chinese Studies, Professor Liu Dexue (Zang Li©)
Prof Liu will be involved in teaching of Chinese Studies at Honours level where he might introduce the Chinese Economy as one of the modules for the programme.
For Professor Liu, the celebration here in Makhanda, is like an extension of the celebrations which he would have had in China. "This is like an extended family for me here as there are so many people from the School of Languages and Literatures", he adds. He believes that this gathering is good as it also makes him think of the stories which his father used to tell him about his roots and heritage during the New Year celebrations.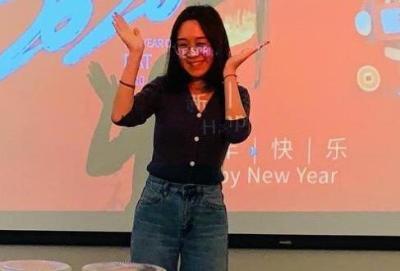 Chinese Studies 3 Lecturer- Ms Liu Ruixin (Zang Li©)
Ms Liu Ruixin has also joined Rhodes University as new Chinese 3 lecturer. For her, the Chinese New Year is important as it is a time for Chinese families living all over the world to meet, eat and celebrate together as a family. "In my family, we have my grandparents, other family members and friends coming over during this special time", says Liu. The main dishes which are eaten during this time are Dumplings (jiao zi), Spring Rolls (chun juan), Noodles (chang mian) and Hot Pot (huo guo). Liu also says that it is tradition to wear red during this time, as this is a sign of good luck; parents also give their children some money for a better year and also for setting off fireworks, she said.
Liu is from the north east of China and will be teaching language and culture to Chinese three students. She says she is looking forward to her year at Rhodes University and she would also like to improve her English language.
Meng Li, the Chinese 2 teacher says that what she enjoys most about the Chinese New Year celebrations is hanging up the decorations and all the shopping which she does with her family. "This year I hope to graduate, travel to Beijing with my family and I would also like to gain more confidence and independence", said Meng.
The School of Languages and Literatures is set for the year 2020, and given that the Year of the Rat can only bring good fortune, this is what will drive students and staff to work even harder this year!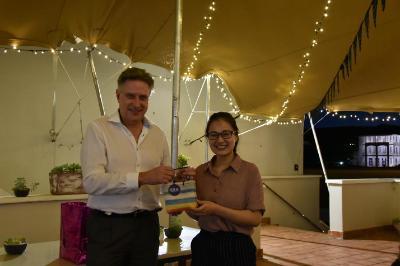 High School students from the Diocesan School for Girls and St Andrews College (Zang Li©)
The Diocesan School for Girls and St Andrews College learners also celebrated the Chinese New Year; and from their responses, they seem to understand and appreciate the reasons behind the New Year celebrations. Vuyo Mtongwana, a grade eight learner, says that the celebrations have been going on for a long time in the Chinese culture and so the Chinese want these celebrations to carry on for generations to come. "During class laoshi Fu, taught us about the different Chinese years and about what the zodiacs mean", says Zazi Ntshinga, another grade eight learner. Karen Ngetsemwa says, "If we do not continue celebrating our traditions, they will be lost. The learners also learnt more about the New Year celebrations with Chinese food to enjoy.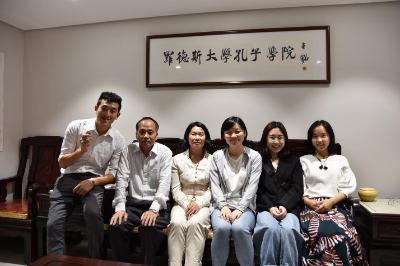 Chinese Studies Staff (Zang Li©)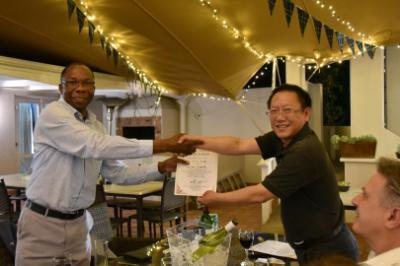 Rhodes University Staff and Family (Zang Li©)
Source: By Sacrée Kabeya
Please help us to raise funds so that we can give all our students a chance to access online teaching and learning. Covid-19 has disrupted our students' education. Don't let the digital divide put their future at risk. Visit www.ru.ac.za/rucoronavirusgateway to donate