China Week 2009 Report
October 5, 2009
By: Kelly Hamilton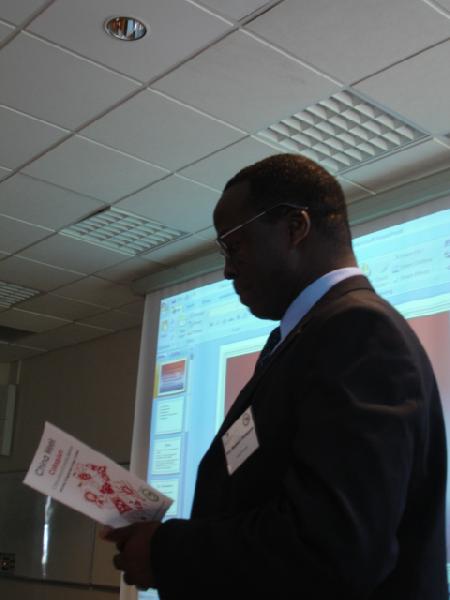 Prof. Aziakpono (Rhodes)
This year's China Week, from Monday 28 September to Friday 2 October, coincided with the 60th Anniversary of the People's Republic of China, and to celebrate it, the Confucius Institute at Rhodes University put together a busy, exciting programme. It was the second China Week that Rhodes has celebrated, and has grown and changed in nature from the 2008 China Week.
The primary event of the week was a Colloquium on China-Africa Economic Relations, with speakers invited from Jinan University, China, as well as Standard Chartered Bank in Johannesburg, the Centre for Chinese Studies in Stellenbosch, the University of the Witwatersrand, the Department of Trade and Industry, amongst others. The Colloquium ran two sessions a day, and all were well attended by both staff and students. The full programme for the Colloquium is available here:  China-Africa Economic Relations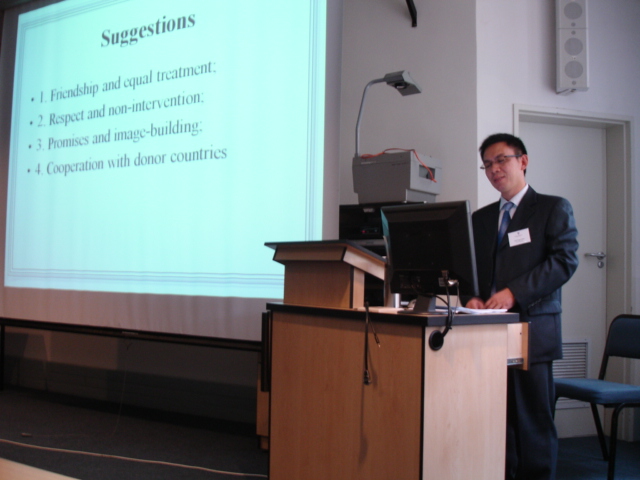 Prof. Tang Yuhua (Jinan)
Two events put together by our Rhodes students were also a success. The first event was a week-long photo exhibition by two of our fourth-year Photojournalism students and two students from Jinan University. The Confucius Institute sponsored an exchange between Sophie Marcus and Sarah Schafer from Rhodes, with Qiu Xiangmin and Luo Fang from Jinan. Each spent about 10 days in the host country, taking photos of what they found interesting about their host country, allowing not only for us to see China, but for us to see South Africa through a Chinese person's eyes.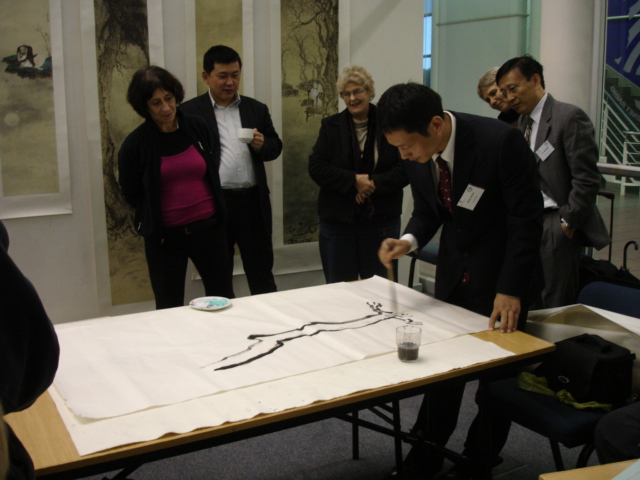 Mr. Wang Jinshan (Jinan University)
The second event was the presentation by the Chinese Studies 1 students who reported on their tour of China in the July vacation. The presentation was a chance to not only give some information to the audience about China, but also to showcase their newfound Chinse language skills. In front of an audience of native Chinese speakers, our students reported in Chinese and English about their journey, impressing not only the South Africans but also the delegation from Jinan University and the Chinese Ambassador.
Chinese culture has a long history, and Jinan University kindly gave three workshops on three different aspects of this culture. Ms. Luo Xiaoying gave a talk on the long history of Chinese characters and their development over millenia. Mr. Zhu Guiming demonstrated the art of Chinese calligraphy, and Mr. Wang Jinshan enthralled audience with a brief talk on the history of Chinese painting, as well as showing us his own paintings. Audience members were even allowed to try the painting themselves!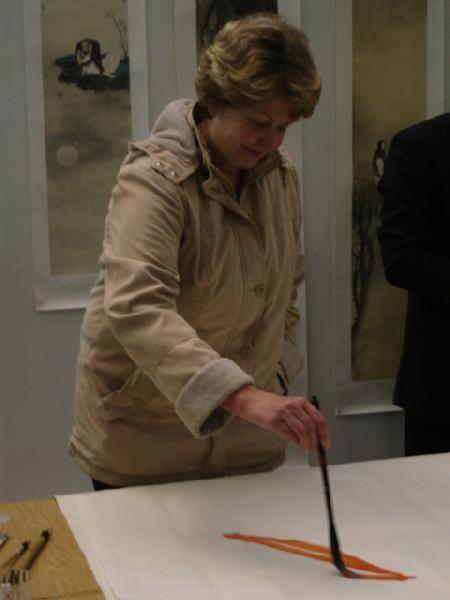 Learning to paint - Chinese style
The importance of the Chinese-African relationship was highlighted further with Dr. Yoon Jung Park's public lecture, which dealt with the issue from a different angle. She has been researching the experiences of Chinese migrants in South Africa from the 1970s, and on Thursday 1 October, she presented her findings to a small but interested audience.
Overall, it was an enjoyable week, with a strange and exciting culture being shown to us. We hope that China Week continues to go from strength to strength, and look forward to China Week 2010. Watch this space for information about it next year!