>> News
>> 2009
Hairdressers and Chinese Cuisine
August 14, 2009
By: Daniel Charvat
Over the July vac, some of our Chinese Studies 1 students went on a tour of China. Daniel offers us two stories of the many exciting experiences that the students had there. -- Kelly
The Chinese Hairdressers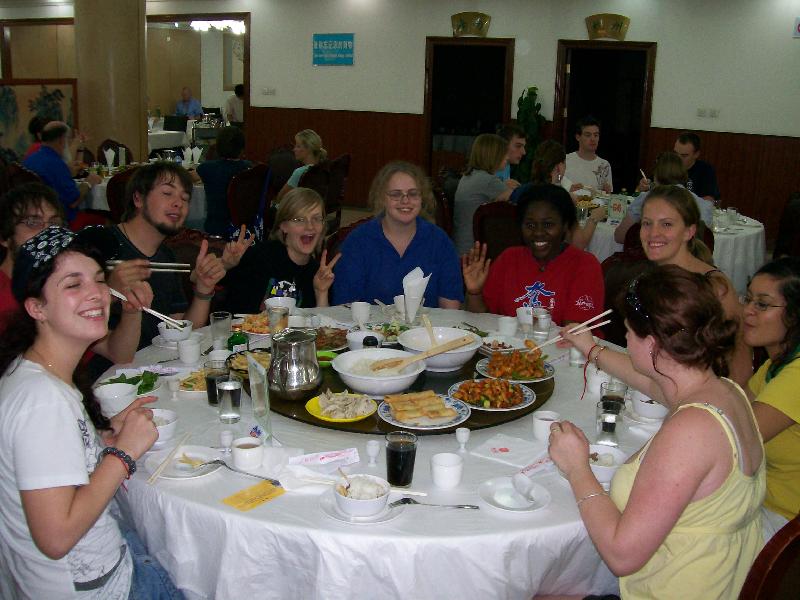 On one of our first nights in Beijing we decided to go out and explore the local night markets and KTV bars (the infamous Karaoke bars). On our way through the streets we came across 20 or so young boys all shouting and standing in various formations. We watched them curiously from a pedestrian bridge as they screamed what sounded like a war-cry and performed in a military-like way. They then proceeded to dash across the main road shouting and screaming. Bearing in mind that this was just past midnight on a weekday, our curiosity peaked and we had to find out what they were up to. After a seriously confusing conversation with one young lad, filled with broken Chinese and a noticeable lack of English, we think we discovered their plan. They were a bunch of hairdressers apparently, who were on a serious mission of sorts, and we figured it was an elaborate hairdresser teambuilding exercise. A late-night bus stopped nearby, they all screamed some more and dashed into the bus, leaving us standing there dumbfounded. The cultural differences continue to amaze.
Trying the delicacies of China
Food in China was for some, a whole new adventure on its own. When we arrived we were met with countless dishes of steaming rice, sweet and sour meat and exotic vegetables. Sitting around a table, chopsticks in hand, the food came thick and fast. Every lunch we had was at a new restaurant, some with entertainment, and some even on boats. We were given a taste of all aspects of Chinese culture. As we progressed further South, we started seeing some of our food for what it was, a turtle here, a crocodile there (to be fair we never ate either, but we saw them on display – alive). After that some of the group turned vegetarian, but for most of us, tasting the local cuisine was an amazing experience. Apart from the incredible cultural relics, eating was one of the most interesting activities we did in China and coming home to single serving dishes was disappointing to say the least.