VC meets Chinese winners!
This story was initially published by:
May 5, 2009
By: Kelly Hamilton
Dr. Saleem Badat met with our students that participated in the Chinese Bridge Competition at the University of the Western Cape in April. Four of our students, Daniel Charvat, Siobhan Lumsden, Sithulisiwe Wabatagore and Gisella Zipp, competed in a national competition, showcasing their talents in various Chinese arts. They did very well, with Gisella winning first prize. Dr. Badat congratulated them on their achievements, and was eager to find out more about their experience as Chinese students.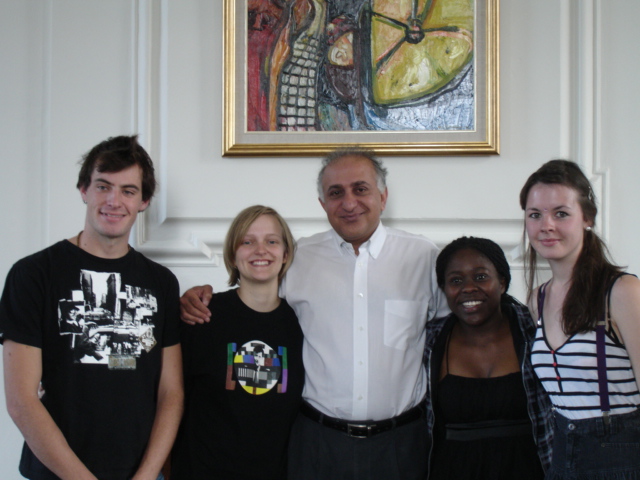 Dr. Badat with Chinese students
Prof. Ma Yue, Prof. Russell Kaschula and Prof. Marius Vermaak revealed some of the exciting projects in the pipeline for the Rhodes Confucius Institute, which includes research projects, scholarship opportunities, and various interdisciplinary study plans. Dr. Badat was keen to find out about the students' experiences of their studies, as well as the perception that other students had of Chinese studies at Rhodes. He was pleased to hear that Daniel, Siobhan, Sithulisiwe and Gisella were finding the subject interesting and that the course was not too difficult.
The four students now have many doors opening for them: there is the possibility of an exchange programme with Jinan University next semester, in which they can put their Chinese to good use! There is also interest in majoring in Chinese, and Rhodes is looking into ensuring that Chinese becomes a major subject at Rhodes.