Chinese New Year

February 23, 2010
By: Daniel Charvat
Sunday the 14th February, saw not only the coming together of couples around the globe, but also the start of the Chinese New Year.
This auspicious occasion was celebrated in culinary style by students of the Confucius Institute at Rhodes. They were offered a chance to spend the evening at the Yellow Piano Inn, to learn more about the traditions of the New Year Festival and indulge in some traditional Chinese cuisine.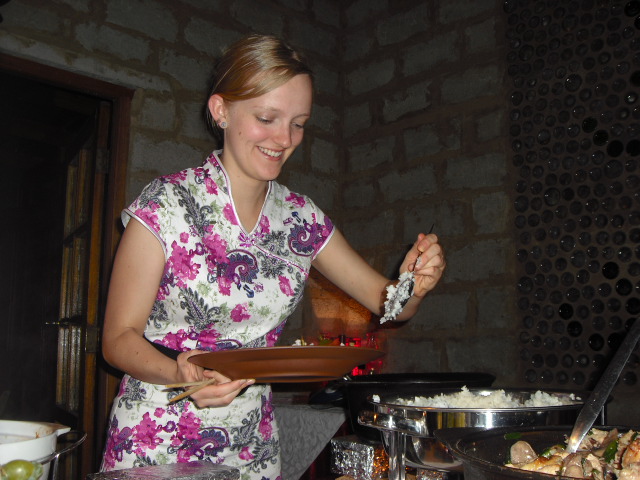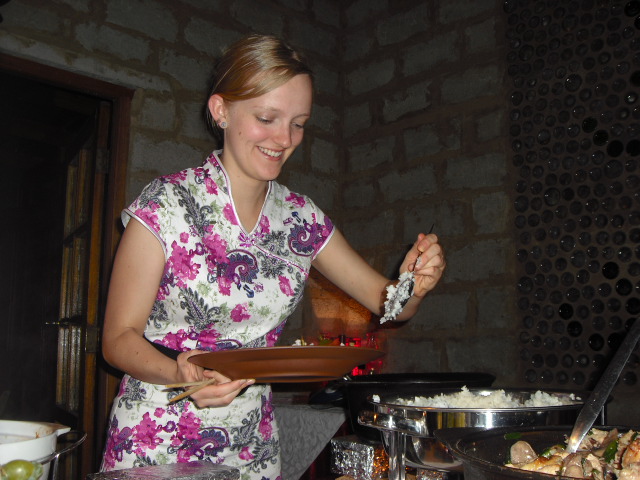 Gisela sampling the Chinese cuisine
As the sun set over the Yellow Piano's beautiful surrounding scenery, the activities got underway. The evening started with a presentation by Ma Yue, the Chinese lecturer, in which he taught students about some of the myths and fables surrounding the festival. Students learnt about the less common lunar calendar that Chinese festivals are centered around, and how every year the festival date changes according to this calendar. They also received a brief introduction to the twelve earthly animals of the Chinese calendar, as this year we enter into the year of the Tiger and leave behind us the year of the Ox, which will only come around again in twelve years time.
Once the presentation was over, students were offered the opportunity to get messy and try their hand at making dumplings. Dumplings of the strangest shapes and varieties came into being, and once they were steamed students were able to sample their 'creations'. Various other traditional dishes were prepared before the students to give an impression of how the Chinese prepare their food. After the continual samplings of noodles, red bean dumplings and many other delicacies, it was time to eat. Forcing space into their stomachs, those present were free to indulge in a buffet of Chinese noodles, rice balls, chicken, beef and spring rolls.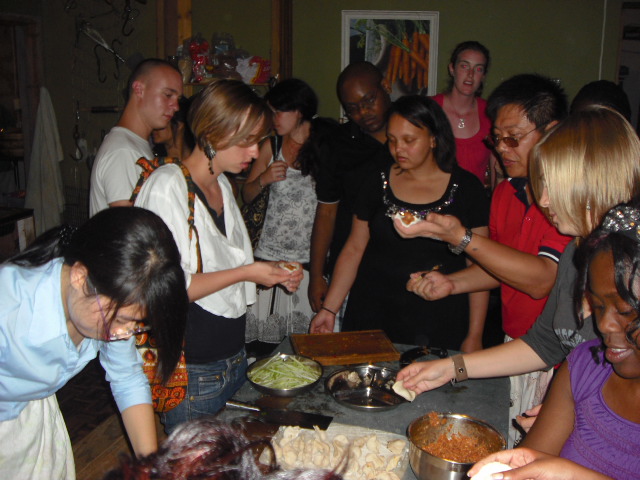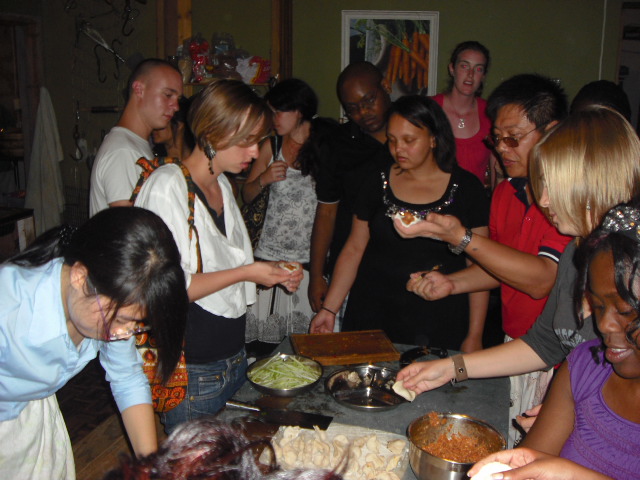 Learning how to make dumplings
Content and full the students had the opportunity to sit back and let the food settle while they engaged in conversation with their colleagues or made use of the bar with a glass of post-dinner Chardonnay before heading back home.
This event was one of many up and coming chances for Chinese Studies students to engage in Chinese culture, since the Confucius Institute plans to offer many more evenings in which students can learn about ancient and exciting Chinese traditions. Based on the large participation of students at this, the first event of the year, we can expect a very fulfilling year ahead.
Last Modified: Fri, 15 Jul 2011 15:03:53 SAST