On the 7th and 8th of November, Consul General Mr. Liang Shugen from the Consulate General of People's Republic of China in Cape Town visited Rhodes University and had a talk with the DVC of Research and Development, Dr. Peter Clayton. Mr. Liang highly appreciated the efforts of Rhodes University in hosting a Confucius Institute and supported the development of Chinese Studies program. Mr. Liang was accompanied by his wife and the Director of Consular Section of the Consulate General, Ms. Li Libei and Mr. Yang Yingjian. At the dinner hosted by Dr Peter Clayton, the Consul General met and chatted with a number of Rhodes academics that have in one way or other been involved in China related research projects. Mr. Liang vowed his support for China related research and academic activities from the Consulate General.
This is the first visit to Eastern Cape after Consul General came to South Africa in 2012. The delegation also donated books to the Friends of Library of Grahamstown and the Chinese library at the Chinese Cultural Center at 36 Somerset Street. They also visited some of the historic sites in town and learned about the history and tradition of Grahamstown with great interest.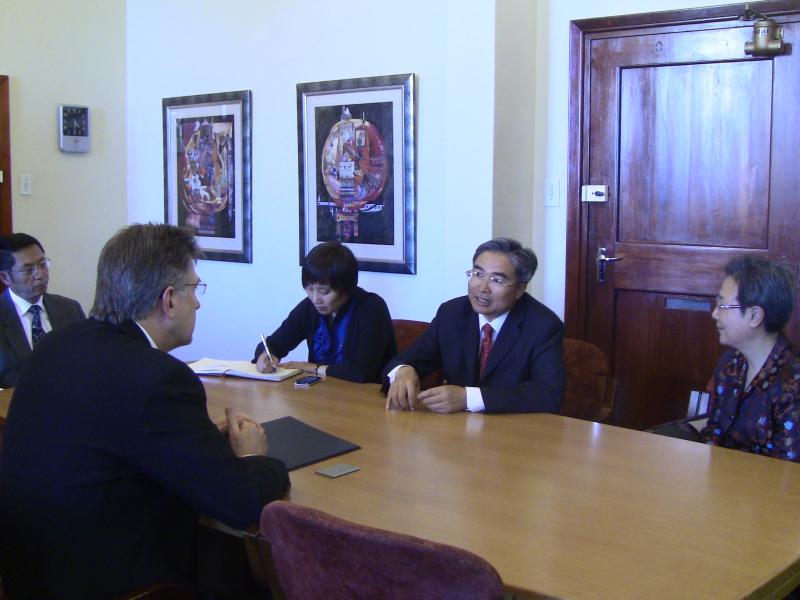 Understanding China _ A new non-major course will be added to Rhodes course list from 2014
Understanding China
Understanding China is fifteen credit HEQSF level 6 course (i.e. formally called a semester long course at second year level) offered during the first semester. Understanding China combines an introduction to elementary Chinese language for practical purposes with an exploration of the key concepts, historical events and social processes for understanding China in the 21st century. This is a non-major course with no prerequisite requirements. Understanding China may be taken in the second or subsequent academic years (but not the first) provided that it may not be taken in a curriculum which includes any courses in Chinese Studies.
China Week 2013 Completed Successfully
The annual China Week took place during 23 - 27 September 2013. At the beginning of the week, an exhibition of the CIRU/UPSTART 2013 project was launched. A series of workshops on tradiitonal Chinese medicine and Chinese paintings were delivered by experts from a delegation of Jinan University in Guangzhou, attracting audience from both Rhodes University and the local community. A former Chinese Studies student, Daniel Charvat, who has just completed his Masters degree in one of the top Chinese universities, Qinghua University, gave a lecture on new media in China and shared his experience of studying in China. The highlight of the week is the rountable on the Chinese experience in South Africa, in which representatives from the local Chinese decendants who shared their South African life experience and experts in the study of Chinese immigrants in South Africa discussed social and political issues related to the local Chinese and looked at the future prospectives.
China Week 2013 ended successfully with cheerful note. A party with the girls from DSG was held at the Chinese Culture Centre, 36 Somerset Street, celebrating the traditional Chinese Mid-autumn Festival. They were singing and performing, sharing their understanding of the Chinese legends and enjoyed the food prepared by the staff of CIRU.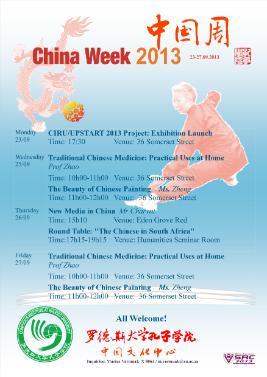 Experiencing Chinese Culture
by Hualan Zeng
After long and intense preparations, long-anticipated China Week started on 25 September, 2013. China Week is an annual event hosted by Confucius Institute at Rhodes University. This year, delegates from JinanUniversity were invited for giving lectures on traditional Chinese medicine, Chinese painting and calligraphy. Meanwhile, there was also a roundtable on the history and life of South African Chinese people. Four Chinese South African writers attended this Round Table and shared their experience and views with the audience.
On 25 September, Prof Zhao Changying from No.1 Affiliated Hospital of Jinan University gave a lecture on Acupuncture in Traditional Chinese Medicine at 36 Somerset Street. Teachers and students from Rhodes University as well as people from the local community attended the lecture. It was a very interactive talk. The lecturer and the attendants exchanged views on traditional medicine. Prof Zhao even did checkups for some attendants who claimed of having some kind of body pains in the hope of helping them get better. After this lecture, the artist Ms Zheng Xiaojun presented us the beauty of Chinese painting. People got really excited about the art. The artist demonstrated how to do Chinese painting, which intrigued all of the attendants. The attendants also got the opportunity to follow Ms Zheng to paint Chinese painting. It was really an exciting experience for them to use Chinese brush to paint.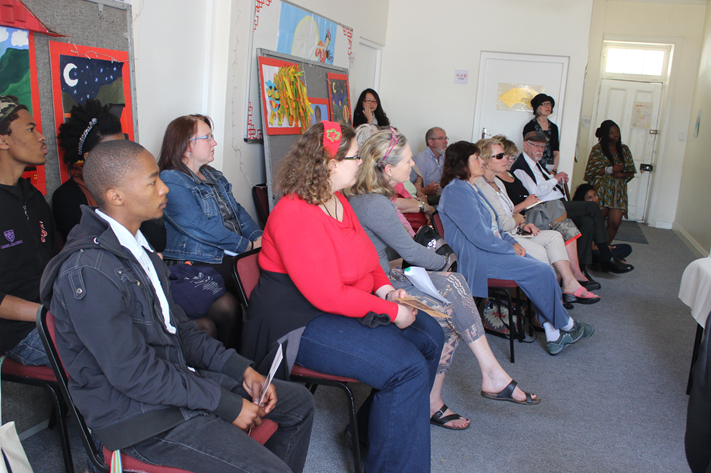 On 26 September, there was the roundtable discussion. Darryl Accone chaired this discussion. Four of our guests talked about their own experiences or ideas related to China or Chinese in turn. It was an interesting experience to hear their vivid stories and comments.
On 27 September, Prof Zhao Changying talked more about traditional Chinese medicine by introducing food therapy. And Ms Zheng Xiaojun presented the beauty of Chinese calligraphy. The attendants enjoyed themselves by showing a great interest in practicing Chinese calligraphy and the interaction on food therapy after the talk.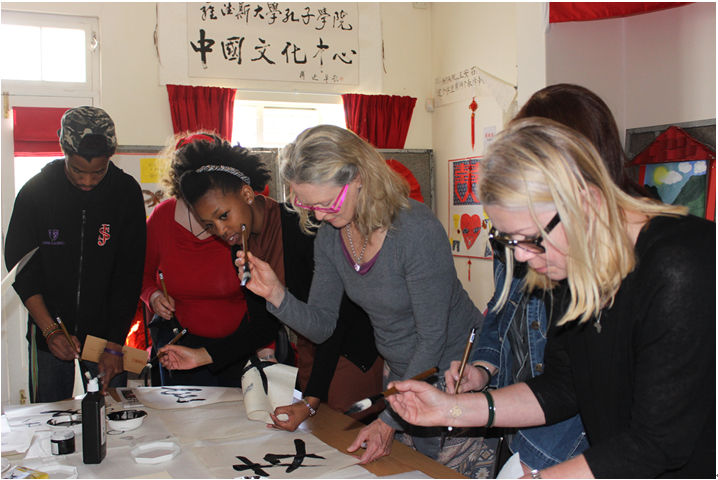 Practicing calligraphy
People get a better idea of Chinese culture after all these lectures. And their enthusiasm for Chinese culture has been aroused. China Week is a good opportunity for people from both countries to learn more about each other. Our guests from JinanUniversity have also experienced the beauty of the land as well as the friendliness of the people who live in this land.
Last Modified: Sat, 01 Feb 2014 17:48:43 SAST