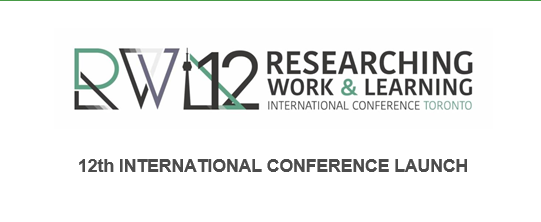 Calling All Researchers and Practitioners of Work & Learning,
You are invited to join scholars, policy-makers and practitioners from around the world in Toronto (Canada) for the 12th Researching Work & Learning (RWL) Conference on July 14-16, 2021.
This poster provides a quick overview of the conference. Our website contains additional details.
The need to meet the challenges of a rapidly changing global landscape of work and learning in the face of uncertainty is stronger than ever. The theme of this year's conference is Work, Learning and Social Change. We will come together with a mutual commitment to share, learn and shape the future of our diverse field of study.
With numerous cutting-edge research themes, internationally renowned keynote speakers and a world-class venue—this event will provide an ideal forum for exchange of critical perspectives on research, policy and practice.
Our proposal submission system officially opens on September 15, 2020, and the deadline to submit abstracts is November 15, 2020.
In light of the current global pandemic we will be exploring the possibility of alternative formats such as virtual presentations for those unable to travel to Toronto. We will monitor the situation closely and provide updates on the website. Our FAQs are a great starting point for any questions you may have.
We look forward to welcoming you in 2021!