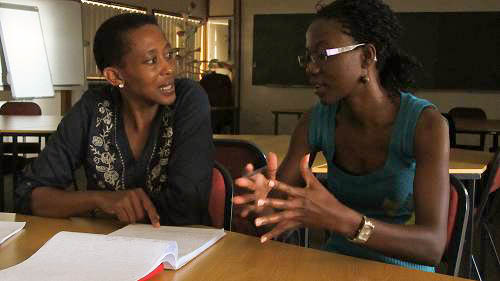 African diversity is being celebrated at the ELRC – and no, not just with the Ethiopian coffee in the tea room. This year's new batch of Master's students hail from countries throughout Africa including: Tanzania, Namibia, Togo, Zimbabwe and Zambia. Full-time Master's candidates who are working from the ELRC, are already making it a rich environment in which to conduct research, share ideas and inspire change.
Not only do the students reflect impressive cultural diversity, but they also represent a range of professional backgrounds. From educators to policy makers to cartographers, their skills and qualifications are many and sundried.
Charles Phiri, from Zambia, has worked with WWF, coordinating projects in communities around natural resource management. Though his educational background is in science, his work has focused largely on its social implications. "My work has been to transfer skills through informal education to help communities learn to monitor what they are doing in their livelihood practices," says Charles, "However, implementation is very slow," he adds. Charles recognises that there are a host of cultural and social factors that can postpone or prevent positive change. Therefore Charles' decision to pursue a Master's in Environmental Education was a response to the challenges he encountered through his work. "I want to have a more holistic picture of communities," he says, "by understanding all of their influencing factors, I can hopefully be more effective."
For students like Sirkka Tshiningayamwe, the choice to undertake a Master's expresses a desire to see classroom principles translate into real-world practice. As a high school Biology and Geography teacher in Namibia, Sirkka has seen Environmental Education become integrated into the classroom, but not necessarily into common practice. She struggles to watch as water is wasted, litter is discarded and electricity is used unnecessarily. While she is passionate about teaching EE, she recognises gaps in the curriculum and its implementation. "People look at environmental education as an add-on. I believe it should be taught from pre-primary school. It represents a basic need."
In addition to doing Master's research, each student will also take on a community project, which will be on display in the environmental commons at the centre. The hope is that this project will help strengthen the student's research, while making a contribution to the broader community. After all, this is a dynamic environment where students will share knowledge, engage in conversation and generally be stimulated by each other's company – not to mention the Ethiopian coffee.