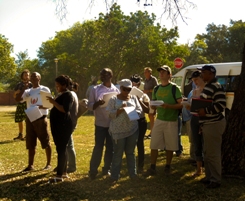 "Urban greening is an essential element for creating sustainable cities," says Prof Charlie Shackleton of the Rhodes Environmental Science Department, "and it is severely neglected." This week at the ELRC, Prof Shackleton is facilitating a course entitled, 'Urban Forestry and Urban Greening for Sustainable Municipalities', which is aimed at both students of Environmental Science and professionals working in city planning. Of the 26 attendees, 18 work in municipal and government contexts.
Broadly defined, Urban Forestry is "the art, science and technology of managing trees and forest resources in and around urban community ecosystems for the physiological, sociological, economic and aesthetic benefits that trees provide society." With the diminishing of green spaces in urban environments, this field grapples with issues that are especially relevant.
The course itself represents a proactive attempt by academia to address the environmental shortcomings of South African municipalities. "There is insufficient attention to urban greening and all attendant issues, but many municipalities don't have personnel capable of dealing with it," acknowledges Shackleton. To this end, the course hopes to equip future and current urban planners with the necessary theoretical frame and practical skills to meet environmental mandates. It forms a part of a five short course series offered by the Environmental Science Department, aimed primarily at working professionals who may be without a tertiary degree or an environmental background.
Though they are the target group, working professionals are not the only benefitting from this course. Students like Linzi Lewis have found the engagement across professional and academic lines to be invaluable. "I've been able to speak to people in the field, with government officials dealing with problems – those who know what the problems are in promoting urban greening," says Lewis.
On the course, students are given a broad overview of the environmental, ecological and economic benefits of urban forestry. They are challenged to consider pubic vs. private landscapes and asked to draw up an urban greening plan of their own. All those attending will receive a certificate of completion, and those who successfully complete their course assignment will be given a certificate of competence.