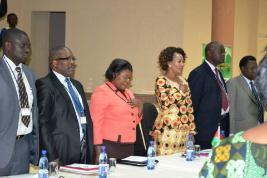 The 31st EEASA Conference held in the second week of September 2013 was momentous for two reasons. It was held in Malawi for the first time since EEASA's inception. The conference was hosted and supported by the Malawi Environmental Endowment Trust and other stakeholders including: The Ministry of Environment and Climate Change Management, Lead, University of Malawi, UNESCO, UNDP, GEF, Optichem. It attracted delegates from Botswana, Kenya, Malawi, Mauritius, Namibia, Netherlands, Seychelles, South Africa, Swaziland, Sweden, Zambia and Zimbabwe.
Secondly, this conference in many ways marked the transition from the broader ESD discourse to fine-tuning the role of EE / ESD in transitioning to Green Economies. This was most relevant as we reach the penultimate year of the UN Decade for Education on Sustainable Development, 2005- 2014. The conference's theme Green Economy: looking at educational insights and perspectives, was broad enough to allow for a wide spectrum ofinterests and actors, including practitioners who interrogated their localised ESD programmes; policy makers and researchers looking at mainstreaming green economies in educational strategies and institutions; educationists looking at the implication of this green economy wave on the curriculum and human capacity development.
Having a more visible presence of the Ministry of Education might have added another layer of insights with respect to mainstreaming green economies into education at all levels. However, the educational perspectives and deep insights were well directed by the key note addresses and presentations by education practitioners and researchers. The common thread of keynote addresses was seeking new ways of thinking about knowledge, knowledge acquisition, and knowledge sharing in order to address the challenges of sustainable development, especially in the job market.
Prof. Sosten Chiotha (Malawi) painted the landscape of the green economy discourse, its genesis beyond sustainable development, relevance as we exhaust our ecological budget, and importance in Africa and Southern Africa where the majority of the world's population living with poverty and directly reliant on natural resources is found. The issue of 20 August 2013, Earth Overshoot Day as driven by the Green economy coalition is one of the reminders to revisit and reimagine our development and economies and to make this even more of an imperative. He highlighted the aspect of the transitioning to green economies, enhancing the convergence of the three pillars of sustainable development, decoupling economic growth and over-exploitation of natural resources, reduction of social inequalities, and making the transitions locally relevant. He depicted education's role as a means to craft new ways of understanding the world, to foster attitudes necessary for all across the social spectrum, and to explore solutions in high impact sectors like water and waste, energy, agriculture, and resource extraction.
Prof. Arjen Wals (Netherlands) explored the role of education in the transitioning to green economies a step further as he engaged in its possibilities and pitfalls. He employed the metaphor of 50 shades of green, using the example of plastic water bottles to highlight how a "green solution" could end up being a nightmare for the planet, or how the meaning of the term "sustainability" could be eroded and neutralised by different interest groups such as the business sector. So, he emphasised the use of an integrative, critical and transformative lens towards education and skills development, else we are likely to create vandals (Orr, D.) rather than the intended creation of possibilities. He called for hybrid learning configuration between the many "planetary educations", institutions, and actors. This hybridity and synergy might create spaces for transformative learning, alternative paths of development, new ways of thinking, of valuing and doing, of participating, create spaces for pluralism, diversity, deep consensus, but also for contextual differences. In summary, Wals asserted that "the green economy cannot mean 'business-as-usual' & education for SD cannot mean 'education-as-usual'; Sustainability/green requires more space in curricula and capacity building processes for systems thinking, integrative design, place & identity, and multiple ways of knowing; Sustainability and a green society require new competencies, also on the part of the facilitator/educator; Blurring the boundaries between institutional, community-based and workplace learning is essential (blended/ hybrid learning); Critical thinking, diversity and deep democracy, and 'unlearning' are essential components of sustainability."
Prof. Heila Sisitka's (South Africa) keynote on Greening our education and training systems for a transition to real green economies and sustainable societies pulled together the many strands of the conference sub-themes. It highlighted, firstly, the inadequate uptake of the role of education and skills development in the global policy and strategy deliberations; and secondly, the lagging behind of the educational system in responding to new science and developments. She called for "new ways of thinking about education, training and learning if we are to transition to a 'green/er economy' and sustainable society". This touched on the role of the various sectors, and individuals in ensuring that we are creating a safe operating space for all. As a summary, she pointed that "Greening our education and training system is an essential element of all planetary change processes – including creating greener and more sustainable economies - it should be explicitly included, not be assumed to be in place; This must be done within a long term and systems thinking approach that is not superficial; It must also include new ways of thinking (paradigm shift) in the way we think about learning, and practicing education and training; Addressing the problems of a 'safe operating space for humanity' can only be enacted by people; Education, training and learning are vital to any process related to 'planetary boundaries', sustainability, green economies etc.; and that we should take it very seriously at all levels."
In response a strong appeal was made from the conference floor to strengthen TVET (Technical Vocational Education and Training) activities which generally are looked down upon, undermined and neglected. Currently, EEASA's publication committee is running a special edition of the EEASA journal which will focus on Green Economy, and possibly will look into a monograph on Greening TVET in southern Africa. Please visit the EEASA website for information on the publications.
The essence of the conference could be summed up by Minister of Environment and Climate Change Management, Halima Daudi's declaration in her opening address: this is a call to reflect on the principles of green economy, take action and work together locally, nationally and regionally.
‌‌
‌
Article written by Mumsie Gumede (g04g5097@campus.ru.ac.za). For conference abstracts, presentations and more information on EEASA, visit http://www.eeasa.org.za and https://www.facebook.com/sadc.eesa?ref=hl