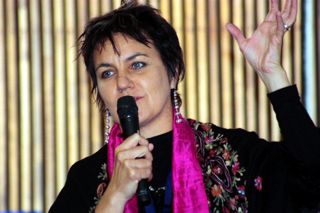 Next year is Rio +20, an annual Earth Summit that focusses on the tensions between resource usage and flows in developed and developing world economies. It will mark 20 years since the first major Earth Summit. Not surprisingly, given the recent emphasis on the economic crisis in the West, a major topic of discussion will be establishing a globally acceptable framework for green economies within the context of sustainable development and poverty alleviation. Such economies are to be established on principles of low carbon development and are to create new green jobs while enhancing sustainable development. Of course this is not without contention, as many countries in the Global South see this as yet another form of 'external control' on development - a factor which somewhat paradoxically is not simply a political matter, but one tempered by global change science that points to the long-term costs (in both human lives and development costs) of climate change and continued ecosystem degradation.
Returning from a recent deliberation in Santiago, Chile, 'Global Universities Partnership for Environment and Sustainability', which emphasised the role of universities in the Global South, Professor Sisitka stated, "We, as universities in the Global South, need to push the debate about the green economy into new territory if we are not to become victim to narrow interpretations and narrowly defined policy frameworks, or more of the same."
Prof Sisitka noted that two key issues were discussed: the structural underpinnings that sustain the continuities of the current economic paradigm and the manner in which future young leaders are being inducted into economic thinking. If universities were to develop a stronger understanding of the former, including why this need is emerging, they may be able to do a better job of the latter, said Sisitka. Discussions on green economies, while not perfectly formulated yet, raised some interesting perspectives on how structural underpinnings of the current economic paradigm could be shifted, particularly if countries in the Global South were to embrace them within a framework of social justice and equity, i.e. if they were to set an agenda of a 'clean and just' way of doing business.
Many recognise that such a transition will not be easy or quick, but there is equal recognition that there is very little alternative if development gains are to be made without further threats to the wellbeing of future generations and life on this planet. Delegates of the meeting, involving 50 participants mainly from Global South universities, agreed that there is no longer a place for the 'wasteful thinking', 'obscene wealth' and 'planned obsolescence' that has characterised development and politics in the latter half of the 20th century. "It is time to speak truth to power again, and universities need to claim their role in this new space that is opening up," said Prof Sisitka. New, creative ways of developing within a socially just, low-impact and 'decoupled from wasteful resource use' paradigm are needed. Young people, populating the world's 16 000 universities, need to engage with this challenge - especially universities in the Global South, which is where the planet's youthful population will increasingly be located. No university should remain outside of this new intellectual, political and practical challenge that marks the 21st century, said Prof Sisitka.
While at the deliberation, Prof Sisitka presented a keynote address entitled, 'New forms of university leadership for a clean and just future'. The core message focused on universities' need to break away from old paradigms of hierarchical leadership and embrace new, networked, democratic forms of leadership that operate in all kinds of spaces and at all levels of the system. Prof Sisitka cited a few examples of this kind of leadership what is necessary to support if our world is to cultivate clean and just economics. She noted that WASA as a good example of an organically created structure that provides gender leadership; the Rhodes University South East Africa Climate Change Student Forum's (SEACC SF) leadership in debating climate change and Fracking at Rhodes University in 2011; and the leadership shown by Common Ground in trialling new local, clean and green food for student residences at Rhodes University, as good examples the kind of initiative that we need to support and cultivate if a 'clean and just' economics and future are to emerge.